Steve Bannon Teases 'Plan' That Will Make RNC Critics Happy
Former White House adviser Steve Bannon teased a "plan" on Monday afternoon that might be geared to critics of the Republican National Committee (RNC).
"There's a lot to talk about about the RNC...whatever you do, don't send them any money," he said during his War Room podcast. "Just take a deep breath, there's gonna be a program and a plan for all of it. Just take a deep breath."
The comments by Bannon came just three days after Republicans reelected Ronna McDaniel as the chairwoman of the Republican National Committee.
"This week proved that Republicans can come together, hash out our differences, and emerge stronger than ever," McDaniel, who won her fourth term, said in a statement last week. "The RNC is going to be working every day to make sure the GOP takes back the Senate and White House in 2024."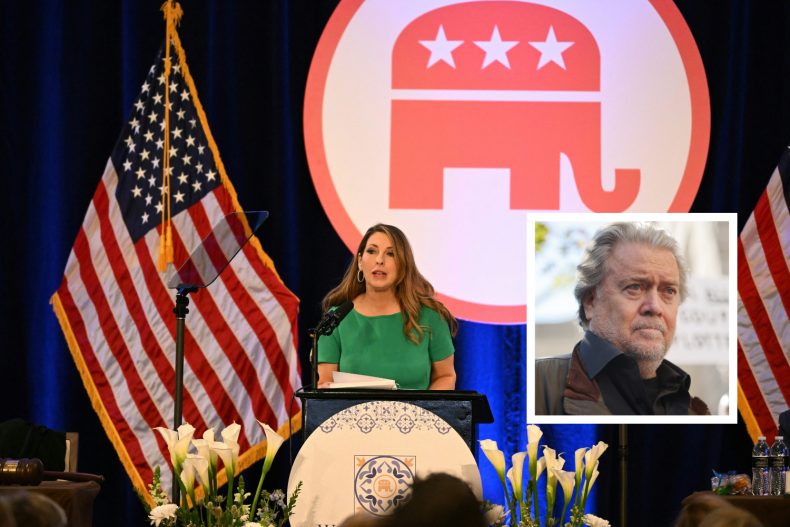 McDaniel defeated several opponents Friday, including MyPillow CEO Mike Lindell, an avid supporter of former President Donald Trump. Prior to McDaniel's victory, a poll showed that more Republicans favored Lindell.
The poll, which was conducted by Rasmussen Reports, found that 30 percent of likely Republican voters supported Lindell compared to 15 percent for McDaniel and 20 percent for one of Trump's former attorneys, Harmeet Dhillon.
Following the 2022 midterm elections, many criticized McDaniel and the RNC after Republicans failed to take control of the Senate. Republicans were able to win control of the House, but only by a few seats.
"One thing is absolutely clear; @GOPChairwoman has got to go," Republican pundit John Cardillo wrote in a tweet in November. "Ronna will never spend a dollar on ballot harvesting or real effective ground game to beat the left. She wants to exist in minority opposition so she can raise more money, then funnel that to her consultant buddies."
Florida Republican Representative Matt Gaetz also criticized McDaniel and other Republican leaders, saying that McDaniel, Senate Minority Leader Mitch McConnell and then-House Minority Leader (now House Speaker) Kevin McCarthy were a "McFailure."
Roger Stone, a Trump supporter and conservative commentator, said about McDaniel in November in a Truth Social post: "No Republican National chair has ever remained in office after LOSING a presidential election in the history of the Republican party. Ronna ROMNEY McDaniel is the first. We are rewarding defeat!"
Newsweek reached out to the RNC for comment.