Steve Bannon Tells Fox News He Thinks Joe Biden Is 'Totally Compromised' by China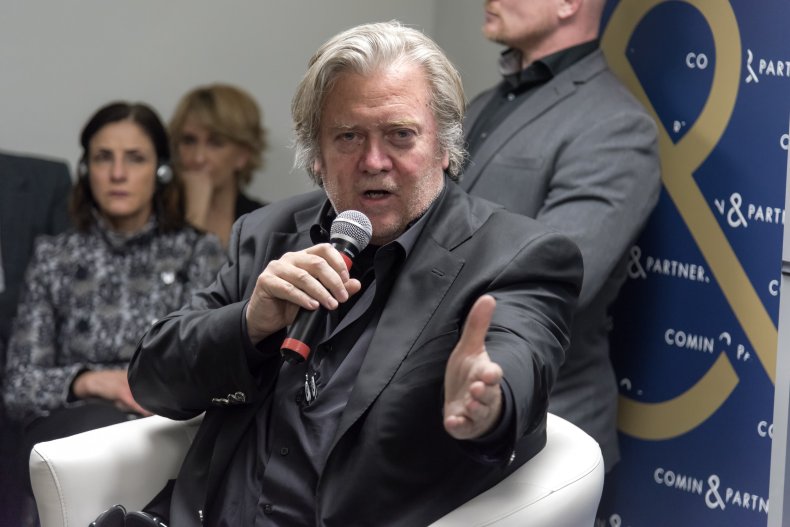 Former White House chief strategist Steve Bannon told Fox News on October 28 that it is his opinion that former Vice President Joe Biden is "totally compromised" by his son Hunter Biden's business in China.
Speaking on the channel's daily morning show, Fox & Friends, Bannon, who once ran Breitbart News, said that Hunter Biden's former connections with a Chinese company compromised the presidential campaign of his father, Joe Biden. Some, like President Donald Trump, have alleged that Joe Biden's connections to China through his son represent a conflict of interest for the presidential hopeful.
"I think Joe Biden is totally compromised by China," Bannon said on Fox News. "I think people understand it. I think the Ukraine situation's the same thing."
Bannon referred to a story surrounding the Biden family's business interests in China.
Earlier this month, Hunter Biden officially resigned from the board of BHR (Shanghai) Equity Investment Fund Management Company, a Chinese private-equity fund that is backed by entities owned by the Chinese government. He also pledged that he would totally desist from working in foreign countries should his father be elected to the office of president of the United States.
Hunter announced through a statement from his attorney, George Mesires, on October 13 that his father was not involved in business dealings in China. Mesires wrote that "at no time has any law enforcement agency, either domestic or foreign, alleged that Hunter" participated in any illegal corporate behavior.
"Hunter always understood that his father would be guided, entirely and unequivocally, by established U.S. policy, regardless of its effects on Hunter's professional interests," according to the statement. "He never anticipated the barrage of false charges against both him and his father by the President of the United States."
The statement further stated that Hunter did not receive any monetary compensation for being on the board of directors of the equity fund.
Nevertheless, Bannon, speaking on Fox News, maintained that the amount of assistance Joe Biden gave his son in order to give him a leg-up in his career amounted to nothing short of misconduct.
"[Hunter Biden] got in the Navy with no expertise because of Joe Biden," he continued. "He got on the board because of connections to Joe Biden. His whole career is around having access to Joe Biden—political corruption."
Hunter Biden's service on the board of BHR is not the only instance of his work in foreign countries being a source of supposed controversy. He has also served on the board of Burisma Holdings, a holding company based in Ukraine. This reportedly prompted President Trump to call the Ukrainian president and ask him to investigate the Bidens, an act that has started impeachment inquiries into the president.