Steve Bannon Tells Koch Brothers to 'Get With the Program' as GOP Fighting Ramps up Ahead of Midterms
Former White House chief strategist Steve Bannon has hit out at the Koch brothers, accusing them of undermining the Trump administration ahead of November's midterm elections.
"What they have to do is shut up and get with the program, OK?" Bannon said in an interview with Politico.
"And here's the program," Bannon said. "Ground game to support Trump's presidency and program; victory on November 6."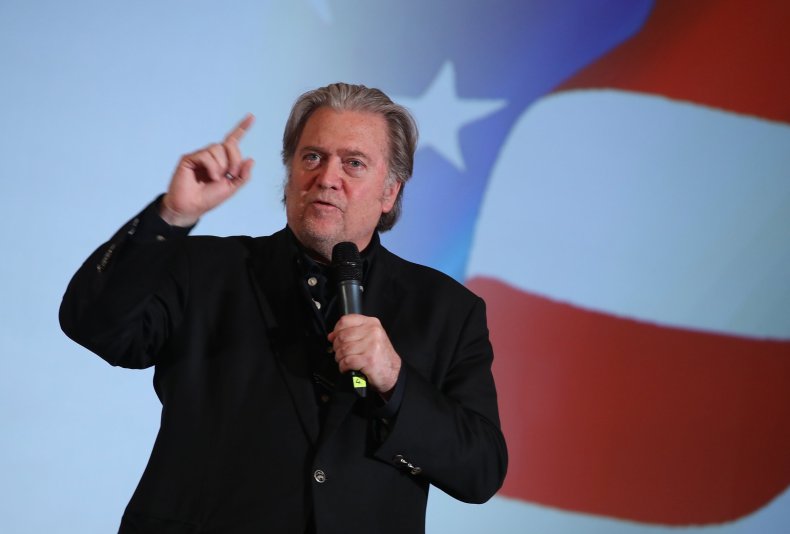 Bannon's warning comes after members of the Koch political network met in Colorado Springs, Colorado, to discuss the current political landscape.
During the meeting, which was led by billionaire Charles Koch, top officials of the network described the Trump administration as being divisive and toxic for the country.
"The divisiveness of this White House is causing long-term damage," Brian Hooks, a senior Koch lieutenant, said at the event (via Politico).
"When in order to win on an issue someone else has to lose, it makes it very difficult to unite people and solve the problems in this country," he continued, adding: "You see that on trade. In order to get to a good place on trade, convince the American people that trade is bad."
The long-standing conservative Koch network, which did not support President Donald Trump in the 2016 presidential election, also signaled that it would be willing to back Democratic lawmakers on issues that reflect the organization's priorities.
During a seminar at the summit, Emily Seidal, the CEO of Koch-backed Americans for Prosperity, said that top donors should consider working with Democrats looking forward, according to a CNBC report.
"I know this is uncomfortable," Seidal told a crowd of donors and at least two GOP lawmakers.
"[But] if you are a Democrat and stand up to [Senator] Elizabeth Warren to corral enough votes for financial reform that breaks barriers for community banks and families, you're darn right we will work with you."
The Koch network's apparent decision to distance itself even further from the Trump administration comes at a time when Republicans are ramping up campaign efforts before the November midterms.
Read more: Steve Bannon seeks to cash-in on Hillary Clinton's insult
Bannon said it was not the time for the Koch network to "have some theoretical discussion and to have their spokesman come out and say the president is divisive."
"We can have a theoretical discussion later, OK?" he said, adding: "This is why [the Koches] don't know what it means to win, OK?"
Referring to the Koch brothers' ongoing lack of support for Trump, Bannon said "they were the first people to put the knife in [Trump's] back."
Koch network spokesperson James Davis dismissed the accusations, however, telling Politico that the network was "focused on uniting the country to help remove barriers that are preventing people from reaching the potential.
"Toward that end, we look forward to working with the President Trump, Congress and communities whenever possible to help people improve their lives," Davis said.
Despite a public falling out with the president, Bannon has spent recent months campaigning on the U.S. leader's behalf from afar, making a slew of media appearances lauding the Trump administration's progress ahead of the midterm elections.