Exiled by Trump, Steve Bannon Could Be About to Rise Again in Europe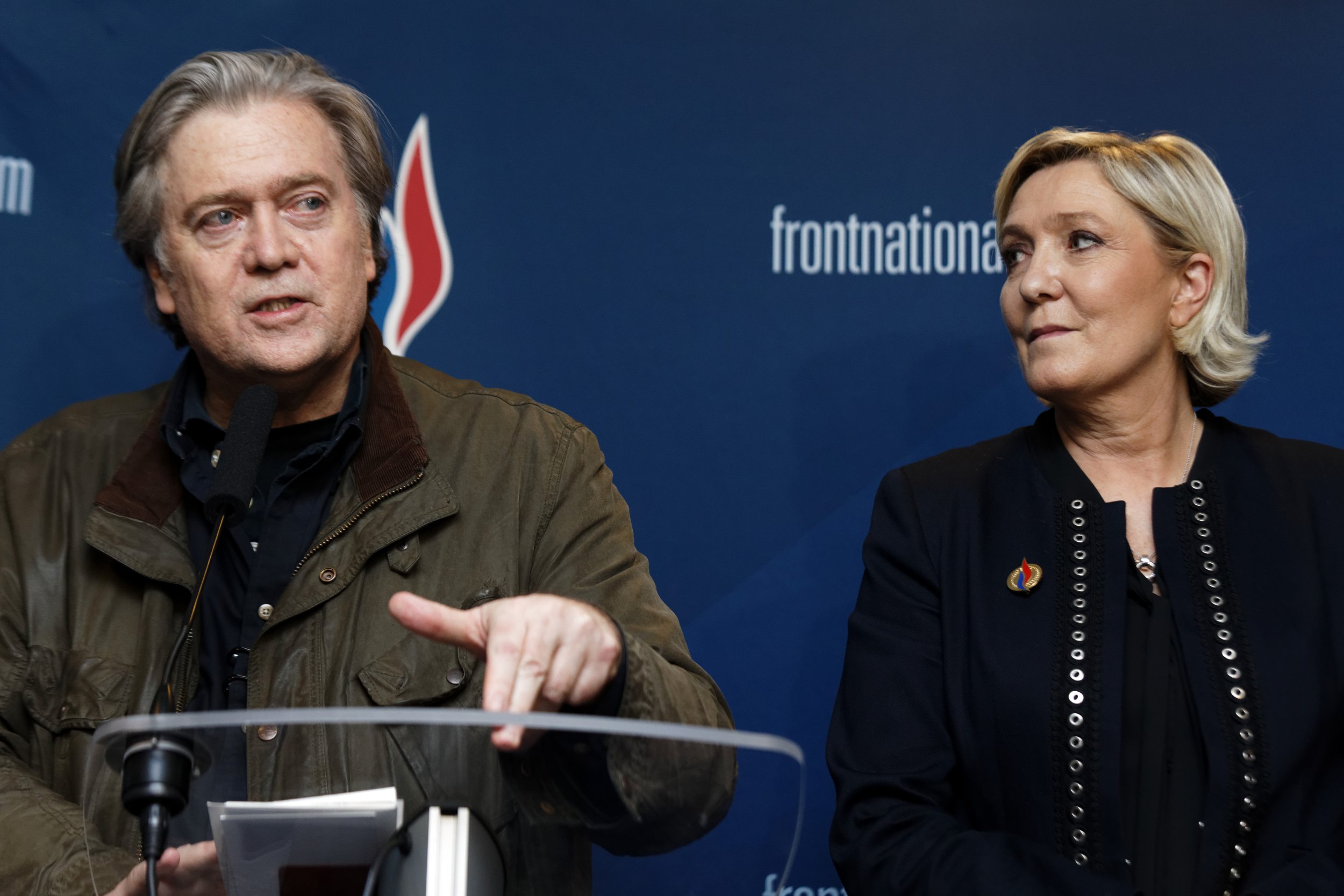 Former White House chief strategist Steve Bannon has pledged to unite Europe's far-right into an international alliance of populists, and the European Parliamentary elections will be the first test of whether his strategy is bearing fruit.
In Italy last month, nationalist politician Matteo Salvini, a longtime ally of Bannon and the head of the anti-immigration League Party, announced that he would head a new European populist alliance into the European parliamentary elections. It is still unclear exactly what type of group Salvini's populists would form in parliament given that many of its adherents disagree on core issues.
Nevertheless, a hodgepodge of populist anti-immigrant groups have loosely attached themselves to Salvini, giving the impression that Bannon may be, even if incidentally, getting what he wants. Leading political scientist Ivan Krastev has argued that Bannon's form of populism is "likely to be the major alternative to liberalism in the coming decades." And the elections Sunday could be a litmus test of this theory.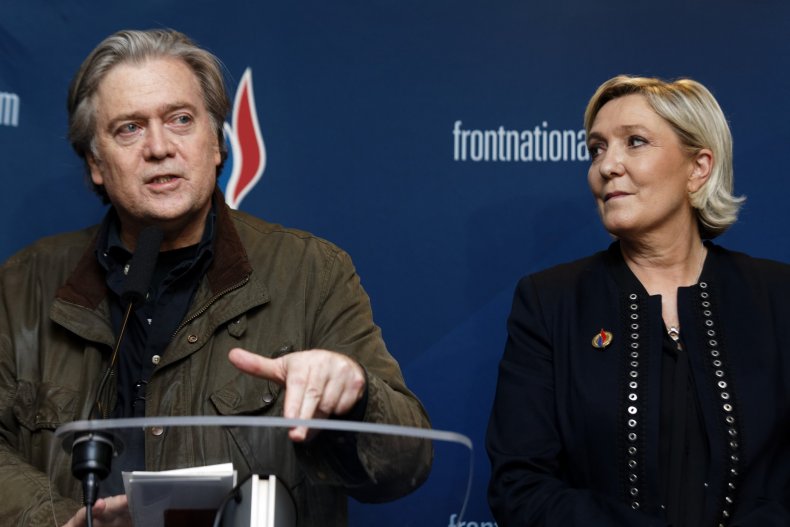 Germany's far-right Alternative For Deutschland (AFD) threw its weight behind the new populist alliance. The Finns Party, a populist conservative party that advocates for Finland to leave Europe's visa-free Schengen zone and form a visa-free regime with Russia, also joined. Geert Wilders, the controversial leader of the Netherlands' Party for Freedom, was there too. The Party for Freedom appeared to have lost three of its four seats in parliament and won its lowest percentage of votes in a decade as voters went to the polls in the Netherlands on Thursday.
But it's France where the real battle between the populists and pro-Europeans is expected to play out. And that's exactly where Bannon has set up shop, reportedly spending his days in a luxury hotel in Paris and drawing the ire of the country's centrist President Emmanuel Macron. Macron has accused Bannon and Russian oligarchs of conspiring to weaken the European Union.
Daniela Ramos Giraldo, a member of the new pan-European Volt Party, says her party wasn't able to run in France because of a cumbersome rule that requires parties to come up with €800,000 ($894,548) to print their own ballots. Nevertheless, she says that France is a key country for the future of Europe.
"Each country needs to understand that euro-skeptics cannot have a place in Europe," Giraldo told Newsweek. "But if you have a country like Germany become euro-skeptic, it will have a big impact. We can't lose France either to euro-skeptics. These two countries are very important."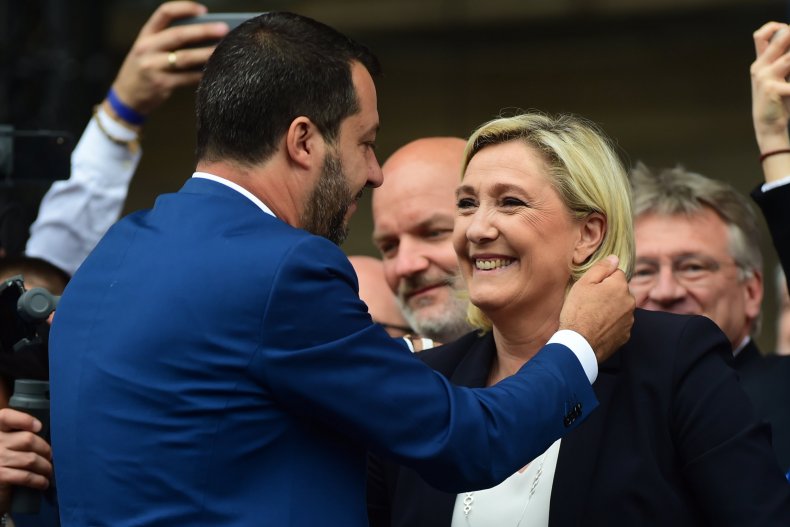 The Volt Party is running in eight countries across Europe, including Germany and Spain, in an effort to unite people around a strong pan-European message.
Some experts argue that, even if the populists win a higher number of seats than ever before, the majority of MEPs will still be pro-European. As political systems traditionally dominated by two parties fragment across Europe, it has become less likely that the center-right and center-left will dominate the European Parliament as they have for decades. Nevertheless, the populists are themselves too fragmented to pose a real challenge to more mainstream politicians, Jorn Fleck, a political analyst and former chief of staff for an MEP, argues.
"There's not much there in terms of a coherent agenda. They will gain seats, they will be a noisier, more vocal group of people in the European Parliament. Whether they'll have an established political group that comes with funding and speaking time and positions in parliament, I have my doubts that they can even agree to that extent," Fleck told Newsweek.
Marine Le Pen, the leader of the far-right National Rally Party in France, has voiced her support for Salvini's coalition. But she has attempted to distance herself from Bannon in the run-up to the May 26 election, telling reporters that he has "no role in the campaign." Bannon has called himself a simple "observer" of the election. But reports have suggested that Bannon, who became a target of Trump's ire after being ousted from the White House in the summer of 2017, has been meeting with Le Pen in Paris ahead of Sunday's vote.
Meanwhile, Bannon claims that he wants to be the point man for a global populist movement that would unite people like Le Pen with Hungary's Prime Minister Viktor Orban and the leader of the Philippines Rodrigo Duterte. This week, he is scheduled to speak at a media forum in Kazakhstan, a Central Asian country with a strong authoritarian bent.
Bannon has also enlisted the assistance of Mischael Modrikamen, a far-right politician from Belgium, to spearhead his efforts in Europe. The two men set up a foundation called "the Movement" in Brussels that is meant to provide campaign support to far-right parties in the lead up to elections. Modrikamen did not respond to requests for comment from Newsweek.
Still, some of Bannon's ideological bedfellows, such as Hungary's Orban and Britain's Nigel Farage, have stayed away from Salvini's group. Recent polls suggest that Farage's newly formed Brexit Party could win around 30 percent of the vote in Britain. This is widely viewed as a referendum on voters' dissatisfaction with the British Conservative Party, which has been unable to deliver a plan for the United Kingdom to exit the European Union before the European parliamentary elections.
British Prime Minister Theresa May resigned in tears on Friday after failing three times to get a Brexit plan approved.
Farage, meanwhile, has attempted to lean away from the far-right in an attempt to make the Brexit Party more inclusive.
Orban, similarly, has refrained from joining Salvini's populist group despite the fact that the center-right European People's Party (EPP) suspended his membership over his anti-EU rhetoric, among other issues. Poland's Law and Justice Party, which clashed with Brussels on rule of law issues, has also resisted Salvini's overtures.
On Sunday, voters across Europe will elect 751 members of the European Parliament for a five-year term. Once they are elected, the new MEPs will form into pan European political groups. The center-right EPP has long been the largest and most powerful group in the parliament. The Party of European Socialists group likewise combines MEPs from a wide range of center-left parties, like the UK's Labour Party, Spain's Socialist Workers' Party (PSOE), and Germany's Social Democrats (SPD).
Some polls suggest that the euro-skeptic populists could win up to 35 percent of the seats. Others estimate that they will likely win around 25 percent.
In France, where Bannon is "observing," the centrists and the populists are virtually neck and neck. The Renaissance campaign, led by Macron ally Nathalie Loiseau, is projected to win 23 seats in the parliament. The National Rally, being led by Le Pen ally Jordan Bardella, is expected to win 22.