Steve Bannon Helped Write Trump's U.N. Speech, Claims Sebastian Gorka, Who Called it 'Classic MAGA Agenda'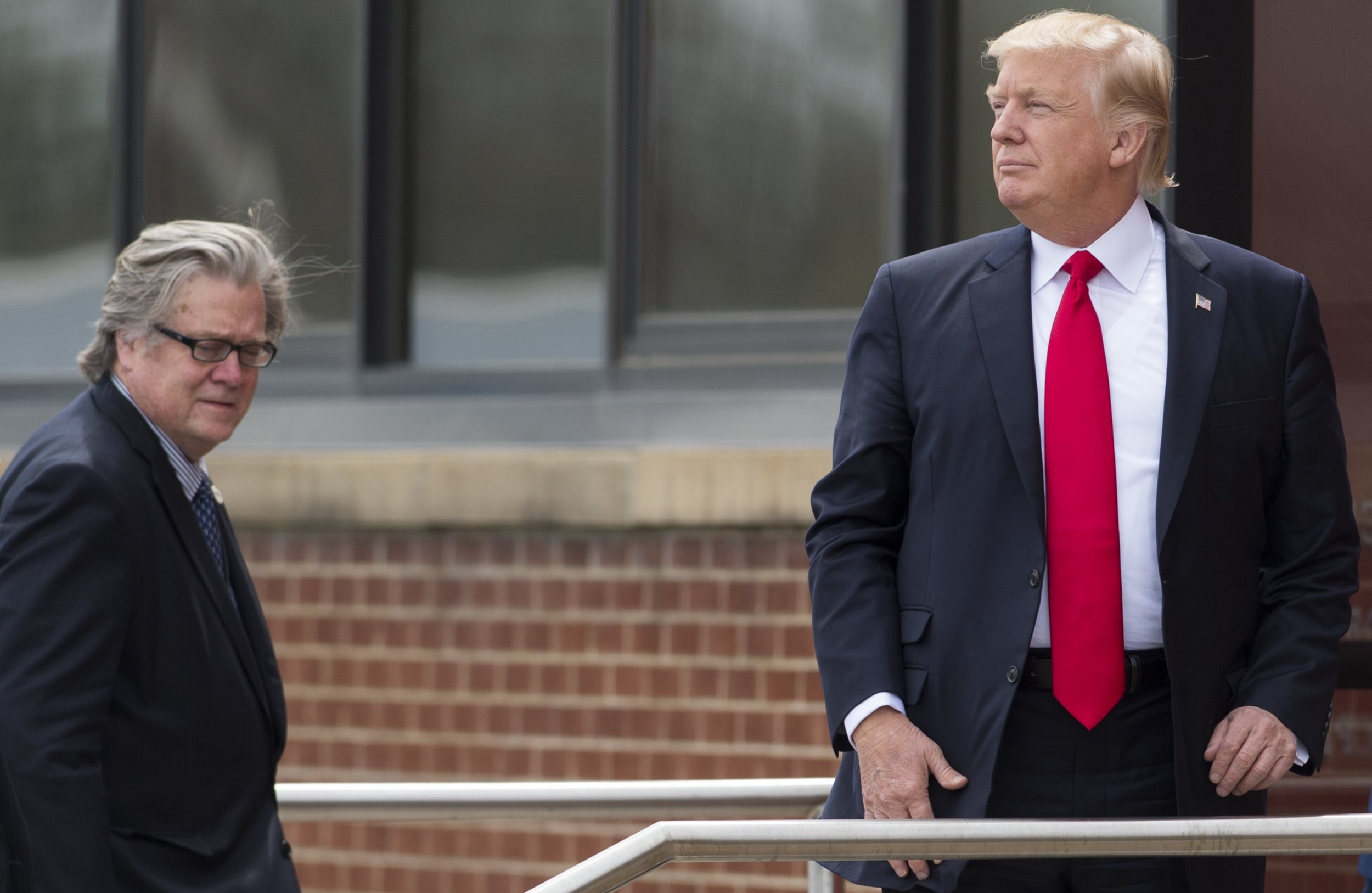 Updated | Steve Bannon helped write President Donald Trump's address to the United Nations General Assembly before he was ousted from the White House last month, Sebastian Gorka told Newsweek Thursday.
The White House responded that Gorka's claim was "100 percent false and Sebastian Gorka and Steve Bannon played no role in the U.N. speech."
Related: Bannon is taking on Trump in Alabama, but the real 'war' is for the soul of the Republican Party
Gorka, who previously worked with Bannon at Breitbart News, left the administration just days after Bannon as part of an overhaul following John Kelly's appointment as chief of staff.
Before he and Bannon departed, according to Gorka, they sat down with Trump's United Nations speechwriter to helped craft Tuesday's address.
"The individual who wrote that speech—and it's not the person they normally say it is—came to Steve and myself and sat in Steve's office with me before we left the White House and we consulted with him on what that speech should be about," Gorka, who worked as a deputy assistant to the president, said.
Reports have claimed that the speech was written by Stephen Miller, a senior adviser to the president who has espoused hardline immigration views and has been named as the man behind many of Trump's addresses as president.
National Security Council spokesman Michael Anton also emphatically denied Gorka's claim Friday. Anton said he was "an eyewitness to the entire process" of writing the speech, and insists the drafting of it did not begin until after Bannon and Gorka's departure from the White House.
"The speech was 100 percent written internally and all consultation and edits were sought and received by senior staff and cabinet secretaries," he added. "Nobody outside the administration had any input."
In his remarks to the U.N., Trump reiterated his "America First" approach and projected a vision of a world in which all nations "can be sovereign." He also threatened to "totally destroy" North Korea and called the Iran nuclear deal an "embarrassment to the U.S."
Gorka said he was happy that the final version of the speech was faithful to the one he said he helped craft.
"He kept his word, he got the text past the swamp dwellers and it was classic Trump, it was classic 'MAGA' agenda," he said, referring to the Trump slogan Make America Great Again. "Everything in there was classic Donald Trump, from calling out evil, from challenging the multilateral globalism that the U.N. has become. Not even declaring communism a threat, but also talking about the disaster that is the socialism and what it's caused in Venezuela. That was Donald Trump."
Like Bannon, Gorka has far from given up on advancing the Trump agenda he played a part in creating from its early stages. While Bannon has gone back to work at Breitbart News, Gorka this week signed on as chief strategist for a pro-Trump super PAC, the MAGA coalition. And, he said, the U.N. speech showed that he and others who initially backed the "Make America Great Again" platform can still have an influence, even if the president is currently being surrounded by what Gorka termed the "swamp."
"It just shows you that even if he is surrounded by the wrong people, we can have an influence," he said. The good people left inside the building can support the president as is required. He knocked it out of the ballpark."
This article has been updated to include the response from the White House and the National Security Council.
Steve Bannon Helped Write Trump's U.N. Speech, Claims Sebastian Gorka, Who Called it 'Classic MAGA Agenda' | U.S.