Steve Bannon Urges 'Major Effort' to Bring Joe Manchin Into Republican Party
Steve Bannon is calling for a "major effort" to bring moderate Democrat Senator Joe Manchin into the Republican Party so that the GOP can take back the Senate.
"I actually believe there should be a major effort led by guys like [Florida Senator] Rick Scott to bring Joe Manchin into the Republican Party right now," Bannon said on a Monday episode of his Real America's Voice podcast, War Room. "Bring him into the Republican Party, make sure that he's a welcome member of the Republican Party."
The former White House chief strategist's remarks come one day after Manchin reaffirmed that he is opposed to eliminating the filibuster, even if it would help Democrats pass voting rights legislation.
Rather than going around the Senate rule, Manchin told Fox News's Chris Wallace that he's holding out hope that enough of his Republican colleagues will "vote for what they know is right" even if it's against party lines.
"I'm just very hopeful and I see good signs," Manchin said. "Give us some time."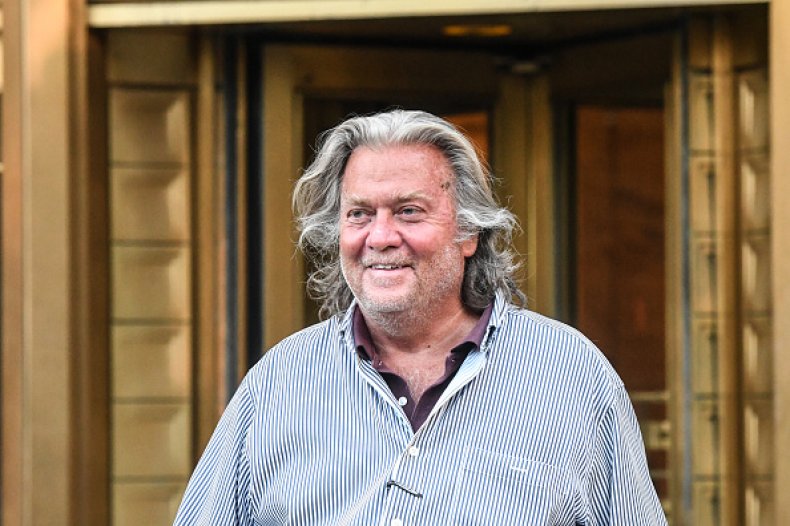 Wallace asked the West Virginia Democrat if he was being naive in thinking there would be bipartisanship cooperation, especially since Senate Republicans recently used the filibuster to block the creation of a January 6 commission to investigate the deadly Capitol attack.
"I'm not being naive," Manchin replied. "I think [Mitch McConnell is] 100 percent wrong in trying to block all the good things that we're trying to do for America. It would be a lot better if we had participation and we're getting participation."
"I'm going to continue to keep working with my bipartisan friends," he added. "There were 33 Democrats in 2017 that signed a letter to please save the filibuster and save our democracy. That's what I'm trying to do."
On Monday, Bannon also suggested ousting Senate Minority Leader Mitch McConnell from leadership and questioned the legitimacy of three Democratic Senate wins in the last election.
"Take control," he said. "Mark Kelly in Arizona—we're going to find out with the full forensic audit, [he] was not elected U.S. Senator. Both senators down in Georgia are not legitimate."
"The whole legitimacy question because of the pounding, the pounding, the pounding of the three November movement to get to the bottom of this," Bannon added.
During Georgia's senate runoffs in January, Democrats flipped both Senate seats after Senators Jon Ossoff and Raphael Warnock defeated incumbent Republicans, David Purdue and Kelly Loeffler.
Kelly also replaced incumbent Republican Martha McSally after winning Arizona's special election, which marked the first time Arizona has had two Democratic senators in nearly 70 years.
Newsweek reached out to Scott's office for comment but did not hear back before publication.