Steve Bannon Vows 'We're Taking Down the Biden Regime' As He Surrenders to FBI
Steve Bannon has turned himself in to authorities after being indicted last week for defying a subpoena from the congressional panel investigating the U.S. Capitol riot on January 6.
Bannon, a former advisor to Donald Trump, arrived at the FBI's field office in Washington D.C. on Monday morning.
Before entering the building, Bannon addressed his supporters in a livestream posted to the social media platform GETTR. He also posted a livestream of his surrender to his website "War Room," where he posts a daily podcast.
"I don't want anybody to take their eye off the ball of what we do every day," Bannon said. "We got the Hispanics coming on our side, the African Americans coming on our side. We're taking down the Biden regime."
He added, "I want you guys to stay focused and stay on message."
Bannon was charged by the Department of Justice with one contempt count involving his refusal to appear for a deposition and a second count involving his refusal to produce documents to the select committee.
The former White House official has refused to cooperate with lawmakers investigating the January 6 attack. Bannon and his lawyers have argued executive privilege protects him from having to turn over records in the probe, even though he was not working in the Trump administration when the insurrection happened.
Each charge carries a maximum sentence of one year in jail as well as a fine of up to $1,000.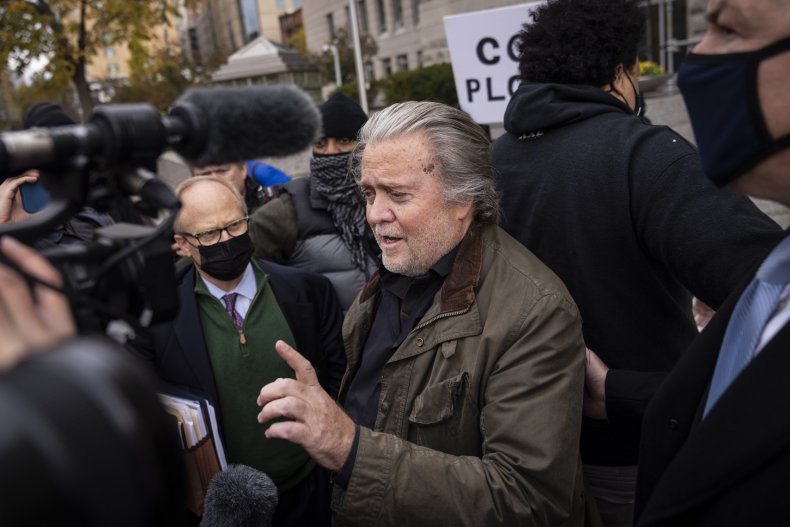 The select committee in the U.S. House of Representatives investigating the deadly Capitol riot has said Bannon reportedly urged then-President Trump to focus his election efforts on January 6.
Lawmakers on the panel also said in their subpoena request that Bannon reportedly attended a gathering at the Willard Hotel on January 5th, which served as a command center for the campaign to block the congressional certification of President Joe Biden's victory.
At one point on January 5, Bannon reportedly said, "all hell is going to break loose tomorrow."
Bannon isn't the only former Trump official to have been called to testify before the select committee.
Jason Miller, an adviser to Trump and Michael Flynn, the former president's onetime national security adviser, was subpoenaed by the panel last week.
He's also not the only one to defy the request from lawmakers. Last week, committee chairman Bennie Thompson and vice-chair Liz Cheney announced they were considering contempt charges against former White House chief of staff Mark Meadows.
"Indeed, Mr. Meadows has failed to answer even the most basic questions, including whether he was using a private cell phone to communicate on January 6th, and where his text messages from that day are," the two representatives said in a joint statement.