Steve Bannon's War on the Republican Party is Injuring the GOP in Alabama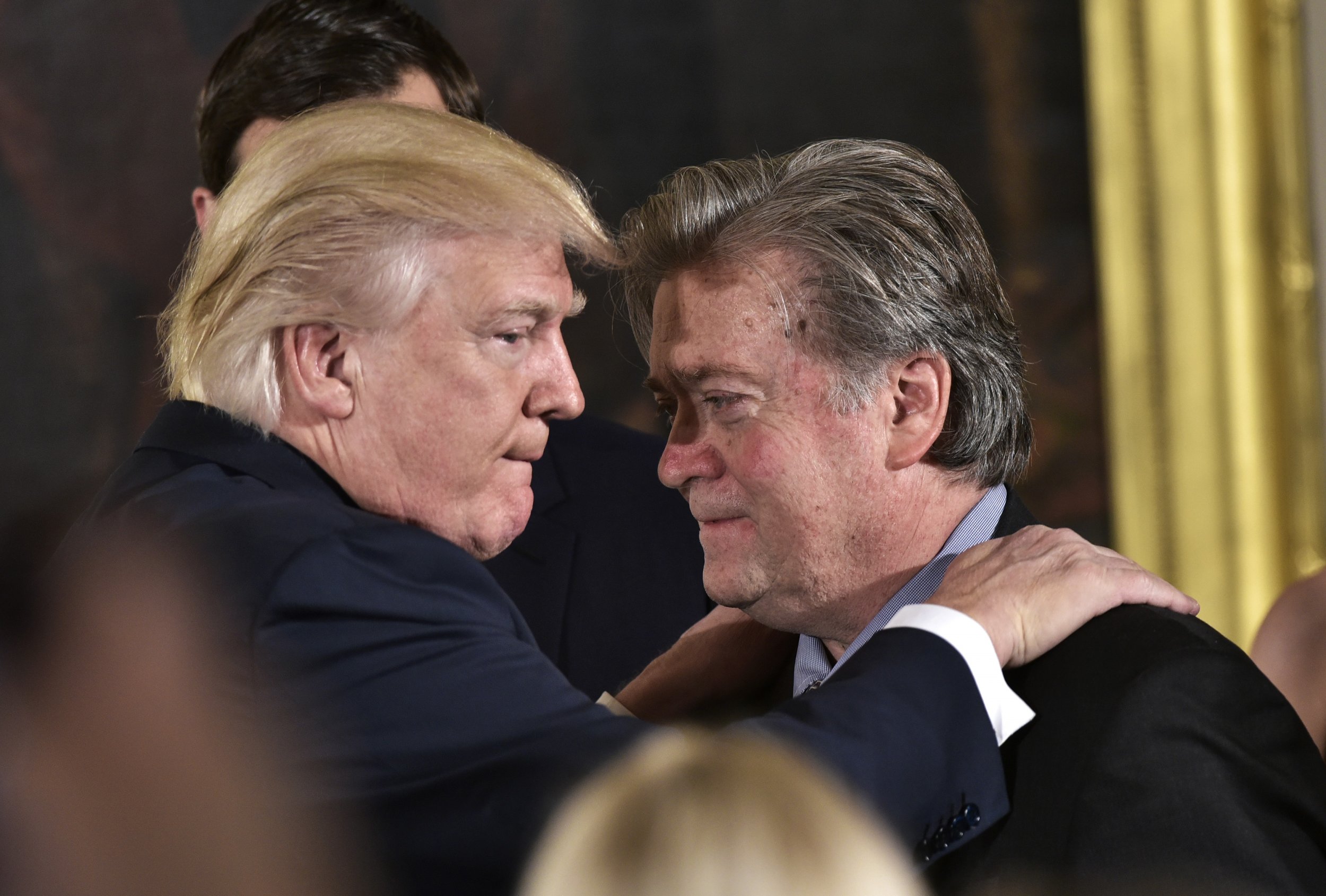 Steve Bannon's "season of war" against the Republican establishment may land an unthinkable casualty: Alabama's status as a deep-red conservative stronghold.
An Alabama Senate election between Bannon-backed Republican Roy Moore and Democrat Doug Jones is tied in a dead heat at 42 percent, according to a new Fox News poll. The margin suggests a close race in deep-red Alabama, which has twice as many Republicans as Democrats.
The puppet master of the tight race is likely Bannon, whose news outlet Breitbart swore a "war" against the party after he was ousted from the White House in August. Bannon made Alabama as the grounds for his first battle for the heart of the Republican party — and the split might give Democrats an opening.
Bannon backed Moore, a far-right, anti-LGBT candidate who handily beat the more moderate choice of President Donald Trump, Luther Strange, for the GOP primary nomination in September. Bannon, a former White House adviser, "embarrassed" Trump when his candidate challenged Strange, the moderate choice endorsed by most establishment Republican leadership to steer the state.
Alabama Republicans weren't energized by the fighting — only 17.6 percent of registered GOP voters turned out to vote in the proxy war between the GOP establishment and Bannon.
The close face-off between the two sides of the Republican party has left Alabama voters split in their usually strong electorate. Alabama, long-known as a stable Republican state, voted for Trump by nearly 28 points over rival Hillary Clinton. Mitt Romney won Alabama in 2012 by 22.2 percentage points.
Moore, the choice of populist Republicans, campaigns as an evangelical Christian who views homosexuality as "abhorrent, immoral, detestable, a crime against nature and a violation of the laws of nature and nature's God upon which the nation and our laws are predicated." While not originally the choice of Trump and Senate Majority Leader Mitch McConnell, both quickly endorsed the candidate, erasing any signs of a party split.
Tweets from Trump tweets backing Strange were deleted after the candidate was defeated despite his support. One deleted message said: "ALABAMA, get out and vote for Luther Strange - he has proven to me that he will never let you down! #MAGA"
His opponent, Jones, is a former U.S. attorney who secured the conviction of KKK members who murdered four African-American girls in the Baptist Church in Birmingham, Alabama. Jones is campaigning on a populist economic message to make health care less expensive and increase school funding. Jones has secured a shoestring budget compared to Moore, who is funded by large Republican donors.
The special election to fill Attorney General Jeff Sessions' former seat occurs December 12.