Steve Bannon's Chinese Backer Blames Bankruptcy on 'Data Tampering'
Chinese fugitive Guo Wengui, Steve Bannon's financial backer, announced he would be shutting down video platform GTV after filing for bankruptcy and claiming massive data tampering by hackers.
GTV, a Chinese-language video streaming site launched in 2020 by Guo and Bannon, shut down Thursday morning amid legal troubles for the Chinese exile.
"Dear comrades in arms, GTV has been completely shut down at 12:00 in the morning yesterday, due to the massive tampering of data by the Communist Party, hackers," Guo announced Thursday on Gettr, the social media app he owns.
The website featured daily videos of Guo and translated versions of Bannon's War Room podcast, spreading disinformation about the coronavirus pandemic and the 2020 presidential election. GTV was the center of a scandal surrounding President Joe Biden's son Hunter. In October 2020, a GTV user posted a video of a man engaging in illegal activity, claiming it was Hunter Biden, according to Mother Jones magazine. The video was never verified.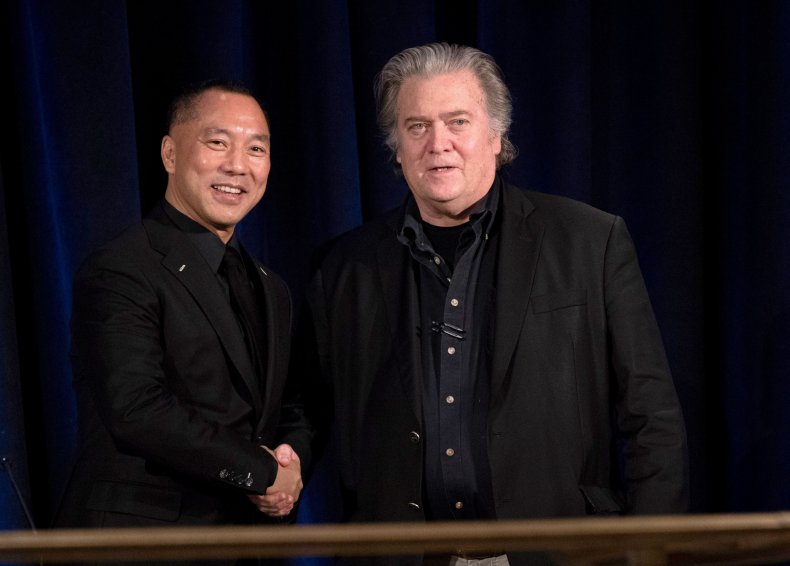 The shutting down of GTV came after numerous financial troubles for Guo. Weeks before, Guo filed for bankruptcy following a court ruling ordering him to pay about $250 million to a creditor suing him for breach of contract.
In a Gettr post, he announced his bankruptcy and signed the documents on camera.
In Guo's bankruptcy filing, which he also shared online, he said he owed money to between 50 and 99 people. He placed his personal worth between $50,000 and $100,000.
"From this moment on, I'm personally bankrupt due to the persecution of the Chinese Communist Party," he said, without elaborating.
Guo is also very outspoken against the Chinese government. He fled Beijing in 2014 when authorities accused him of bribery and money laundering, according to The Washington Post.
Bankruptcy is just the latest setback in Guo's financial history. In September, the Securities and Exchange Commission charged GTV with conducting an illegal stock offering. GTV is said to have "violated the registration provisions of the federal securities laws by soliciting thousands of individuals to invest in an offering of GTV common stock," according to court documents. GTV and its parent company were ordered to pay over $486 million to compensate investors.
Last month, Guo faced $134 million in contempt of court fines after running afoul of a New York judge. He refused to move his $28 million yacht back into U.S. waters, defying the court's order barring him from selling or relocating the boat or any other property he controls—resulting in a daily forfeiture of $500,000.
Newsweek has reached out to Guo for further comment.