Democrat Steve Bullock Holds Lead in Key Montana Senate Race: Poll
Montana Governor Steve Bullock is leading Republican Senator Steve Daines four months ahead of their key Senate race, new polling data shows.
The latest survey from the University of Montana found that a little more than 47 percent of state voters would vote for Bullock were an election held today.
By comparison, 43 percent of Montanans told pollsters that they would re-elect Daines—putting the GOP incumbent four points behind his Democratic challenger. A further 9 percent of state voters said they hadn't decided who they would vote for in the coming Senate race.
Gov. Bullock's poll lead in the deep red state will likely come as welcome news to his Senate campaign team, but the Democratic candidate's lead is still within the margin of error.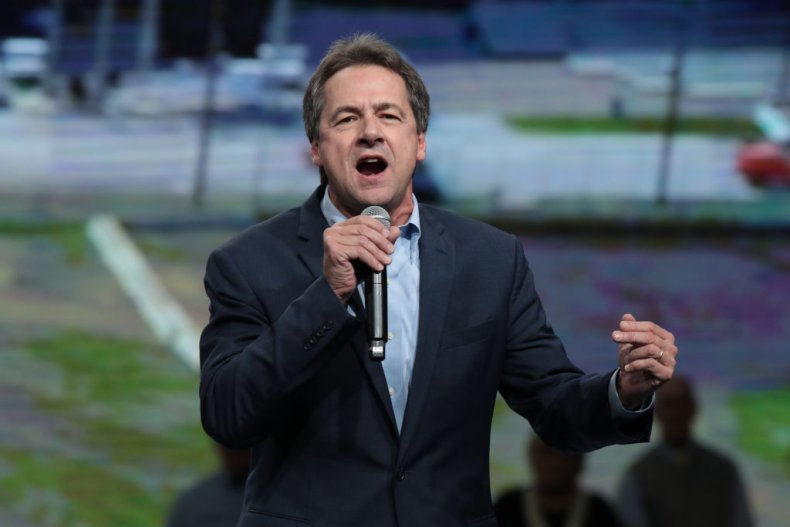 His lead over Daines in the new University of Montana survey is also down on previous head-to-head polling from April.
According to one poll conducted by Montana State University between April 10 and April 27, Bullock had a 7-point lead over Daines-putting him 3 points up on his lead in the new University of Montana survey.
Going back to March, a survey from the Democratic firm Public Policy Polling found Bullock and Daines were neck-and-neck on 47 percent support each.
Analysts at The Cook Political Report now rate the Montana race as a "toss up" contest, along with Senate races in the swing states of Arizona and North Carolina.
Pledging to throw his weight behind Daines' campaign, President Donald Trump tweeted: "No Contest. Steve blows him away. So important for Montana. I'll be there to help Steve win big!!!"
Asked who they would vote for in the presidential election, Montanans rallied behind Trump in the latest University of Montana poll. Fifty-two percent said they would vote for Trump if an election were held the same day, while 38 percent said they would opt for Biden.
A further 9.8 percent of state voters told pollsters they didn't know who they would be voting for in November.
The president's 14-point lead over Biden in the state is significant, and well outside the survey's margin of error, but is still lower than his performance in Montana four years ago.
When voters went to the polling booths in 2016, Trump beat Hillary Clinton by a margin of 20 percentage points in the state, with 55.6 percent of Montanans backing his campaign.
The new University of Montana poll surveyed 517 registered voters in Montana between June 17 and June 26. Its margin of error stands at 4.3 percentage points.