Steve Burton Exits 'General Hospital' Over COVID Vaccine Mandate
Steve Burton has revealed that he's been let go from his role as Jason Morgan in General Hospital, over his refusal to take the COVID-19 vaccine.
The 51-year-old actor, who first joined the long-running ABC daytime soap in 1991, took to his Instagram account on Tuesday to reveal that he was no longer part of the cast.
"I know there's been a lot of rumors and speculation about me and General Hospital, and I wanted you to hear it from me personally," he said in a video post. "Unfortunately, General Hospital has let me go because of the vaccine mandate."
"I did apply for my medical and religious exemptions, and both of those were denied. Which, you know, hurts," he went on. "But this is also about personal freedom to me. I don't think anyone should lose their livelihood over this.
"But with that being said, you know me. I'll always be grateful for my time at General Hospital. I love it there, I grew up there, I grew up with some of you, so I'll always be grateful."
Despite his stance against the vaccine mandate, Burton expressed optimism about his future, as he also revealed that he hasn't ruled out one day returning to the soap, which he re-joined in 2017 after a stint on The Young and the Restless.
"I believe that when one door closes, multiple doors open. That's always been my perspective," he continued in the clip. "So I am excited to see what the future brings.
"Maybe one day, if these mandates are lifted, I can return and finish my career as Jason Morgan. That would be an honor. And if not, I'm gonna take this amazing experience, move forward and be forever grateful."
Dedicating a special message of gratitude to his fans, Burton added: "I gotta say that I am forever grateful for your love and your support over the years. It means so much to me. So thank you.
"I don't know what my last airdate is. It may have aired, or it might be tomorrow or the next day. I'm not sure. But I want you guys to have an awesome Thanksgiving."
Newsweek has contacted a representative of General Hospital for comment.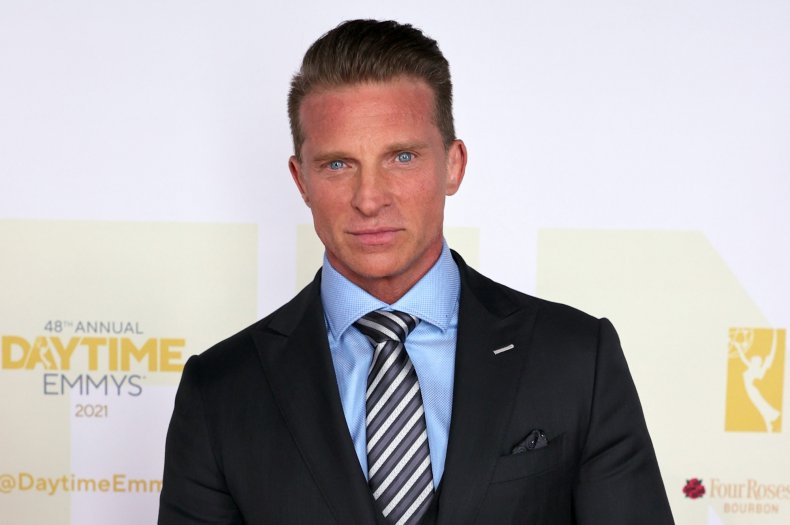 Burton's exit comes weeks after his General Hospital co-star, Ingo Rademacher, departed his role as Jasper "Jax" Jacks amid a storm of controversy.
According to The Hollywood Reporter, the actor, who joined the soap in 1996, was let go after refusing to comply with the show's COVID vaccine mandate, which requires all cast and crew to be vaccinated.
Rademacher, who has repeatedly expressed his opposition to vaccine mandates, also faced backlash from his General Hospital co-stars after sharing a social media post that referred to the U.S. assistant secretary for health Dr. Rachel Levine, who is transgender, as a "dude."
Transgender cast member Cassandra James, who wrote on Twitter: "I am aware of a transphobic post shared by a fellow General Hospital actor. Shame on you.
"You have some serious unlearning and education to do. I feel deeply disappointed that such a public display of ignorance could come from our GH family."
Nancy Lee Grahn, who plays Alexis Davis on the show, then revealed that Rademacher was no longer a part of the cast as she weighed in on his post.
She wrote: "The fellow actor, #IngoRademacher, is mercifully no longer a part of the #gh cast. Transphobia & misgendering are disgusting & should be unacceptable in any industry, including soaps/acting. I stand with my costar, @cassandrajames_, & the trans community."
In a video posted amid the backlash, Rademacher conceded that he should have omitted the word "dude" from the original post, but added: "I don't think it's OK to call a transgender an empowered woman because where does that leave women?"
Addressing his co-star, he said: "Cassandra, I apologize to you sincerely. I think you're an absolute talent and you're very beautiful as well. I don't think a transphobic man would say that. I think you're absolutely gorgeous, I really do."