Democrat Steve Cohen Suggests William Barr Is Too Chicken to Testify As He Passes Out KFC At Congressional Hearing
Democratic Representative Steve Cohen called out Attorney General William Barr for being too chicken—literally—to testify before the House Judiciary Committee on Thursday about Robert Mueller's Russia report.
"He's here," Cohen reportedly joked to his colleagues as he walked into the room with a bucket of KFC and a small statue of a chicken. Pictures shared on social media show that Cohen placed the figurine on the empty table where Barr would have sat to testify before lawmakers.
On Monday, before Barr officially backed out of the hearing, Cohen told CNN that if the "attorney general is chicken to face the House Judiciary Committee, he's not worthy of being a United States attorney general."
Thursday's hearing would have allowed members of Congress and staff lawyers to question the attorney general over his controversial handling of the final Mueller report, which was redacted and made available to the public on April 18.
But after facing a grilling from the Senate Judiciary Committee on Wednesday, the Justice Department announced that Barr would be a no-show on Thursday morning. DOJ spokeswoman Kerri Kupec argued that the committee's decision to allow staff lawyer questioning created "unprecedented and unnecessary" conditions for the testimony.
But Representative Jerry Nadler, the chairman of the House Judiciary Committee, didn't buy the excuse and slammed the Trump administration for having the "nerve to dictate our procedures" and for "stonewalling" Congress.
"Given [Barr's] lack of candor in describing the work of the special counsel, our members were right to insist that staff counsel be permitted to question the attorney general," Nadler told reporters before Wednesday's mock hearing.
After Thursday morning's mock hearing, Cohen told reporters that "chicken Barr should've shown up today and answered questions." He then added that Barr was picked to be like Trump's former personal attorney and loyal fixer Roy Cohn.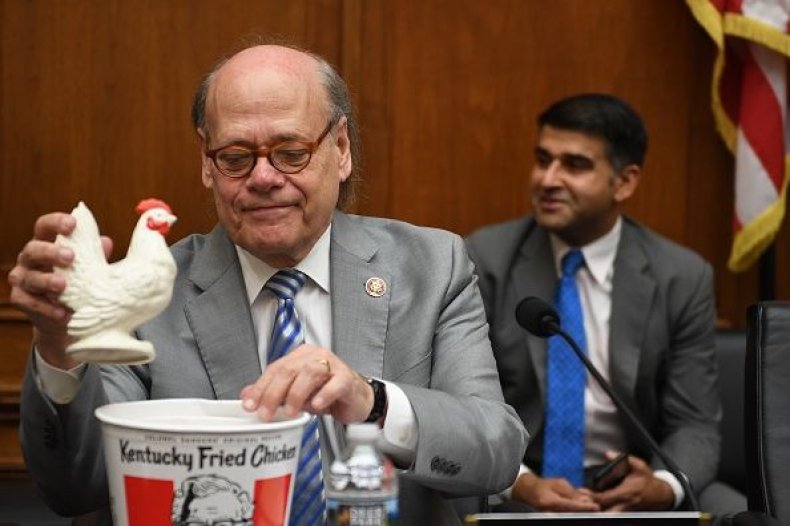 On Wednesday, Barr was slammed by Senate Democrats over the Mueller report and his decision to clear President Trump of obstruction of justice.
Underlying the hearing was the revelation that Mueller had written a letter to the attorney general in late March, before the release of the redacted report, in which the special counsel said he disagreed with Barr's four-page summary of the report.
During his testimony, Barr raised eyebrows when he referred to the 448-page report on the two-year Russia probe as his "baby." He also slammed Mueller for investigating obstruction of justice if he knew he was not going to make a final determination on the issue.
Barr was also criticized after he admitted that neither he or Deputy Attorney General Rod Rosenstein looked at any underlying evidence from the investigationbefore coming to their conclusion that Trump did not obstruct justice.
Following Wednesday's hearing, Democratic lawmakers and 2020 candidates are calling for Barr to resign. Some are even calling for his impeachment, though removing an attorney general from office is just as difficult as removing a president.
But Barr said he was here to stay during his testimony, claiming that he would not recuse himself from any of the other investigations referred by the special counsel's office to other prosecutors.