Steve Daines' Twitter Suspension Over Hunting Photo Enrages Republicans
Conservatives are supporting Senator Steve Daines on Twitter after his account was temporarily suspended due to a "graphic" picture of him hunting.
The account was deemed "temporarily unavailable because it violates the Twitter Media Policy," according to a notice on the Montana Republican's page. It had been unavailable until Tuesday afternoon, at which point Daines' office said the account had been reinstated by Twitter owner Elon Musk.
"I am grateful Elon Musk reached out to me to resolve this issue and am glad that he recognizes that free speech is a bedrock of our country, and acted quickly to reinstate my Twitter account after being made aware of its suspension," Daines said Tuesday in a statement. "The initial ban over the profile photo of my wife and me after a successful Montana antelope hunt was disappointing given the fact that it is no different than photos Montanans share on social media every day.
"It's our Montana way of life and we are proud of it. I am glad Elon Musk recognizes this. The rest of the country benefits from the acceptance of diverse thoughts and values, including Montana values."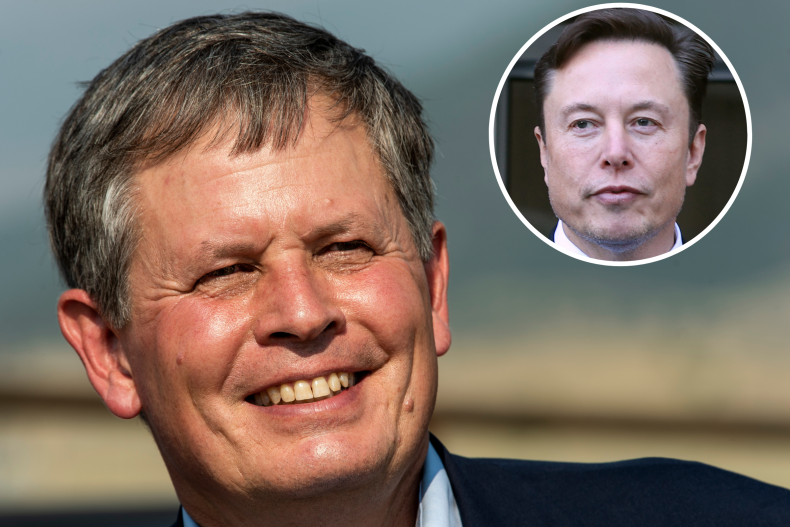 Daines' press office confirmed to Newsweek that the violation was regarding a profile photo featuring Daines and his wife, Cindy, hunting and posing beside a dead antelope.
Rachel Dumke, a spokesperson for Daines, shared a response from Twitter with Newsweek that Daines' account would be reinstated if his profile image is deleted.
"We've reached out to Twitter to get this resolved because the senator believes it is preposterous that a picture of him and his wife hunting—an activity that is engrained in the Montana way of life—would be against Twitter rules," Dumke said Tuesday morning.
The notice included a link to Twitter's Sensitive Media Policy, which says: "You may not post media that is graphic or share violent or adult nudity and sexual behavior within live video or in profile header, List banner images, or Community cover photos. Media depicting excessively gory content, sexual violence and/or assault, bestiality or necrophilia is also not permitted."
Daines was first elected to the Senate in 2014. Two of his colleagues in the Senate came to his defense, lamenting him being in "Twitter jail."
Republican Senator Ted Cruz of Texas called it "ridiculous."
"If you don't like hunting, fine, don't go," Cruz tweeted. "But don't censor others who disagree. And I'm pretty sure this is a formal job responsibility for a senator from Montana!"
GOP Senator Mike Lee of Utah tweeted that "you won't find nicer people" than Daines and his wife.
"Is it because Steve and Cindy are hunters?" Lee tweeted. "Or because they're hunters who are (gasp) actually hunting? Or is it because they're prominent Republicans, and must therefore be punished?"
He also called on Musk to take immediate action.
"It looks like you need to hire some new people and fire some bad employees who are trying to undermine you," Lee wrote, tagging Musk. "I know this isn't the kind of Twitter you want."
Montana Republican Representative Ryan Zinke called it censorship in a tweet, saying it's part of "our Montana way of life."
Donald Trump Jr. also chimed in via tweet, calling it a "disgrace."
CNN reporter Manu Raju tweeted that a spokesperson from the National Republican Senatorial Committee (NRSC), which is chaired by Daines, called the suspension "insane" and immediately called for a reversal.
Newsweek reached out to the NRSC for comment.
Update 2/7/23, 2:09 p.m. ET: This story was updated with comment from Daines.