'Delicious Moment': Steve Forbes Praises Donald Trump Speech by Comparing President to Cult Leader on Fox Business
Forbes Media Chairman and Editor-in-Chief Steve Forbes appeared on Fox Business Wednesday morning to praise President Donald Trump's State of the Union speech -- by comparing the commander-in-chief to a cult leader.
Forbes was asked by host Maria Bartiromo about the moment where female Democratic lawmakers stood and cheered about the creation of new jobs for women.
"These are people who think Donald Trump is the devil," Forbes, a former Republican presidential candidate, said while speaking about the women, who dressed in white in a tribute to suffragists. "So he first got them to stand up by pointing out that 58 percent of new jobs were women and initially they didn't know how to react. But they couldn't boo it, so they had to stand up and cheer. And then he was master of ceremony, saying 'stay up, I've got more good news for you, more members of Congress -- female members of Congress than ever before.'"
"It was almost like, just for a nanosecond, almost like a cult leader and his followers. The way — the way they cheered him, the way he was in control, delicious moment, these women cheering Donald Trump. I loved it."
Trump's State of the Union received the highest ratings of any major speech he has given since taking office, according to The Hill. CBS, NBC, ABC and Fox combined received an overnight rating of 16.3, the outlet reported, citing Nielsen ratings. The figure represents a 10 percent rise from the 2018 State of the Union and mean that about 49 million people likely watched the speech.
The number of viewers is also significantly above the 42.8 million people who watched President Barack Obama's second State of the Union speech.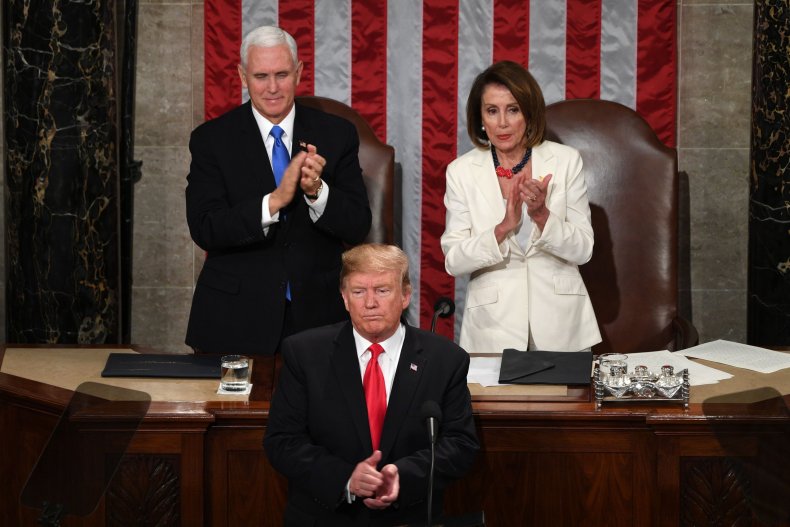 Many supporters of the president praised Trump for the speech.
Media Matters reported that Fox Business host Stuart Varney declared that "the president delivered, I think, a message of unity," while Fox News contributor and Former Acting ICE Director Thomas Homan said "what he showed last night, he's a great leader."
"I think when all is said and done, maybe a decade from now, President Trump is going to be recognized as one of the greatest presidents of our generation, if not the greatest, because he's a great leader, he's done more to protect this country -- he has done more in the last two years than most presidents have done in eight. You can't deny that."
Critics were much more skeptical, noting that Trump has previously issued calls for unity that fade into partisan advocacy after formal speeches.
Journalists pointed out discrepancies between his statements and policy record and noted the president issued false statements about his major priorities, including job creation and immigration.