Steve Harvey and Mo'Nique Argue About Her Claiming She Was 'Blackballed' by Lee Daniels, Tyler Perry and Oprah Winfrey
TV show host Steve Harvey and Precious actress Mo'Nique tried to hash out their disagreements Wednesday on Steve. While things began level-headed, things quickly switched tones.
It started when Harvey claimed Mo'Nique "burned too many bridges." Mo'Nique first told The Hollywood Reporter that Lee Daniels, Tyler Perry, and Oprah Winfrey blackballed her in 2015. The actress, who starred in her own comedy sitcom The Parkers from 1999 to 2004, accused Daniels of intentionally damaging her career by taking away roles she had initially been offered. She also accused View co-host Whoopi Goldberg of being "the help."
"There have been people that have said, 'Mo'Nique, she can be difficult. Mo'Nique and her husband can be difficult.' They could probably be right. One of the networks said to [Lee] that I was 'really difficult to work with.' And I said, 'Well, that's funny, because I've never even worked with them, but OK,'" she said at the time.
Mo'Nique also made comments during a comedy show in 2017 where she slammed Winfrey: "I wasn't blackballed. I was white-balled by some black d***s, who have no balls," Mo'Nique said. "Thank you, Ms. Oprah Winfrey. Y'all can suck my d***, if I had one."
"This is my brother, and when I heard you go on the air and you said 'My sister done burned too many bridges and there's nothing I can do for her now,'–Steve, do you know how hurt I was?" Mo'Nique said during the interview.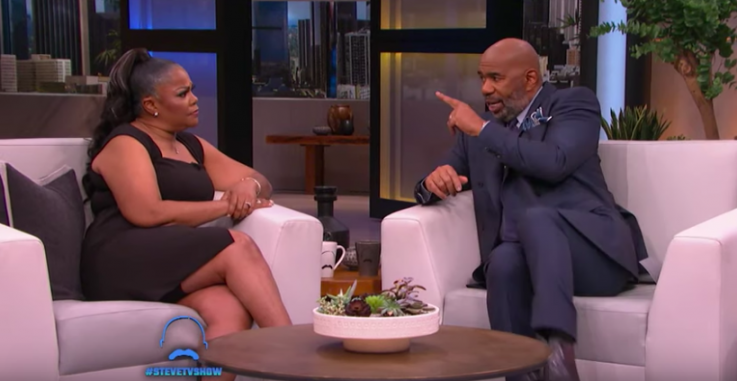 Harvey then tried to defend himself and say that though he may have agreed and stood by the actress in the past, Mo'Nique ultimately "went about it wrong."
"I felt you had done yourself a disservice when you chose to go about it," Harvey began.
"Tell me how I went about it," Mo'Nique interjected.
"The two problems we had," Harvey prefaced. "No. 1, the boycott of Netflix, we never gave people a point of action ... the second problem with me was that the problem you had with Netflix is rich people problems."
"Inequality is devastating and it's extreme," Mo'Nique responded. "When people said, 'Mo'Nique, do you think calling a boycott on Netflix is extreme?'–You're damn right. Isn't inequality extreme? We got to get to a place where we are unafraid to say it aloud."
The boycott Mo'Nique and Harvey are speaking about occurred in 2018 after the actress received half a million for her comedy special on Netflix, whereas the streaming giant gave Amy Schumer $13 million. The actress appeared on The View in February 2018 to shed light onto her reasoning behind the boycott.
"The issue was when I first said, 'let's boycott Netflix,' I said it's for gender-bias and color-bias," Mo'Nique said in 2018.
Part 1 of the interview below:
Part 2 of the interview below:
While Mo'Nique and Harvey agreed to disagree at the conclusion of the heated interview, the TV show host did admit that he could've gone about things in a different way and apologies needed to be said.
"Now guess what we need to do move forward in this and fix this? These people owe you an apology," Harvey said. "You owe those people an apology. Then, we can move forward."
"Mo, listen to me, you are a value to us all. You are valuable to Tyler Perry, you are valuable to Oprah, to Lee Daniels," he continued. "We can't do this without talent."
The friendship presented between Mo'Nique and Harvey was quite evident, despite the tense discussion. In the end, Harvey made a promise to Mo'Nique that he would try his best to gather the people involved and have the discussions she needs so she can experience a "release."
It isn't confirmed whether future conversations will happen publicly or if ever. Steve airs weekdays on NBC at 2 p.m. ET.