Steve Jobs' Daughter Eve Mocks iPhone 14 Launch, Hints Nothing's Changed
Apple's legacy has been questioned by the offspring of one of its founders, with Eve Jobs taking to Instagram to mock the latest iPhone launch.
Late on Wednesday, Apple CEO Tim Cook took to the stage at the Steve Jobs Theater to announce a number of new products, including the iPhone 14 and the iPhone 14 Pro.
The launch of the new Apple products was widely discussed online with people commenting and joking about it on social media. Weighing in on the topic was Eve Jobs, the daughter of former Apple CEO Steve Jobs, who shared a meme on her Instagram account.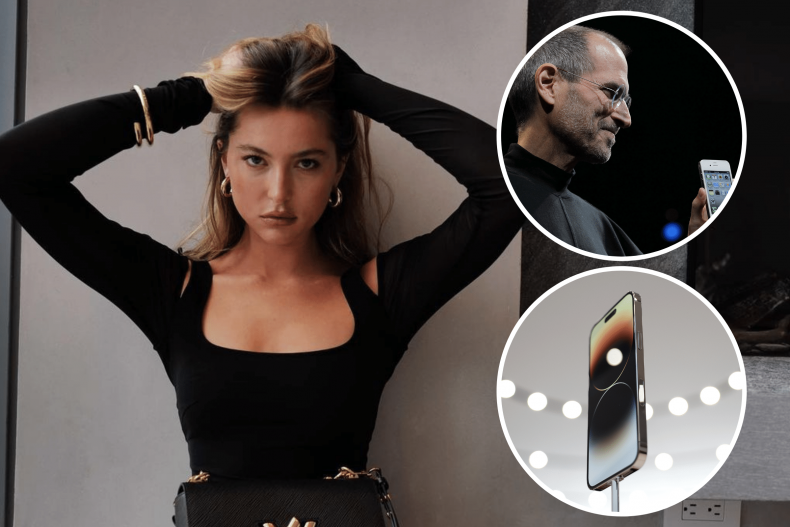 Sharing a joke on her verified Instagram account, Eve Jobs posted a picture to her stories showing a man proudly holding a new shirt, exactly the same as the one he's wearing. "Me upgrading from iPhone 13 to iPhone 14 after Apple's announcement today," the caption reads. The insinuation from the meme is that the latest version (14) will be almost identical to the previous version (13).
Steve Jobs' 24-year-old daughter Eve is a model, equestrian and social media influencer who shared the meme to her 307,000 followers. Eve's mother is Laurene Powell Jobs.
In a recent profile with Vanity Fair, it was mentioned that Eve Jobs had an iPhone. She called it "a beautiful reminder for me every day." She added, "All day, every day. It really is. It makes me feel warm."
As well as the iPhone 14 and iPhone 14 Pro, Apple CEO Cook also announced the Apple Watch Series 8, the Apple Watch Ultra, and a new launch of AirPods.
Eve Jobs' post on Instagram caught the attention of many social media users. Learning of the existence of Eve, @waxmonke wrote on Twitter, "Steve Jobs named his kid Eve Jobs?"
"Poor Steve. He wouldn't put anything out into the world unless he really thought it would change & help the world," Twitter user @1Chris2Know commented on Apple's new launch, "Now Apple is all "buy our new $2,000 tablet that showcases everything except what you want-and we will add AirPods for only $300! Go us!"
"That's good she keeps it honest," @Natalia77065471 commented, complimenting Eve on her public post. "I mean she's not wrong," another user said while others stated how funny they found it.
The account @wallstmemes took credit for creating the meme and commented on how Eve Jobs had used it, which had the media "going nuts."
Newsweek has reached out to Eve Jobs for further comment.