'Steve Jobs' Is a Fascinating Portrait of a Flawed Genius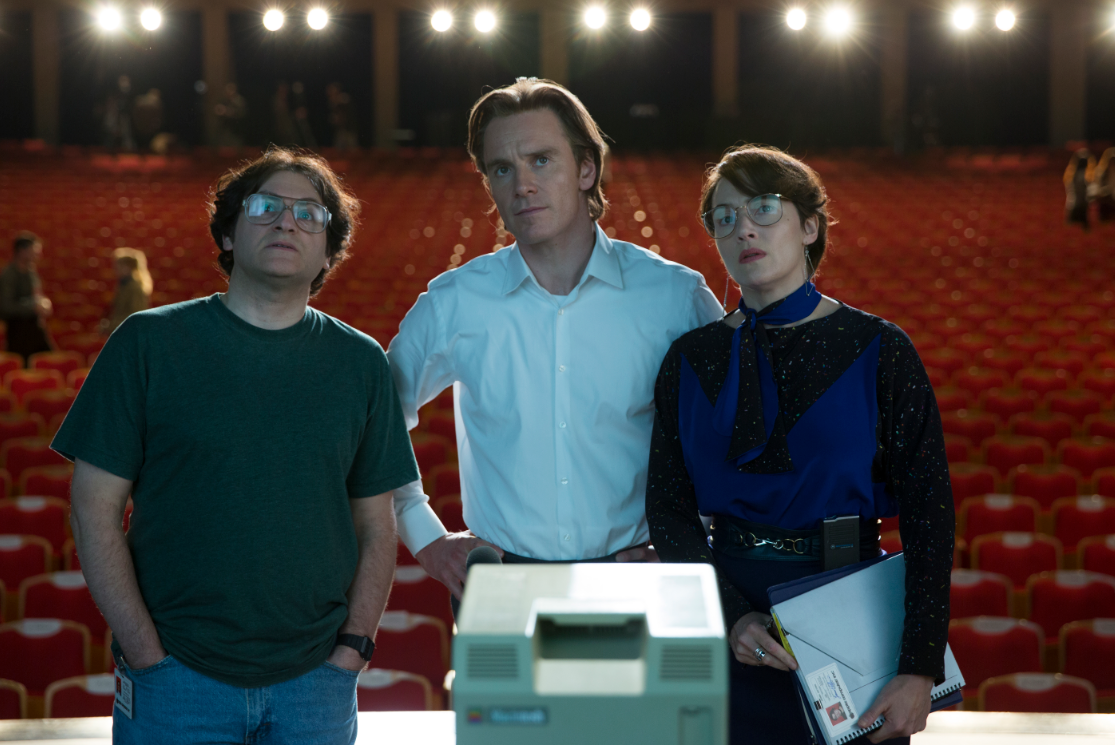 Steve Jobs probably didn't attempt to settle all of his personal and professional debts in the frantic, tick-tock moments leading up to his most significant product launches, but what if he did?
Latching onto that surreally theatrical premise the way the man himself latched onto sleek snow-white aesthetics, the Danny Boyle-directed Steve Jobs is like Macworld fanfiction with the drama pitched to Shakespearean heights. An unconventional tech mogul warrants an unconventional narrative, and Aaron Sorkin's screenplay (based on Walter Isaacson's 2011 biography, also titled only Steve Jobs) smartly eschews typical biopic conventions—no childhood epiphanies or college montages. Instead, we get to see the Apple CEO as his underlings did: terse, barking orders, orchestrating the tiniest details of the biggest moments in his career. In the movie's universe, the walls are always closing in, the Daniel Pemberton–penned score is blaring to an operatic crescendo, and Steve Jobs's pitch to the world is about to begin.
Sounds extravagant—or maybe the adjective is Sorkinian—and it is, though Michael Fassbender keeps things aloft with a spectacularly unsteady performance as the mastermind who seeks a degree of perfection in his operating systems that he can't quite reach in his own life. In fact, for a film about a man whose name has become synonymous with success, Sorkin's screenplay casts an obsessive gaze on its subject's shortcomings.
Things start with the launch of the Macintosh in 1984: Jobs won't acknowledge his young daughter as his own, treats her struggling mother (Katherine Waterston, in a weepy turn as young-Jobs's sweetheart Chrisann Brennan) with detached contempt, threatens an employee with public humiliation if he can't make the Mac say "hello." ("You see how this reminds you of a friendly face?" Jobs prods.) Of course it has to say hello. What does this dogged, desperate egomaniac have, if not that digital hello?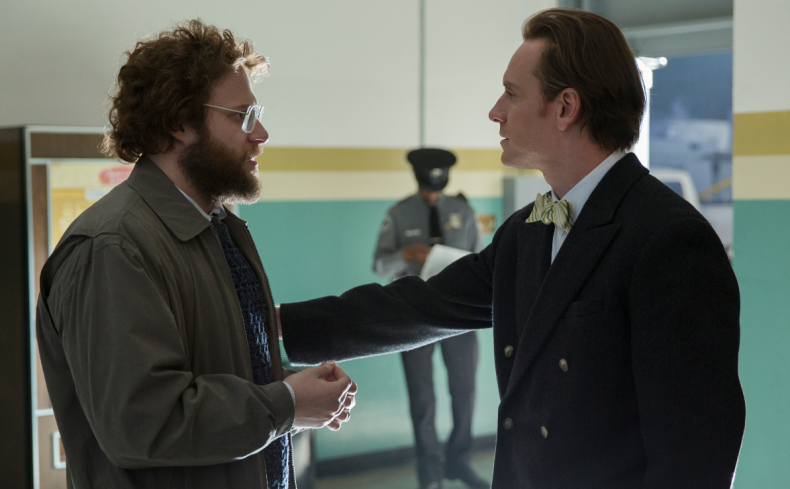 Sorkin's script pops with unforgiving one-liners, though the best of them are dispatched on Jobs's closest confidante, "work wife" Joanna Hoffman. A longtime right-hand woman to Jobs, Hoffman is played by a barely recognizable brunette Kate Winslet, in a stellar supporting role that nearly slips by unrewarded until the key moment when her stony veneer cracks open. In an early scene, Hoffman tells Jobs he can't switch off the exit signs during the Macintosh launch. "Explain to the fire marshal that we're in here changing the world," Jobs barks back. The founder compares himself to Stravinsky, to Bob Dylan, to God—and that's all in the first half hour or so. Fassbender doesn't much look like a young Jobs (he's a bit too obviously handsome), but he has the snug black turtlenecks, the mercurial tantrums, the strange cocktail of God-complex confidence and lurking insecurities. He delivers lines like "I sat in a fucking garage with Wozniak and invented the future" without sounding goofy or, worse, like a parody.
Buoyed by supporting roles from Seth Rogen (in '80s-beard style as Steve Wozniak, the increasingly alienated early Apple developer) and Jeff Daniels (as CEO John Sculley), Steve Jobs picks up in 1988, with the tepid launch of the NeXT workstation computer, and then again in 1998—in a closing segment that feels a touch too removed from the rest of the movie—with Jobs's Apple homecoming and the launch of the iMac. (The founder's 1985 ouster is shown, somewhat confusingly, in dramatic flashback sequences revealing a power struggle with the more steady-minded Sculley.)
Throughout, Sorkin makes a point of emphasizing Jobs's dogged relationship with the media. There's an intriguing side role for John Ortiz, as a GQ reporter profiling Jobs, as well as a recurring rumination on Time's 1983 computer cover, which Jobs apparently believed was to trumpet his face as Person of the Year. There's also a clever flashback to that famous image of Jobs, barefoot, sitting on the floor of an unfurnished room. The man's builder once described Jobs as a person who would sit on the floor "because there was no couch good enough." Somehow, Fassbender captures this quality of the visionary.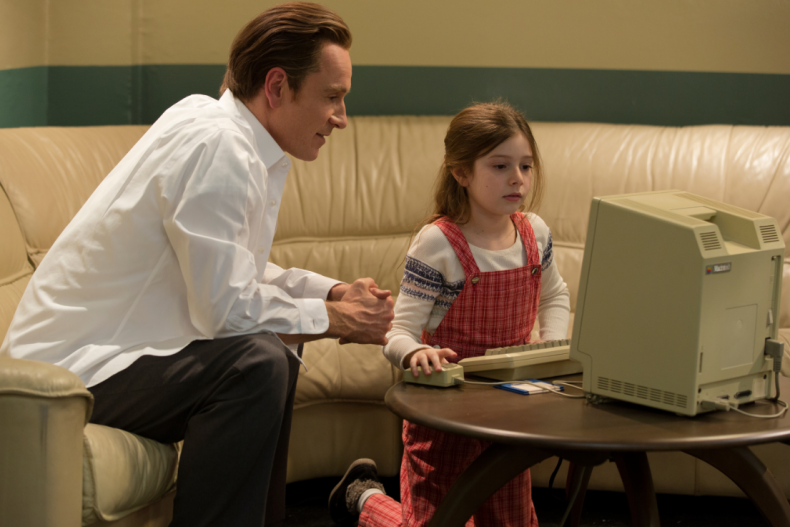 There's an obvious parallel to be drawn with The Social Network, Sorkin's 2010 dramatization of Facebook's tumultuous founding and another stylish drama about a savvy young geek whose personal failings only bolstered an obsessive drive to change the world. Like The Social Network, the more aptly titled Steve Jobs is about the man more than the machines. In both films, Sorkin has a knack for taking dry, technical settings—a coding marathon, backstage at a product launch—and booting them to life with blustery dialogue and distinctly human imperfections. You could argue Jobs is even less generous to its main character, though at least this one doesn't open with a college date gone awry (instead, we see the painful aftermath of the man's romantic failings).
At a Q&A following the Manhattan screening I attended, Sorkin was asked about the contrast between the two men. Both Jobs and Mark Zuckerberg, he remarked, seemed to invent something that they needed for themselves, whether they knew it or not. "I relate to that," Sorkin added. Would Jobs have approved of the portrayal? "I like to think that if this movie were about someone else, that he would like it."