Steve Jobs's Rare Autograph Graces Old Newsweek Cover Now Up For Auction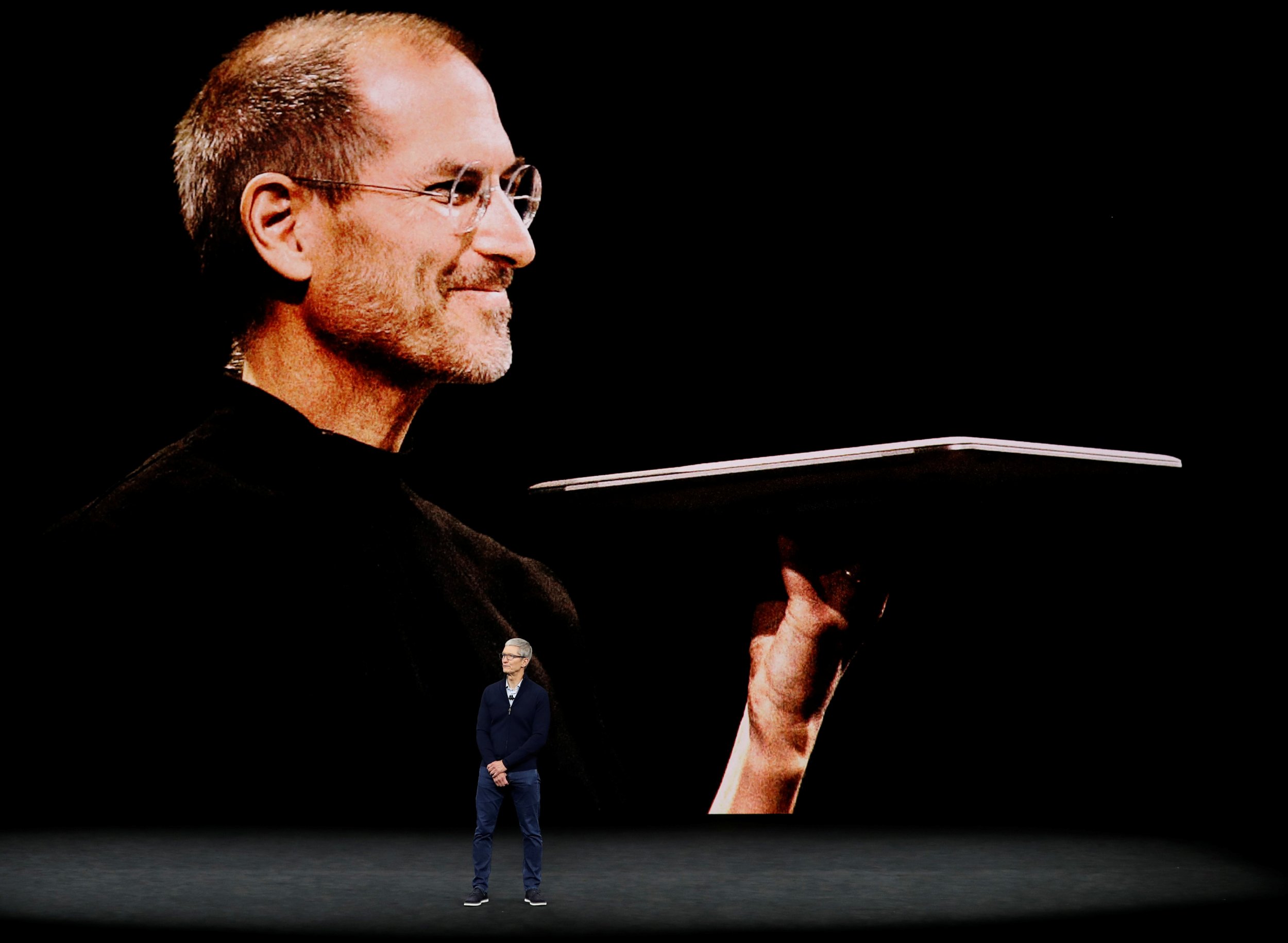 Legendary Apple founder Steve Jobs almost never gave out autographs, but Diane Williams was lucky enough to get one — and Newsweek itself is part of the story.
The memorable moment occurred at a 1988 event where Jobs was set to reveal his groundbreaking NeXT computer in Cambridge, Massachusetts. Williams, a former Lotus Development Corporation employee, had just bought a Newsweek edition with Jobs on the cover, and when she finally got a chance to speak to the young inventor, she presented him with the magazines and asked him to pick one to sign. Jobs initially turned down the request, but Williams said something that changed his mind.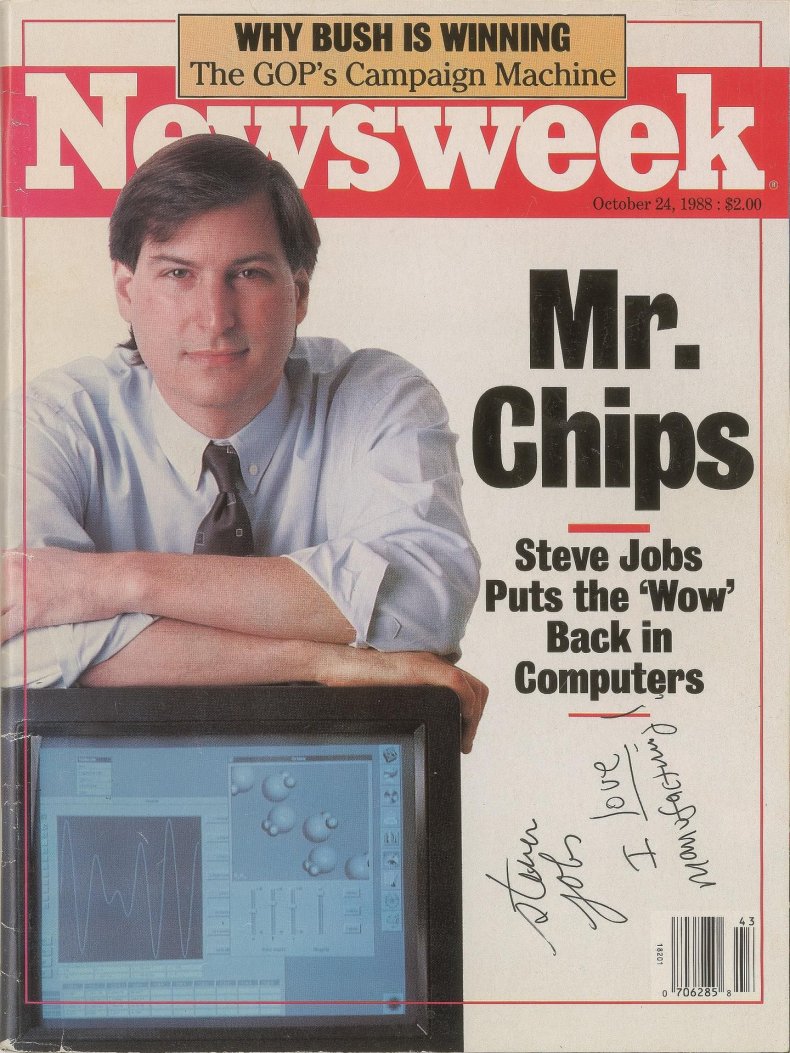 "I said, 'Write something from your heart,'" Williams told Newsweek. "And he lit up like a Christmas tree. He wrote, 'I love manufacturing!'"
The magazine cover shows Jobs posing with his NeXT computer, his first creation after he had left Apple in a shakeup when he was 30. Williams believes Jobs wrote "I love manufacturing!" because of his longtime belief that successful people find ways to turn their jobs into their mission.
"I'm convinced that the only thing that kept me going was that I loved what I did," Jobs said years later in his much-praised 2005 Stanford Commencement Speech. "You've got to find what you love."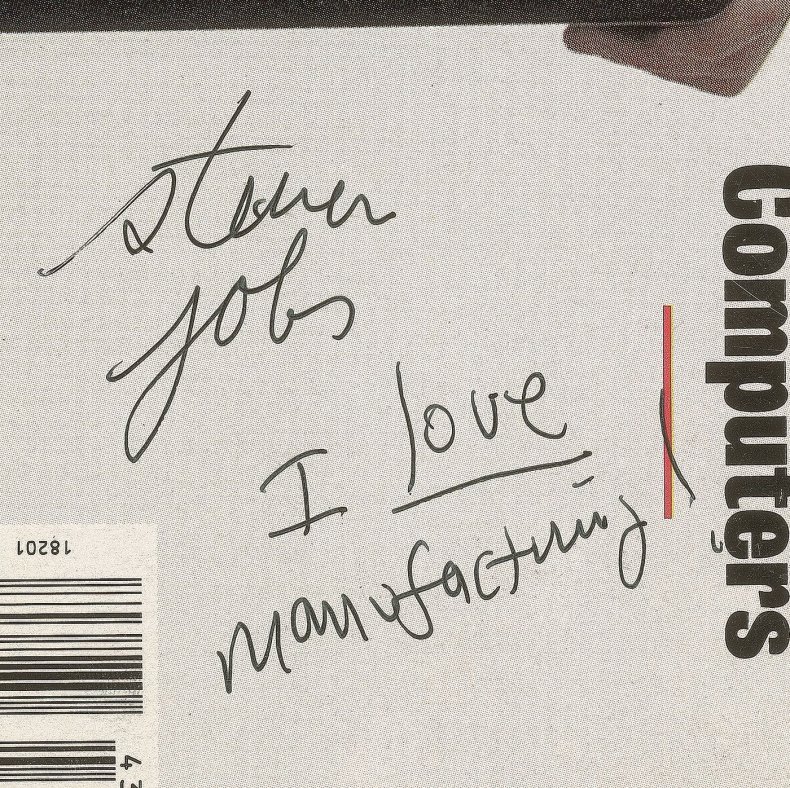 Williams held onto the magazine for decades. But now, this one-of-a-kind item will be sold by RR Auction, with bidding starting on October 20.
"When you come across a signature of Steve Jobs you're excited, but when you have a signed image of Steve Jobs, [that's] almost impossible to find," said Bobby Livingston, executive vice president of the Boston-based online auction house.
Experts predict some high bids for the rare item.
"This is the gold standard we're talking about in terms of Steve Jobs," said Pawn Stars authenticator Steve Grad, who is the Principal Authenticator at Beckett Authentication Services. "I could see this going for $50,000. This is something that's literally unknown. Could it go for 100? Sure."
Other items signed by Jobs have reached $40,000, Livingston added. Williams said she'll pull the item if bidding doesn't get to $10,000 — but she'll also donate a portion to charity if bidders go wild.
"If I can get over a million, 20 percent is going into the Silicon Valley Community Foundation," she said.
Maybe not this time, but if Williams plans ahead, you never know, as Bob Roe, the current editor of Newsweek, suggested, referring to a Newsweek cover story from October 11, 2017, featuring President Donald Trump in a lounge chair.
"I hope she buys the 'Lazy Boy' cover, gets Donald Trump to sign it and then auctions that off," Roe said.