Steve Jobs's Strange Defense of Foxconn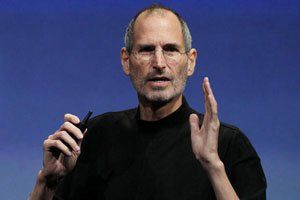 Thirteen workers have commited suicide, or tried, this year—half of that number in May—at a Chinese factory that makes shiny products for Apple. But Apple's CEO/talisman told the All Things Digital Conference that all is well because they have "restaurants and movie theatres and hospitals and swimming pools. For a factory, it's pretty nice."
Jobs also told attendees, according to the BBC, that the suicide rate at the factory, which employs about 400,000 workers in Shenzhen, was lower than that of the United States—where the rate is 11.1 in 100,000. But that Apple is, nevertheless, "all over this."
On a recent visit, Businessweek found a very different place than the utopia of dining, cinema, and bathing Jobs painted. One worker, in a story published today, described his life in the factory as "meaningless." Ah Wei, who has probably not made a great career move, said that every day he "repeat[s] the same thing I did yesterday. We get yelled at all the time. It's very tough around here."
He also told the magazine that "conversation on the production line is forbidden, bathroom breaks, are kept to 10 minutes every two hours and constant noise from the factory washes past his ear plugs, damaging his hearing." No mention was made of the restaurants. Another worker, Liu Bin, also said that "it's hard to make friends because you aren't allowed to chat with your colleagues during work."
Jobs seems to have been in a somewhat ... strange mood all around. He said that Apple's decision to go to war against Adobe's Flash video component, which does not work on the iPhone, iPad, or iPod Touch, was a simple matter of resources. "Apple is a company," he explained, according to The Daily Telegraph, "that doesn't have the resources that everyone else has." Apple, of course, recently overtook Microsoft to become the world's largest technology company by market value.