Iowa Representative Steve King accused those who called his recent comments about white supremacy racist of "policing our language" in an Orwellian fashion during a Facebook Live Town Hall event on Saturday morning.
"It is stunning and astonishing to me that four words in a New York Times quote can outweigh 20 some years of public service," King said at the event in Primghar, Iowa. It is the first stop on a series of town halls King will hold throughout the state in 2019.
"Twenty-something years of giving you my word every day, and not one soul has stood up and said that I've ever lied to you, or misrepresented anything, or given it to you in any spin that's anything other than what I believe to be the objective truth," he added.
King was referring to comments he gave to the Times in an interview earlier this month, in which he said: "White nationalist, white supremacist, Western civilization — how did that language become offensive?" King has repeatedly defended the quote amid backlash from both Republicans and Democrats.
"There's no way we can be a free constitutional republic if we don't have freedom of speech, thought, and assembly," King told the audience on Saturday. The remark came after King read a brief excerpt from George Orwell's distopyian novel 1984, after which he commented that "we may have gone beyond what George Orwell imagined. What we have is the left policing our language."
King also compared the backlash he's experienced recently with the experience of Supreme Court Justice Brett Kavanaugh, who faced backlash during his confirmation hearings after being accused by multiple women of sexual harassment.
"He at least had accusers," King said on Saturday. "I don't have accusers. Not one soul has stood up and said that Steve King has ever acted in a racist fashion."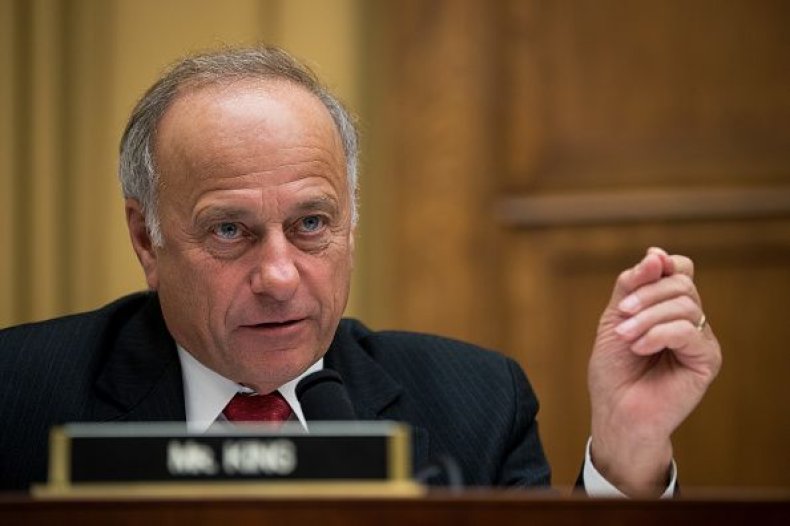 King's white supremacy quote was condemned by Republican leaders, with Senate Majority Leader Mitch McConnell suggesting that King find "another line of work" if he could not understand why people found his comment offensive.
House Minority Leader Kevin McCarthy also punished King for his remarks, stripping him of his position on the House Judiciary Committee, the House Agriculture Committee and the Small Business Committee. King said on Saturday that since he is no longer serving on committees he will spend "all of my attention" on working with President Trump.
King also said during the town hall that he has made "more than one mistake, we all have" and that he should have "never done an interview with The New York Times."
But the congressman ultimately defended his statement, again, telling the crowd that his comments were "speaking exclusively and directly about western civilization." He added that "if they can denigrate western civilization and turn it into the scourge of history, we are done for."