Democratic Challenger to White Nationalist GOP Congressman Steve King Raises $900,000 in Week Before Election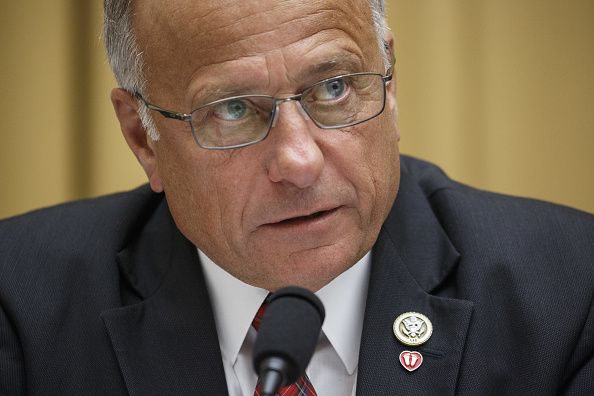 In the final week leading up to the highly contested midterm elections, a Democrat in Iowa raised $900,000 in his bid to unseat Representative Steve King.
J.D. Scholten's campaign confirmed to The Hill that the sum of donations came from more than 30,000 individual donors since Monday night. The campaign said that they have "outraised King 2-to-1 for the entire election cycle before this recent surge."
The massive amount of money was raised as King continues to face criticism over his endorsement of a white nationalist candidate running for mayor in Canada. In mid-October, the congressman tweeted his support for Faith Goldy, a former reporter for far-right news outlet The Rebel Media.
"Faith Goldy, an excellent candidate for Toronto mayor, pro Rule of Law, pro Make Canada Safe Again, pro balanced budget, &...BEST of all, Pro Western Civilization and a fighter for our values. @FaithGoldy will not be silenced," King wrote on Twitter.
Scholten responded to King's tweet, slamming the representative for spending "more time supporting far-right leaders in other countries than he does focusing on the needs of the people of our district."
Then, this past Thursday, King exploded at a town hall event after an audience member pointed out the similarities between his white supremacist philosophy and that of Robert Bowers, the shooter who killed 11 people at a synagogue in Pittsburgh, Pennsylvania.
"The terrorist who committed this crime, he was quoted as saying, 'They bring invaders in that kill our people, I can't sit back and watch out people get slaughtered.' You, Steve King, have been quoted as saying, 'We can't restore our civilization with other people's babies.' You and the shooter both share an ideology that is fundamentally anti-immigration," the audience member said before King interrupted him.
"Do not associate me with that shooter," King said angrily. "I knew you were an ambusher when you walked in the room, but there is no basis for that and you get no question and you get no answer," he added before having security remove the man.
Even Republicans couldn't support King's endorsements and actions. Senator Jeff Flake told CNN on Friday that he is endorsing Scholten due to King's ties with white nationalist politicians and organizations. "It's not the best face of the party," Flake said during an appearance on CNN's The Situation Room.
Recent polling shows the race between King and Scholten to be incredibly close, with King leading his Democratic opponent by just one point.