Steve King Invites Fox's Diamond and Silk to State of the Union
Republican Iowa Representative Steve King said he invited Fox personalities Diamond and Silk to Tuesday's State of the Union—though only one could attend because he had just one ticket.
He tweeted on Tuesday: "Having only one ticket, I invited one of two guests for the State of the Union tonight, #sotu Lynnette Hardaway & Rochelle Richardson, otherwise know as Diamond & Silk. Diamond won the coin toss. Both will be my guest speakers at COS in the morning."
Diamond and Silk—African-American conservative commentators—are Trump supporters, frequent guests on Fox News and have a show on the Fox's streaming platform.
King has come under intense scrutiny in recent weeks after his widely condemned comments about white supremacism in an interview with The New York Times.
"White nationalist, white supremacist, Western civilization—how did that language become offensive?" King said in the Times interview published last month. "Why did I sit in classes teaching me about the merits of our history and our civilization?"
In response to the controversy surrounding the quote, King claimed he was simply a "nationalist" but not a racist.
"Today, The New York Times is suggesting that I am an advocate for white nationalism and white supremacy," King said in a statement. "I want to make one thing abundantly clear: I reject those labels and the evil ideology that they define."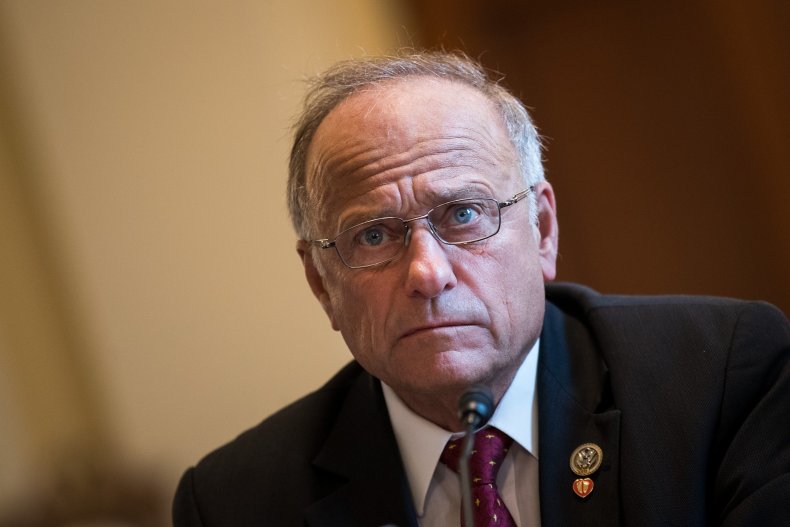 A number of high-ranking GOP officials condemned King and he was blocked from serving on congressional committees.
"There is no place in the Republican Party, the Congress or the country for an ideology of racial supremacy of any kind," Senate Majority Leader Mitch McConnell said of King, for instance. "I have no tolerance for such positions and those who espouse these views are not supporters of American ideals and freedoms. Representative King's statements are unwelcome and unworthy of his elected position."
President Donald Trump, however, has not spoken out against King. He did condemn Democratic Virginia Governor Ralph Northam—who was revealed to have a racist photo on his old yearbook page—but did not speak out about King.
"You always want moral equivalence. You always want moral equivalence on everything," White House aide Kellyanne Conway told reporters, according to The Hill.
Diamond and Silk have been staunch and unwavering supporters of Trump and have often defended the president against allegations of racism. "Trump is not a racist, he is a realist," the duo said on Fox & Friends, for instance. "And the only color he sees is green. And he wants you to have some of it."