Steve King Doubles Down, Wishes He Made Controversial Rape, Incest Comments on Abortion in a 'Softer Way'
Representative Steve King, a conservative Iowa Republican who holds a strong pro-life stance, doubled down Friday on recent controversial remarks he made that without rape or incest, there would be no "population of the world left."
"I would point out that genealogists have contacted me and said that's 100 percent correct," King claimed during a press conference, flanked by Rebecca Kiessling, an anti-abortion activist who was conceived from rape. "I would [have] rather delivered that in a little softer way, though."
He added the belief that his initial comment last week about rape and incest, which were used to justify his stance against abortions, was "an objectively honest and accurate statement. But I think it was willfully misinterpreted."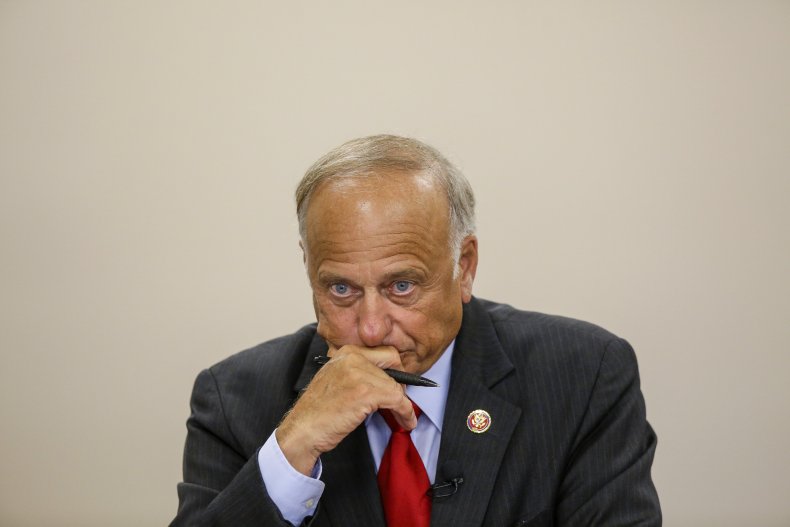 King has defended his anti-abortion legislation from last year that would nearly outlaw all abortions. Known as a "heartbeat bill," the proposal would bar abortions as early as six weeks into pregnancy — or once a fetal heartbeat is detected — and provided no exceptions for rape or incest. Defending that measure to a conservative audience last week, King suggested much of civilization would not exist if it weren't for rape or incest.
"What if we went back through all the family trees and just pulled out anyone who was a product of rape or incest? Would there be any population of the world left if we did that?" he said. "Considering all the wars and all the rapes and pillages that happened throughout all these different nations, I know that I can't say that I was not a part of a product of that."
Elaborating about how he could have made such remarks in a "softer way," King referred to the plot of the movie It's a Wonderful Life. The story is of a man who is contemplating suicide on Christmas. But he's saved after an angel shows him how many other people's lives would be impacted or non-existent without his birth because of the good deeds he committed throughout his lifetime.
"Think what that means to all of us, and, you know, 1,000 generations. And think of have different the world is," King explained.
He further blamed the backlash he received from critics as a misinterpretation of his intentions and said some people's arguments for allowing abortion exceptions to rape and incest was sometimes "insulting." Faced with a real-life example from a constituent last week about a 10-year-old girl who became pregnant after being raped by her uncle, King on Friday declined to say whether she should be allowed to receive an abortion.
"I care about all people. And I think we should look back in our family trees and wonder. I want people to ask that question because I see this sanctimonious attitude out there," he said. "People will say, 'Well, there needs to be exceptions for rape and incest' for whatever their humanistic argument is. And it's almost — it's flippant sometimes. And it's insulting sometimes."
King, who has a long history of issuing controversial comments on white supremacy and immigration, was stripped of his committee seats by House GOP leadership earlier this year and was officially condemned by the House for making fresh remarks on race to The New York Times, in which he questioned why terms like "white nationalist," "white supremacist" and "Western civilization" had "become offensive."
King blamed the chamber's Republican leadership from last year as the reason his heartbeat bill did not advance out of the Judiciary Committee, accusing the "establishment wing of the Republican Party" of killing the legislation.
"We had the votes on the floor to pass the bill," he said. "We could have sent that to [Senate Majority Leader] Mitch McConnell's desk and said to America all human life is sacred from conception until natural death, but the first certain determination of life is a heartbeat."