Republican Congressman Steve King Sparks Row Over Support for Geert Wilders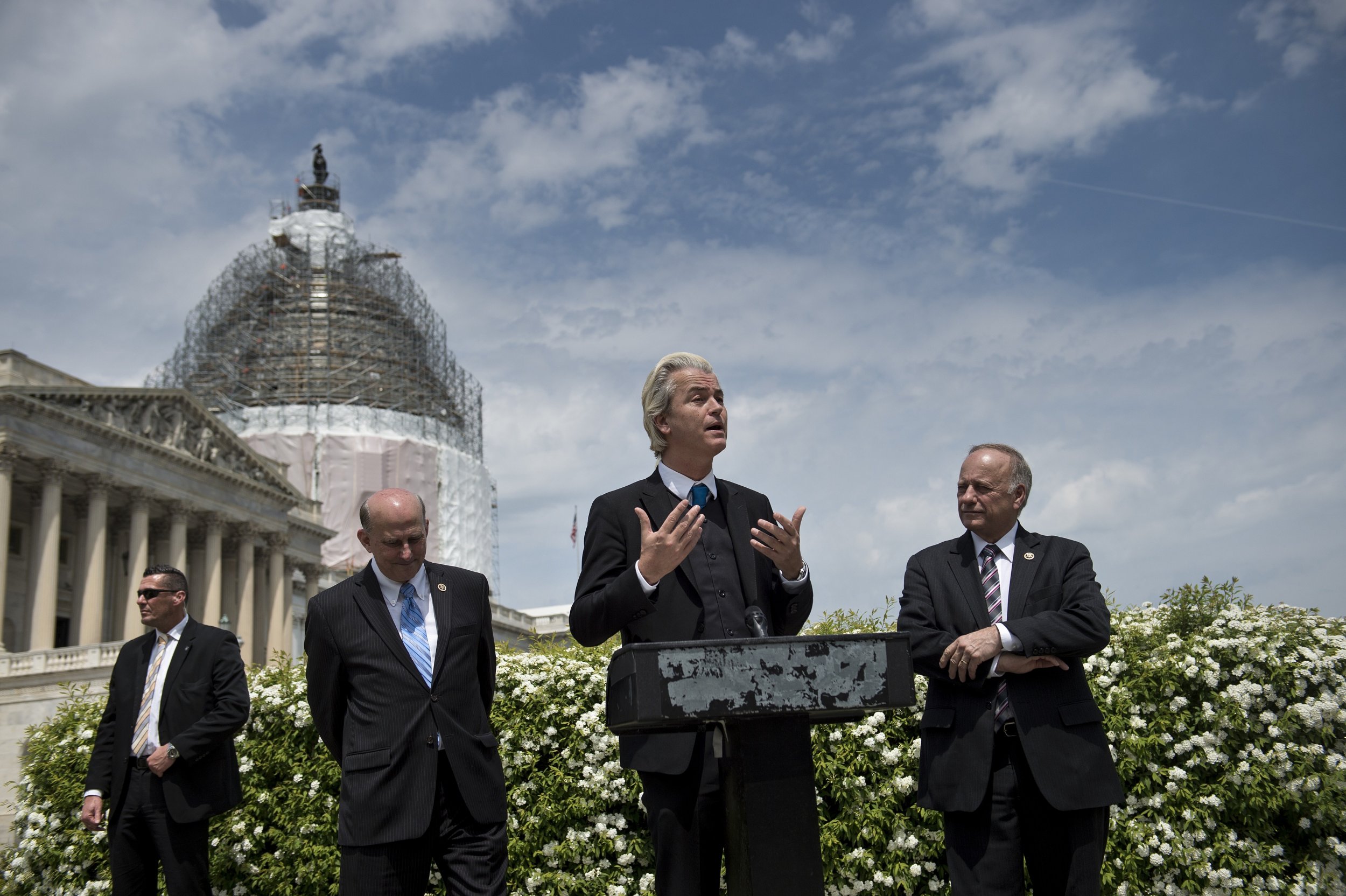 A controversial Republican congressman has sparked criticism on both sides of the U.S. political divide after tweeting his support for far-right Dutch politician Geert Wilders.
Steve King, a representative of Iowa, tweeted a message in support of Wilders on Sunday. "Wilders understands that culture and demographics are our destiny. We can't restore our civilization with somebody else's babies," said King.
King's message was a retweet of a cartoon from anti-European Union media outlet Voice of Europe, which depicted Wilders trying to plug a hole in a wall labeled "Western Civilization" in front of a crowd of protesters holding signs reading: "Infidels, Know Your Limits" and "Freedom of Speech Go to Hell."
King is a vocal advocate of ending the current U.S. policy of birthright citizenship, whereby all children born in the country are constitutionally entitled to receive U.S. citizenship, even if their parents are living in America illegally, according to the BBC.
Wilders, leader of the far-right Freedom Party (PVV), which is expected to do well in the Netherlands' general election on Wednesday, has built his campaign on nationalist and anti-Islam rhetoric. He has referred to Moroccan immigrants as "scum" and was convicted of hate speech in December 2016 for leading his supporters in a chant against Moroccan immigration to the Netherlands.
One of King's Republican colleagues, Carlos Curbelo, a Florida congressman with Cuban parents according to his Twitter bio, questioned King on the outburst. "What exactly do you mean? Do I qualify as 'somebody else's baby?'" Curbelo asked Kingon Twitter. Reid Ribble, who represented Wisconsin in the U.S. Congress for six years before retiring in 2017, also responded to King.
King's tweet also drew condemnation from Democrats. Chelsea Clinton, the daughter of defeated 2016 U.S. presidential candidate Hillary Clinton, said : "Clearly the Congressman does not view all our children as, well, all our children. Particularly ironic & painful on Purim." Purim is a Jewish festival commemorating the biblical story of the deliverance of the Jewish people from annihilation by an ancient Persian emperor.
The former Democratic governor of Vermont, Howard Dean, said that King was a "total ignoramus and no one takes him seriously."
The Republican congressman's comment did draw support from some quarters, however. David Duke, the former leader of the Ku Klux Klan, retweeted King's message with the note that "sanity reigns supreme" in Iowa.
King has previously called for a reinterpretation of the 14th amendment of the U.S. constitution, so that the children of undocumented migrants are no longer guaranteed an American passport. He told the BBC in 2016 that "millions" of illegal migrants would enter the U.S. in years to come, with a birth rate "that exceeds that of the American citizen by a factor of two or more."