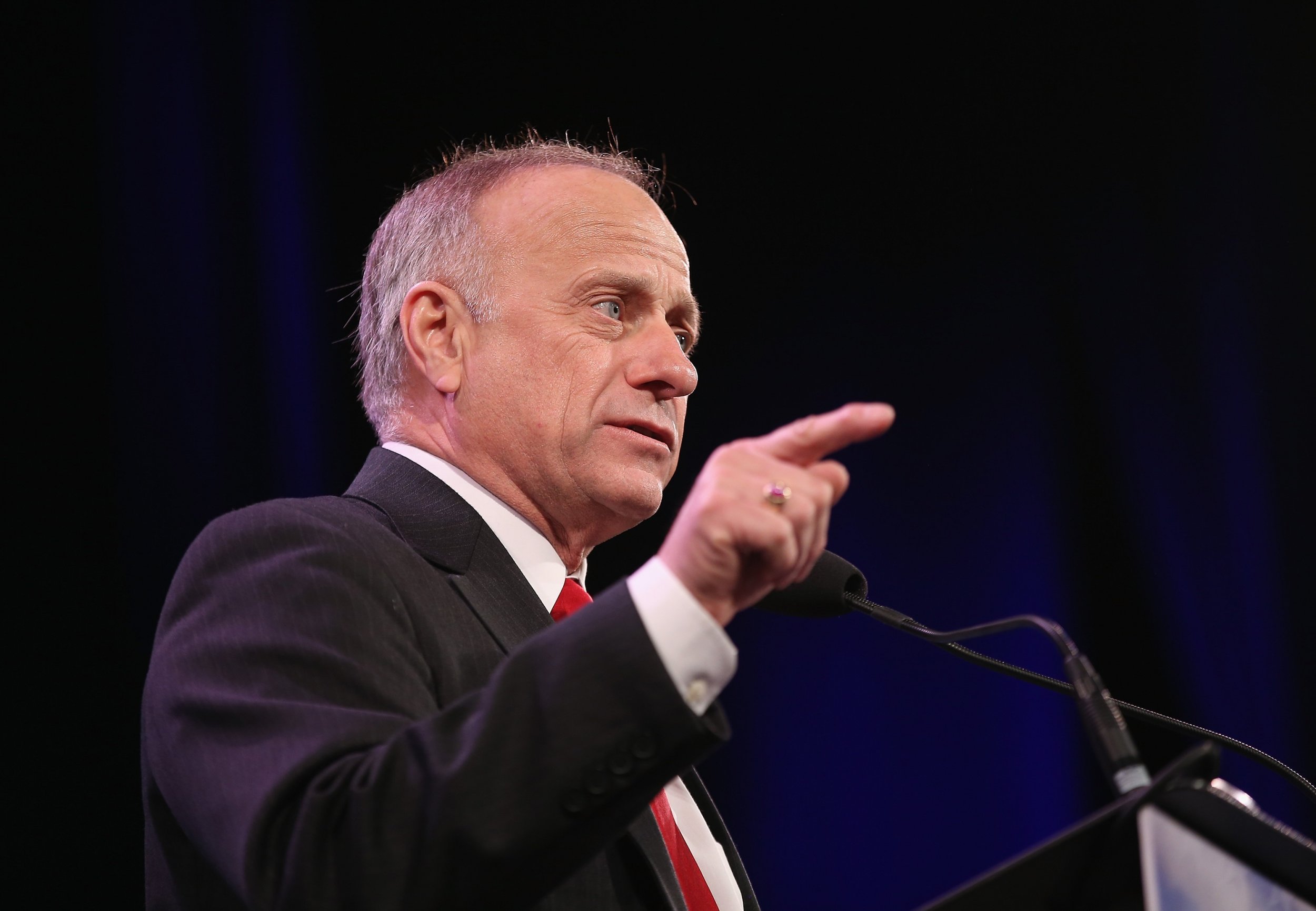 A man has been arrested for throwing a glass of water at Rep. Steve King in an Iowa restaurant.
King, who has recently come under fire for his controversial comments on Hurricane Katrina survivors, was dining with a group of people at the Mineral City Mill and Grill on Friday when a man is alleged to have approached the table and thrown a drink at the Republican, the Des Moines Register reported.
Blake Gibbins, of Lafayette, Colorado, was arrested in connection with the incident and has been charged with misdemeanour assault and disorderly conduct, CBS news reported.
The Republican hit the headlines earlier in the week after suggesting that Hurricane Katrina survivors had asked for more help than Iowans did following recent flooding along the Missouri River – in a move that saw him accused of dogwhistle racism.
"Here's what FEMA tells me. We go to a place like New Orleans, and everybody's looking around saying, 'Who's going to help me? Who's going to help me?'" King said during a townhall meeting in Iowa on Thursday, CNN reported.
"We go to a place like Iowa, and we go, we go see, knock on the door at, say, I'll make up a name, John's place, and say, 'John, you got water in your basement, we can write you a check, we can help you.' And John will say, 'Well, wait a minute, let me get my boots. It's Joe that needs help. Let's go down to his place and help him,' he added.
His comments prompted immediate criticism, with a number of politicians slamming the Iowa representative for his stance.
"His comments about Katrina victims are absurd and offensive," House Minority Whip Steve Scalise told The Advocate, describing them as "a complete contradiction to the strength and resilience the people of New Orleans demonstrated to the entire nation in the wake of the total devastation they experienced."
It's not the first time King has made contrversial comments on the topic of race, with The New York Times reporting this week that the Republican had struggled to answer a question from one of his constiturnts on whether he believed a white socirty was superior to a non-white society.
"I don't have an answer for that. That's so hypothetical," The Times reported King saying. "I'll say this, America is not a white society. It has never been a completely white society. We came here and joined the Native Americans."
"I've long said that a baby can be lifted out of a cradle anywhere in the world and brought into any home in America, whatever the color of the folks in that household, and they can be raised to be American as any other. And I believe that every one of us, every one of us, is created in God's image," he added.
King has also previously been accused of racism and holding white supremacist views.
It is not known whether the man arrested for throwing water at King was prompted by his contrversial comments or simply approached King because of his role as a politician.