Largest Newspaper in Steve King's District Calls for Congressman to Resign After White Supremacy Comments
The largest newspaper in Representative Steve King's district published an editorial on Tuesday that called for the congressman to resign.
The editorial, published in the Sioux City Journal, cited King's recent comments endorsing white supremacy, which appeared in a New York Times story last week. The story cited the Iowa Republican's history of making racially charged comments, King's relatively narrow re-election victory in November and the birthday of civil rights leader Martin Luther King Jr.
The editorial joins a chorus of voices calling for King to resign. The Des Moines Register, the largest newspaper in Iowa by circulation, also published a story on Tuesday, saying King should step down.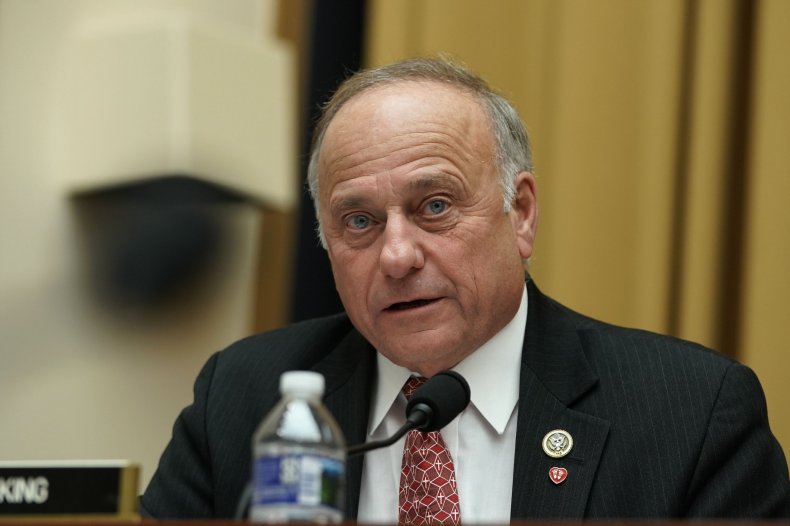 The House Republican Steering Committee removed King from his committee assignments on Monday.
King said his quotes had been "completely mischaracterized" and criticized House Minority Leader Kevin McCarthy, saying "Leader McCarthy's decision to remove me from committees is a political decision that ignores the truth."
Senate Majority Leader Mitch McConnell, among others, rebuked King.
"I have no tolerance for such positions and those who espouse these views are not supporters of American ideals and freedoms," he said, according to The Washington Post. "Representative King's statements are unwelcome and unworthy of his elected position. If he doesn't understand why 'white supremacy' is offensive, he should find another line of work."
Some critics have asked why King has been singled out and censored while Republicans ignore similar racially tinged comments by President Donald Trump, according to The New York Times.
"It's a massive inconsistency and a sign of cowardice and intimidation on the part of Republicans—and I think also a sign of a guilty conscience," Peter Wehner, an adviser to President George W. Bush, told The Times, comparing the outrage over King's comments and the willingness to overlook similar comments by the president. Trump has depicted migrants as rapists and criminals, referred to Haiti, El Salvador and African nations as "s**thole countries" and said a judge with "Mexican heritage" could not rule fairly on him because of his pledge to build a wall on the U.S.-Mexico border.
After Wyoming Representative Liz Cheney rebuked King, Wehner, posting on Twitter, called for more "political courage."
"I wonder if Liz Cheney would say the same thing about Donald Trump? I gather not. Criticizing King is easy; criticizing Trump, the leader of the GOP, is harder but more necessary," he wrote.