Steve King Sees Midterm Election Victory, Despite Backlash Over White Nationalist Support
Republican Representative Steve King has won a ninth term representing Iowa, narrowly defeating his Democratic challenger, J.D. Scholten, despite receiving widespread condemnation from his own party over ties to white nationalists.
Early Wednesday morning, King was projected to win the race for Iowa's 4th Congressional District election with just over 50 percent of the vote. The district is considered reliably Republican, but the race drew national attention because of King's recent and longstanding record of racially incendiary comments.
The Republican sparked outrage after it was reported last month that he had derided diversity in the U.S. in an interview with Unzensuriert, a publication associated with Austria's Freedom Party, which was founded by a former Nazi SS officer and is currently led by Heinz-Christian Strache, who was part of neo-Nazi circles in his youth.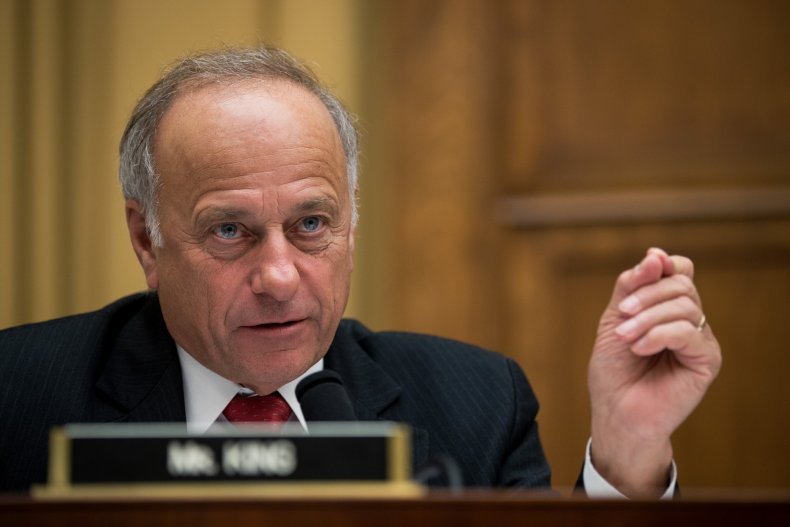 Not only did King go out of his way to meet with members of the publication, but he also did so during an August trip partially funded by Holocaust memorial nonprofit From the Depths, leaving the organization "shocked."
During the interview with Unzensuriert, King questioned what diversity can bring to the U.S. that it doesn't "already have," saying he was "fine" with "Mexican food, Chinese food, those things.... But what does it bring that we don't have that is worth the price?"
Even King's fellow Republicans denounced him after he defended his association with far-right groups, including Austria's Freedom Party, on October 27, the same day that 11 Jewish people were fatally shot by a gunman at a Tree of Life synagogue in Pittsburgh.
National Republican Congressional Committee Chairman Steve Stivers condemned King's comments, asserting that the U.S. "must stand up against white supremacy and hate in all forms."
King also lost support from backers including microprocessor giant Intel and Land O'Lakes over the scandal.
While King appeared to keep a low-profile in the days leading up to the midterm elections, the Republican barred the state's largest newspaper, The Des Moines Register, from covering his election night event, dismissing it as "leftist propaganda," the paper reported.
Read more: Republican Steve King reportedly bars multiple journalists from election night event
Also on Tuesday, King tweeted out a photo of an infant, writing, "Soon, babies like this little angel will be protected in the womb by law," in a likely reference to Roe v. Wade, the landmark 1973 decision issued by the U.S. Supreme Court on the constitutionality of laws criminalizing or restricting access to abortions.
Pro-choice advocates have warned that the appointment of Supreme Court Justice Brett Kavanaugh could spell the end of Roe v. Wade, as his confirmation brought a five-justice conservative majority to the Supreme Court.
Correction: This article previously stated that Purina Pet Care was a subsidiary of Land O'Lakes. In fact, it is Purina Animal Nutrition LLC that is owned by Land O' Lakes.