GOP Congressman's Campaign Attempts To Mock 'Tolerant' Liberals While Sharing Fake Christmas Meme
Iowa Republican congressman Steve King's campaign expressed shock and mocked "tolerant liberals" in response to a parody account meme about a Starbucks manager firing employees who say "Merry Christmas."
King, whose campaign-run Facebook is frequently used to single out seemingly offensive material posted by liberals or Democrats, shared a screenshot of a bogus tweet intended to rile up "conservative Christians." The congressman's official page remarked "Wow," over a screenshot of someone expressing concern about the Starbucks manager, "This guy hates our President and is now attacking Christians whose [sic] next ... please share."
The tweet from parody and meme account "@MuellerDad69" reads: "I'm the manager of a Starbucks in Charlotte NC. I have informed my employees that they will be fired on the spot if I hear them say 'Merry Christmas' to any customers. I'm doing it because I personally dislike conservative Christians."
King's office told Newsweek Tuesday morning that his official Facebook account is run by members of his campaign but the campaign declined to comment about King's social media habits. However, King's campaign did leave a comment underneath their Facebook post about the bogus Starbucks manager with a sarcastic gif, "Liberals are so tolerant and compassionate."
The account which posted the initial tale has been temporarily suspended from Twitter.
The Starbucks "Merry Christmas" post references the longtime Fox News trope about the "War on Christmas." During a Saturday appearance on the network's Justice with Judge Jeanine, Eric Trump and wife Lara Trump proclaimed victory in the fake war, arguing the president has dismantled the "political correctness we used to have."
The corporate coffee chain itself has come under fire during Christmastime in years past, with several years of "holiday cup" controversies sparked by angry Christian groups complaining the "War on Christmas" forced everyone to say "Happy Holidays" instead.
King's Facebook page is littered with memes mocking "liberal logic," various Democratic members of Congress and even Republican critics of President Donald Trump. His account frequently targets random users who reply to his page's posts or send direct messages.
"More lovely messages from our Lefty followers! And there appears to be a grammar crisis in the Lefty community!' -- Team King," the page posted Tuesday, showing a direct message in which someone labeled him a "racist" and expressed their hope he is "caught in a wood chipper." Last March, King was criticized for posting a meme which touted traditionally Republican "red states" for having more bullets than blue states in case of another U.S. Civil War.
King, who was first elected by Iowans to Congress in 2003, has been the source of controversy due to comments he has made. Earlier this year, he took part in an interview with The New York Times in which he expressed what the newspaper labeled "white supremacist" views - something his campaign later adamantly denied as he faced backlash from fellow Republicans.
"King is alleged to have wondered when the phrases 'White nationalist, white supremacist, Western Civilization' became offensive, suggesting to some that he does not view the first two terms as disparaging," the congressman's office wrote in a March statement. "King has consistently disputed this interpretation, maintaining that he was simply trying to ask when the phrase 'Western Civilization' had gained a pejorative connotation."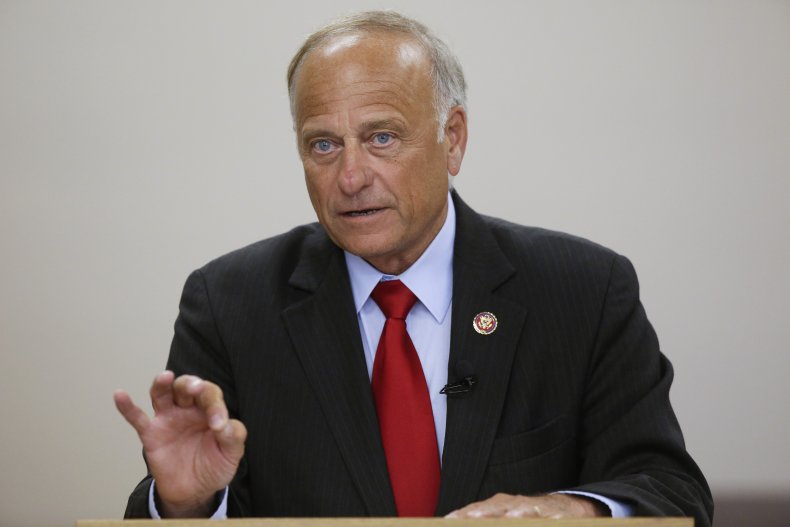 Following the backlash over the accusations of racism and white supremacy, King responded by comparing himself to Jesus Christ. King said his experience was similar to how Jesus was able to face down his accusers despite being innocent.