Steve King Mocked After Being Duped Into Tweeting Praise for Jack Nicholson's Character in 'A Few Good Men'
Republican Steve King endured a round of Twitter mockery on Independence Day after being duped into tweeting praise for the fictional Marine Corps colonel played by Jack Nicholson in the 1992 movie A Few Good Men.
"Colonel Jessup and all your Marines: God Bless you all. You have our back and millions of us have yours! God Bless America and all her warriors defending our Liberty!" King tweeted on July 4.
King was responding to a tweet from Young Turks reporter Ken Klippenstein that read: "Sir, could I plz get a retweet for my uncle Col. Nathan Jessup, he's in the Marines and spending the 4th overseas keeping our nation safe."
Klippenstein sent the tweet, which was accompanied by a photo of Nicholson's character in the movie, to a number of conservatives but King was certainly the most high-profile target to fall for the prank.
King later deleted his response but not before he had become the butt of many July 4 jokes.
"Hey @SteveKingIA: I don't always praise fictional military personnel, but when I do, I prefer praising Lt. Daniel Kaffee," tweeted Democratic Congressman Ted Lieu tweeted, referring to the lawyer, played by Tom Cruise, who exposed Nicholson's character lie on the witness stand. The exchange prompted the immortal line from Nicholson's character: "You can't handle the truth!"
Former Democratic Senator Mike Gravel also chimed in, responding with "My Lord" to King's tweet.
After King responded, Klippenstein changed his Twitter handle to "Steve King is a white supremacist," which for a time appeared on the Iowa Republican's timeline.
King has long courted controversy for comments on race, immigration and white supremacy. In an interview with The New York Times in January, King questioned why being a white supremacist was offensive.
"White nationalist, white supremacist, Western civilization — how did that language become offensive?" he asked. "Why did I sit in classes teaching me about the merits of our history and our civilization?"
King later claimed that he "rejects those labels" and he is "simply a nationalist." But the comments provoked the Republican House leadership into stripping King of his committee assignments. In recent weeks, King has hit out at his continued exile, claiming that he was punished by a "political lynch mob."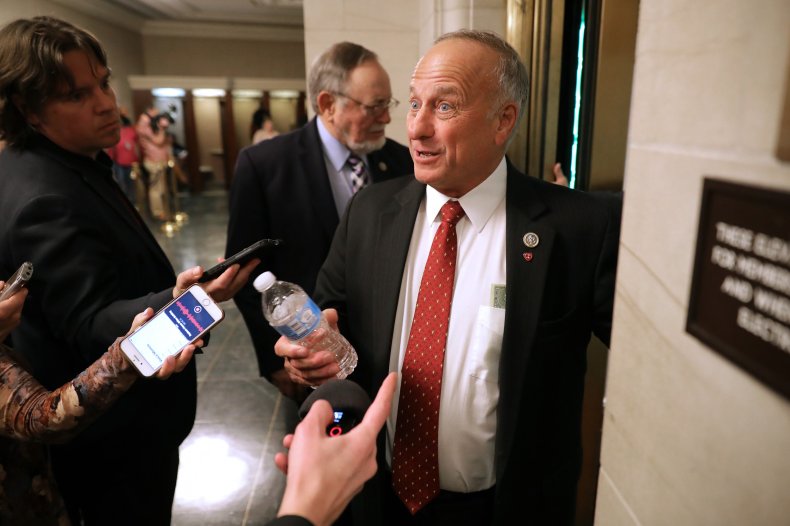 King's embarrassment on Twitter Thursday was not limited to a single tweet. Another user, seemingly picking up on the idea, also changed their Twitter handle after King replied to one of their tweets.
The tweet from the now-named "Steve King drinks pee pee" is still up on King's Twitter feed at time of publication.