Steve King, GOP Congressman, Denied he had Called Immigrants 'Dirt', Until a Magazine Released the Tape
Recently re-elected Iowa Republican Representative Steve King was caught on tape ridiculing Mexico and immigrants in audio he previously had denied existed.
King launched into a weekend Twitter tirade against The Weekly Standard, a conservative policy magazine, for writing "willful lies" over their report he referred to immigrants as "dirt" at a meeting with voters the day before Election Day.
King, perhaps emboldened by his Tuesday win over Democratic challenger J.D. Scholten, blasted both reporter Adam Rubenstein and Editor-in-Chief Stephen Hayes for "transitioning into Antifa News" for publishing the story.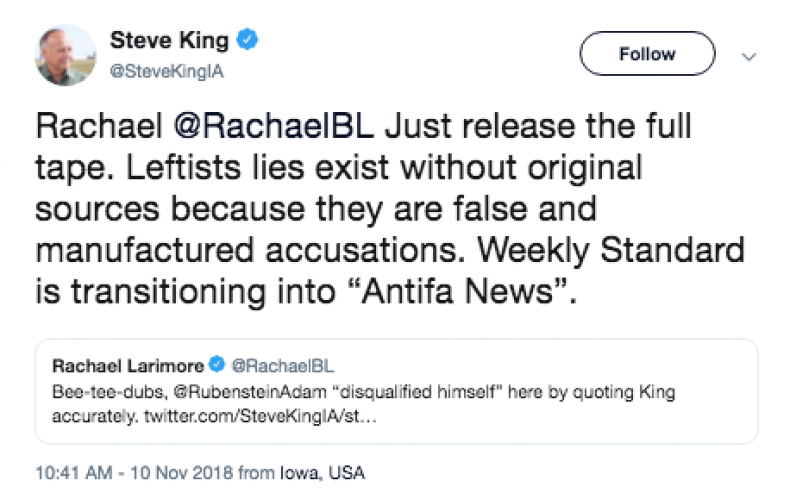 King challenged the publication to "release the tape" -- which The Weekly Standard did after issuing a statement that they stand by the disputed story.
The recorded audio in question hears King referring to immigrants from the "West Coast" as "dirt" in a conversation about King's "patented pheasant noodle soup." The Iowa congressman can be heard joking with constituents about importing the "dirt" from Mexico after he mentioned how many jalapeños were needed to prepare the dish.
"I guess I'm going to have to go get some dirt from Mexico to grow the next batch," King says, referencing his home garden. "Trust me, it's already on its way," a female constituent can be heard responding in the audio tape amid laughter.
"Well, yeah, there's plenty of dirt. And it's coming from the West Coast, too," King joked. "And a lot of other places, besides. This is the most dirt we've ever seen."
King may have realized his comments were potentially being recorded and that reporters were nearby, at which point he asked, "This is actually not supposed to start for another six minutes, is it? But, so we're just kind of chatting here informally here until things get rolling."
Jeff King, the congressman's son and campaign manager, dismissed the initial report about his father's comments, saying, "If you spent anytime with Congressman King throughout the district over this past week you would know that he has been referencing all the 'dirt' the dishonest, leftist media have been using to attack him."
King himself took to Twitter demanding the release of the now-released audio and blasting the publication for defending "junk yard dog" reporter, Rubenstein. Dozens of responses to King's ill-fated demand on Twitter call the Iowa congressman a "liar" for demanding proof of comments he knew he'd made.
"The Weekly 'NO' Standard(s) has joined HuffPo at the bottom of the lying journalistic gutter. No question that now their purpose is to write willful lies to advance a Leftist agenda. We threw this WS writer out after he disqualified himself," King tweeted Friday.
This is far from King's first foray into accusing the news media of lying. Last week, King banned several reporters from attending an election night event, accusing the Des Moines Register of being "leftist propaganda." Jeff King told the newspaper, "We are not granting credentials to the Des Moines Register or any other leftist propaganda media outlet with no concern for reporting the truth."
King has a long history of publicly endorsing and espousing far-right, white supremacist views.
Correction (11/12/18): The headlines for this story that previously labeled Steve King a white nationalist have been changed to reflect that, while he has embraced some aspects of white nationalism, he has rejected that label.