Steve King Asked If White Society Is Superior to Nonwhite: 'I Don't Have an Answer for That'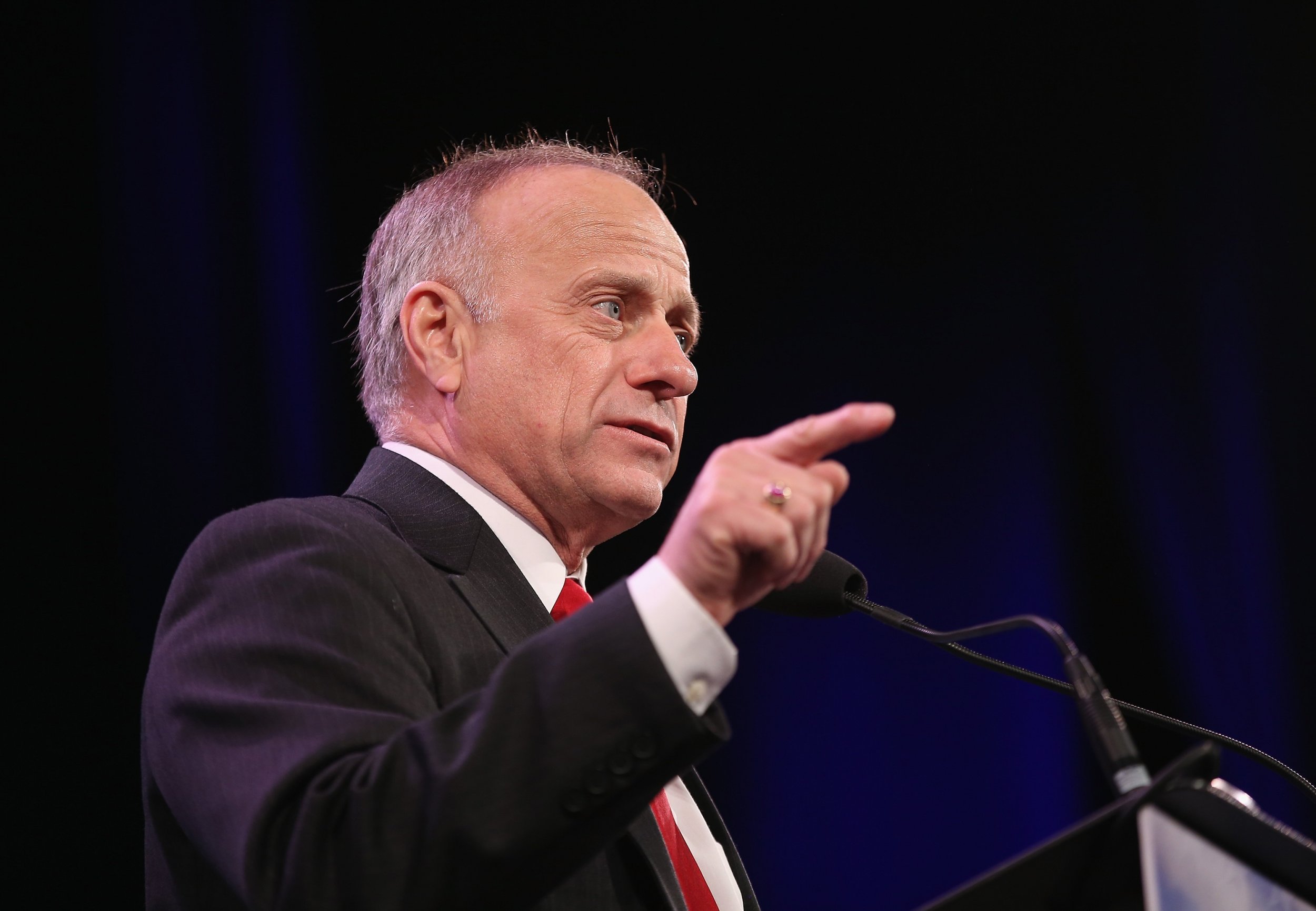 Embattled Iowa Representative Steve King, who has been accused of racism, fumbled his answer to a constituent's simple question on whether King thought white societies were superior.
At a meeting with his constituents Tuesday, one voter tried to pin King down on the accusation by his critics that the nine-term congressman was a white supremacist.
"Do you think a white society is superior to a nonwhite society?" Mary Lavelle, 63, asked King, The New York Times reported, over concern about the overlap between King's rhetoric and that of the alleged New Zealand mosque shooter's extreme-right manifesto.
"I don't have an answer for that. That's so hypothetical," King replied, The Times reported. "I'll say this, America is not a white society. It has never been a completely white society. We came here and joined the Native Americans."
King continued: "I've long said that a baby can be lifted out of a cradle anywhere in the world and brought into any home in America, whatever the color of the folks in that household, and they can be raised to be American as any other. And I believe that every one of us, every one of us, is created in God's image."
Brenton Tarrant, 28, is accused of shooting dead 50 people and injuring dozens more in a terror attack on two mosques in Christchurch, New Zealand, last week.
Tarrant released a manifesto to coincide with the massacre in which he ranted about a supposed invasion by immigrants into majority-white Western societies.
He also pushed the white supremacist conspiracy theory, known as the "Great Replacement," in which nonwhites were committing genocide against whites through higher birth rates.
King has likened immigration to an invasion. "They are invading our country, they are just not wearing uniforms. They come from the most violent countries in the world," King told an Austrian publication, referring to those entering through the southern border.
King also told the same publication of the "Great Replacement" theory: "They are somebody else's babies. They have been already raised in the culture of another country... I have said that diversity is not a strength. The Left just repeats it again and again, but it is mindless. What does this diversity bring that we don't already have? Mexican food, Chinese food, those things, well, that's fine, but what does it bring that we don't have that is worth the price? We have a lot of diversity within the US already."
He has also spoken of the need for citizens of Western societies to increase their birth rates. "We can't restore our civilization with somebody else's babies," King tweeted in 2017, praising the Dutch far-right politician Geert Wilders.
This is not the first controversy to embroil King in recent weeks and months. On Monday, King faced a backlash after he posted to Facebook a meme suggesting Republicans would beat Democrats in a civil war. Critics accused him of inciting violence.
Following a January interview with The New York Times, the Republican Party removed King from his committee assignments after his comments about white supremacy sparked outrage.
"White nationalist, white supremacist, Western civilization—how did that language become offensive?" King told The Times. "Why did I sit in classes teaching me about the merits of our history and our civilization?"