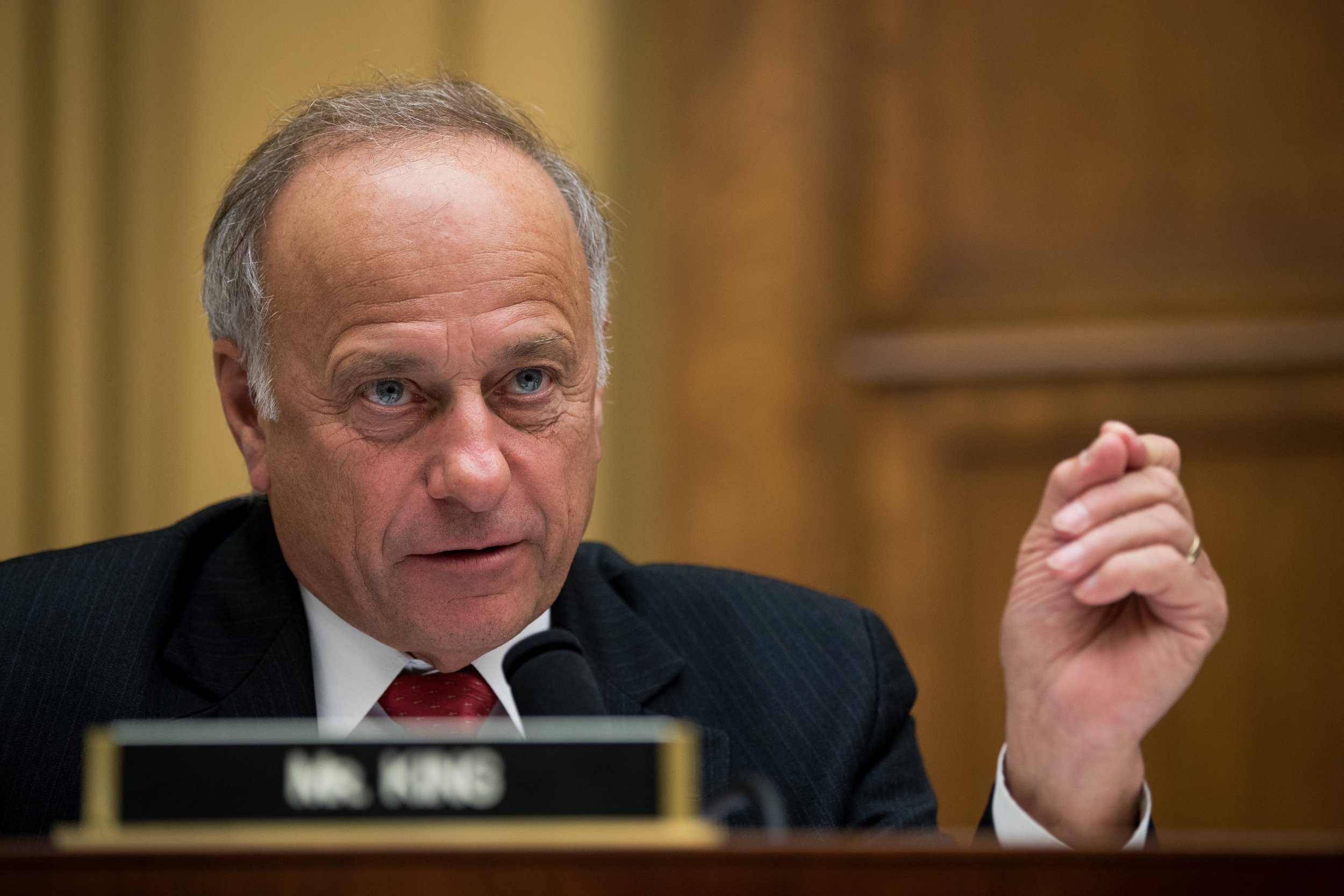 Embattled Republican congressman Steve King ripped into an audience member at a town hall Thursday after he was compared to the shooter who killed 11 people at a Pittsburgh synagogue last month.
The Iowa lawmaker, who has faced accusations of spreading white nationalism and even criticism from within his own party, shouted down an attendee at the Des Moines town hall who suggested King shared an "anti-immigration" stance with that of suspected shooter Robert Bowers.
"The terrorist who committed this crime, he was quoted as saying, 'They bring invaders in that kill our people, I can't sit back and watch out people get slaughtered.' You, Steve King, have been quoted as saying, 'We can't restore our civilization with other people's babies.' You and the shooter both share an ideology that is fundamentally anti-immigration," the audience member said before King interrupted him.
"Do not associate me with that shooter," King said angrily.
"I knew you were an ambusher when you walked in the room, but there is no basis for that and you get no question and you get no answer…. You crossed the line. It is not tolerable to accuse me to be associated with a guy that shot 11 people in Pittsburgh," he added.
The individual posing the question was identified by the Des Moines Register as Kaleb Van Fossen, a member of Iowa Citizens for Community Improvement, which earlier held a protest outside the event.
Van Fossen continued to push King, asking if he identified as a white supremacist.
Before asking security to escort the attendee from the room, King added: "Stop it…. You're done."
Afterward, King addressed a controversial trip he took to Austria to meet with the country's Freedom Party, which had ties to the Nazis. He stated that any party dating back to the 1950s would likely have had links to the Nazis.
While King heads up an Iowa 4th District that overwhelmingly chose President Donald Trump in 2016, his seat appeared to be in danger amid increasingly questionable actions and comments. In June, King retweeted a message by a known Nazi sympathizer and said it was a mistake, even though he refused to delete the retweet.
Such actions led the chairman of the National Republican Congressional Committee to publicly chastise King on Tuesday.
"Congressman Steve King's recent comments, actions, and retweets are completely inappropriate. We must stand up against white supremacy and hate in all forms, and I strongly condemn this behavior," Representative Steve Stivers of Ohio tweeted.
The Republican campaign committee, which normally offers funding to party candidates, told Politico Tuesday that it would not help King with financing.
A poll conducted earlier this week showed King up only 45 percent to Democratic opponent J.D. Scholten's 44 percent after King had maintained a strong double-digit lead in October and August surveys.