Steve Kornacki's MSNBC Math Wizardry Live On Air Goes Viral
We're now entering day four of Election Day and nerves around the world are understandably frazzled as we witness a historical presidential race between Joe Biden and Donald Trump.
News anchors have been working around the clock to keep viewers updated with the latest poll results and projections but MSNBC's Steve Kornacki has gone viral for displaying an exceptional piece of math wizardry live on air.
The journalist is known for combing through counties and thoroughly exploring mathematical possibilities on the road to achieving 270 electoral votes with the help of his trusty interactive magic map wall.
With the nature of the race being so tight in many counties in states like Georgia and Arizona, Kornacki is working overtime with the math projections and Twitter is certainly impressed.
"Well, now he's just showing off #TrackingKornacki," read a tweet from MSNBC of a clip of Kornacki doing his thing.
The tweet has more than 20,000 likes at the time of publishing as legions of viewers commented to praise the anchor.
One response reads: "If anyone has earned the right to show off it's Kornacki."
While another joked: "Maybe Steve should go to Nevada to help count."
Kornacki was also praised by TV personality Chrissy Teigen, who like most Americans is glued to the count.
"I honestly dunno how Steve is still going im bout to die," she captioned a snap of her watching TV to her 13.4million followers on Twitter.
On Wednesday night, Teigen tweeted a photo of Kornacki working at the touch screen board and asked; "Steve are you ok what does this even say."
Kornacki began Election Day coverage on Tuesday morning and didn't take a break from map-pointing until 12 p.m. the following day, with viewers expressing concern for his well being.
"We have removed him forcibly from the building," Ali Velshi told MSNBC anchor Ari Melber shortly after noon on Wednesday when he stepped in to take over the map, per E! "He's in a room with a pillow, blankets and warm milk."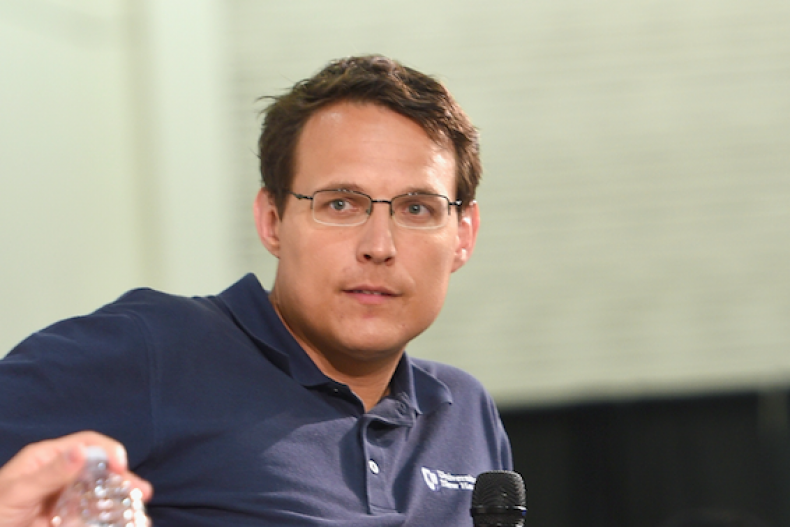 In a video shared to the MSNBC Twitter account on Wednesday, Kornacki himself joked: "You may not recognize me, there's no giant touch screen behind me, but Steve Kornacki here. I just wanted to say, I saw after I finally left the studio all these incredibly, you know, kind and friendly and nice messages everybody [shared] on social media. I just wanted to say thank you."
Kornacki is also trending on TikTok where he has gained an unlikely new swathe of fans, who have been posting fancams in his honor.
The hashtag #stevekornacki has more than 81,600 views on the platform.
Kornacki's sudden rise in popularity has led to some hilarious memes and jokes on Twitter—here are some of the best: