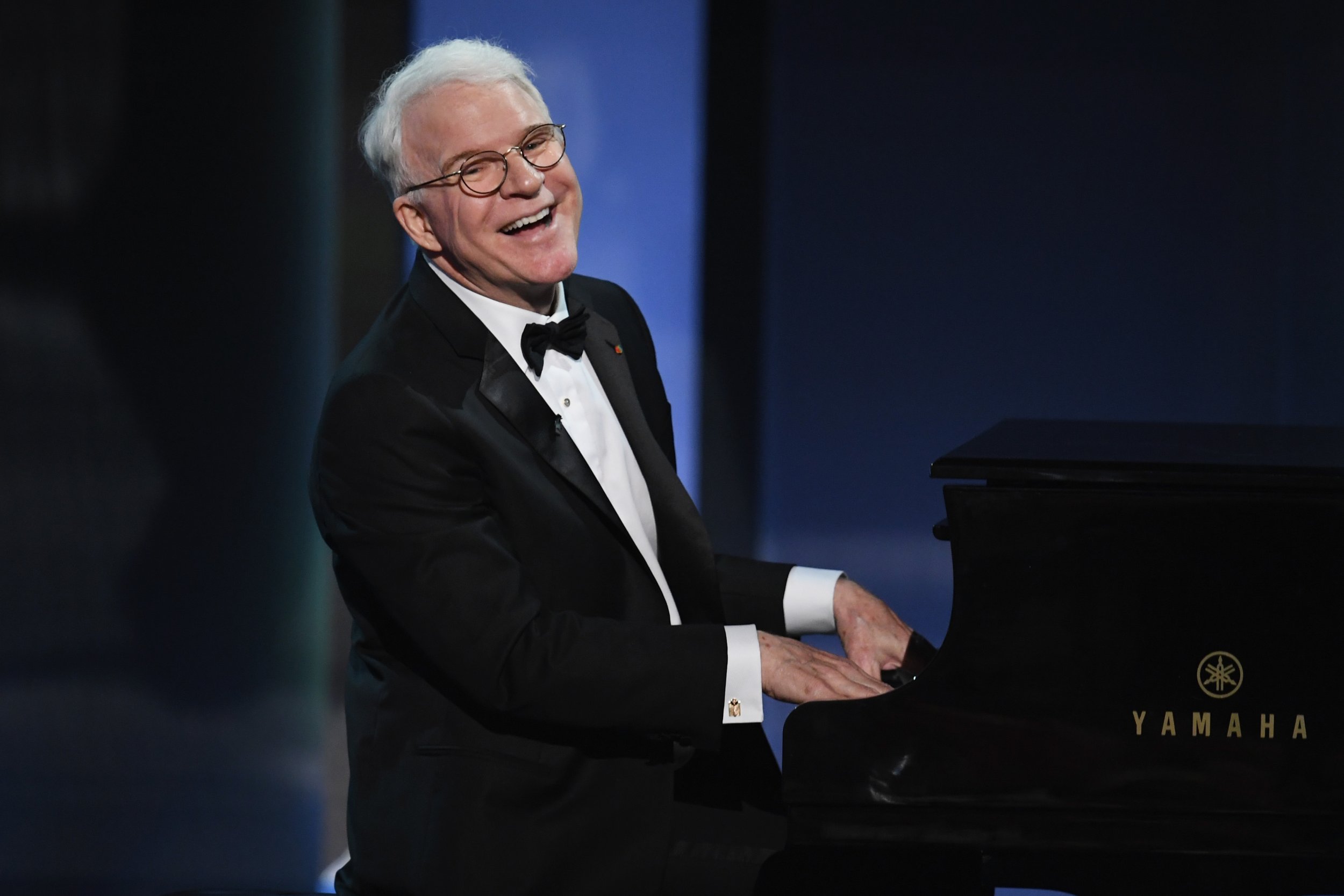 Steve Martin has been a sadistic dentist, an out-of-towner, a frustrated traveler, a father of three, a father of 12, a father of a bride and a jerk.
Now he's just happy to be a banjo player—in real life, not on screen. In recent years, the comedy legend has stepped away from Hollywood and shifted his focus to a longtime passion: bluegrass. On September 22, Martin, a skilled banjo player since he was young, will release a new album, The Long-Awaited Album (that's the real title), with his band, the Steep Canyon Rangers. The songs are up-tempo, goofy stories of love ("Caroline") and family dysfunction ("Strangest Christmas Yet"), and they're presented in inventive bluegrass arrangements. (One cut, "Santa Fe," pairs the ubiquitous banjo with a mariachi band.)
Martin, 72, doesn't think much about doing movies these days, he tells Newsweek. But he's not bored. In addition to the music career, he's busy touring the country with his old friend Martin Short and embracing the world of theater. Martin recently co-wrote the Tony-nominated musical Bright Star with Edie Brickell, and his new comedy—Meteor Shower, starring Amy Schumer—is set to open on Broadway in November. (Martin now prefers Broadway over movies because he can stay close to his wife and young daughter in New York.)
We talked to the comedy legend about bluegrass, banjo and his secret desire to work with the Coen brothers someday. (Please make this happen, Ethan and Joel.)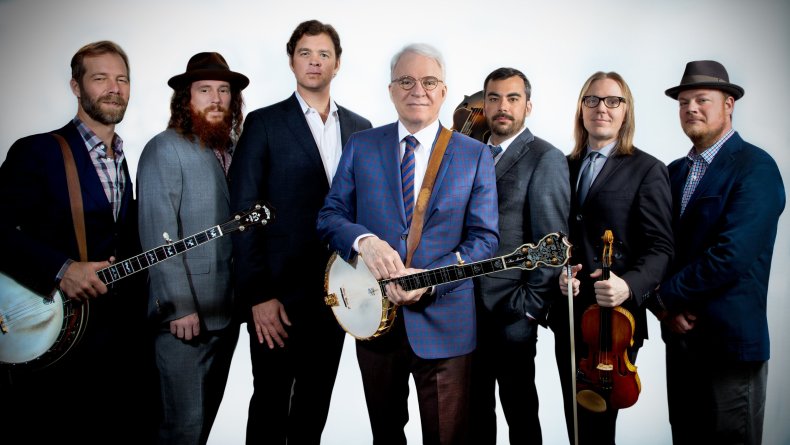 How's your tour with Martin Short going?
We have a lot of fun. It's a joy to do, actually.... I think of it as a traveling circus. We've got the musicians. We've got [Jeff] Babko and the Steep Canyon Rangers. We have Marty, who's not only a working partner but a friend. It's everything I could want.
The tour combines your dual interests in comedy and banjo. For most of your career, those have been fairly separate.
Well, you wouldn't know this, because you're too young, but in the '70s when I was doing my act I always had the banjo with me. Even when I was playing arenas, I played the banjo a little bit. When I went into movies, there was no real place for music. At the turn of the century, I really got back into it when I teamed up with the Steep Canyon Rangers.
What was the event that made you shift your focus to music?
It was actually in the early 2000s. The great banjo player Earl Scruggs was doing an album, and he asked me to play on it. And I did. There's a famous bluegrass song called "Foggy Mountain Breakdown" that Earl Scruggs wrote. We were going to play "Foggy Mountain Breakdown." I was always a very fast banjo player, but I realized I had slowed down a little bit, and I wanted to pick it back up again. It just got me interested in the banjo. I started practicing more and got more speed back.
Related: Bluegrass in excelsis
The banjo is not the most popular instrument these days. What drew you to that particular instrument when you were young?
That would have been in the early '60s. There was a big folk music craze, [with] the Kingston Trio and Pete Seeger and different groups using the banjo. I loved it from the first time I ever heard it. I found it to be quite an emotional instrument, actually.
Do you wish more people shared your affection for the banjo?
I actually think the popularity of the banjo is just right. It's a specialized instrument. It's a specialized sound—not everyone's going to gravitate to it or needs to know about it. The world of bluegrass has a lot of people who are very enthusiastic about it. Now that certain players, like Béla Fleck, have broadened the acceptance of the banjo, it's actually getting more play, and people are becoming more aware of it.
What I like about your new album is that the songs all have their own stories. It's very vivid, very cinematic. I think my favorite is "Nights in the Lab" [about two biology lab mates who fall in love].
When I first started writing that song, I started out writing a conventional romantic song. And I thought, Ah, this is so boring. What do I really want to write about?
I always loved the idea of attraction in the workplace. You're with someone eight to 10 hours a day, and you see the details of them, and that's really the way you fall in love with them, watching them over time.
Have you experienced that in your life?
Well, I must have. Whether it's school or someone you work with in a movie. Yeah, I married someone I worked with on a movie.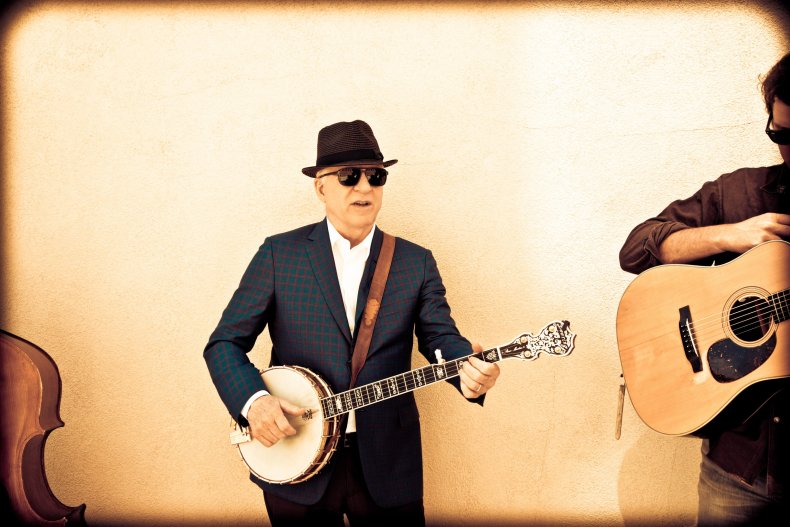 You haven't been in many movies recently. Are you thinking of quitting for good? Or are you plotting your comeback?
I don't really think about movies. I'm so happy with what I'm doing. Movies take you away from your home for months. That's a very difficult thing to do with my current life. The play, Meteor Shower—we're going to be working on it for several months in Manhattan, where my wife and I have a house. So it's perfectly convenient, and I don't have to leave the family.
Are there any filmmakers you'd still love to work with, given the opportunity?
Oh, yeah. Coen brothers. There's so many people. I did work with Ang Lee. Unfortunately, the movie [Billy Lynn's Long Halftime Walk] was a flop. But I liked the movie. The names aren't on the tip of my tongue anymore because I'm in such a different world now, between music and theater.
Did you say the Coen brothers, if I heard you correctly? That would be incredible.
Yeah. But like I say, it's very hard to leave. When I work with Marty, on our road tour, I can leave for a weekend and be back in three days. It's not a burden on my love of my family.
You recently taught an online MasterClass on comedy. How did it go?
You know, I avoid all things like that. But this particular idea really appealed to me because I'm 72. I've had a life in comedy. I do have collected experience that may or may not help someone. But there was no place to put that. It's just all this info that I can share with other comedians, or other performers, but there was no opportunity to share it with people who might want it or need it. So I thought, I actually like this idea. We shot for three days. I feel like I was able to offload a lot of information that may or may not be able to help up-and-comers.
Are there any tips to comedy that you think most comedians don't understand?
I think that experience is your greatest asset. Meaning you have to take every job no matter how horrible it is.
Your own stand-up career is pretty legendary. I'm curious to know what you think of stand-up comedy today. Are they any stand-up comedians who make you laugh harder than anyone?
I'm not exactly up on the field enough. I think a new comedian is Jerry Seinfeld. That's how behind the times I am. I listen on the radio sometimes, and I think, Oh, these new guys are really funny. But I catch the names sometimes, and sometimes I don't.
It's a weird time for comedy, with Donald Trump in office. Do you think there's any role for comedians to play during the Trump presidency?
Well, they're already doing it. I think it's being done expertly by Alec Baldwin and all the late-night shows. So I don't have anything to add to it.
Do you feel like you've been totally embraced by the bluegrass community?
Well, I feel like they're not negative towards me. I don't know how much they embrace me. Bluegrass musicians are notoriously friendly and accepting. I haven't felt any kind of resentment.
There's never been any suspicion toward your level of celebrity, like "Oh, here's this actor dabbling in bluegrass"? They've embraced you as a great musician?
I don't know what they say behind my back [laughs]. I have not experienced that!
What's next for you?
I'm still working on songs. I have a few that I've been working on. Mainly, the next thing is the play Meteor Shower on Broadway with Amy Schumer.
I wanted to ask you about your famous art collection. Do you have a single favorite work in your collection?
I view them the same way I would view children. You're not allowed to love one more than the other.
Steve Martin's The Long-Awaited Album will be released September 22.