Who Is Steve Mnuchin's Bride? Louise Linton's 'White Savior' Complex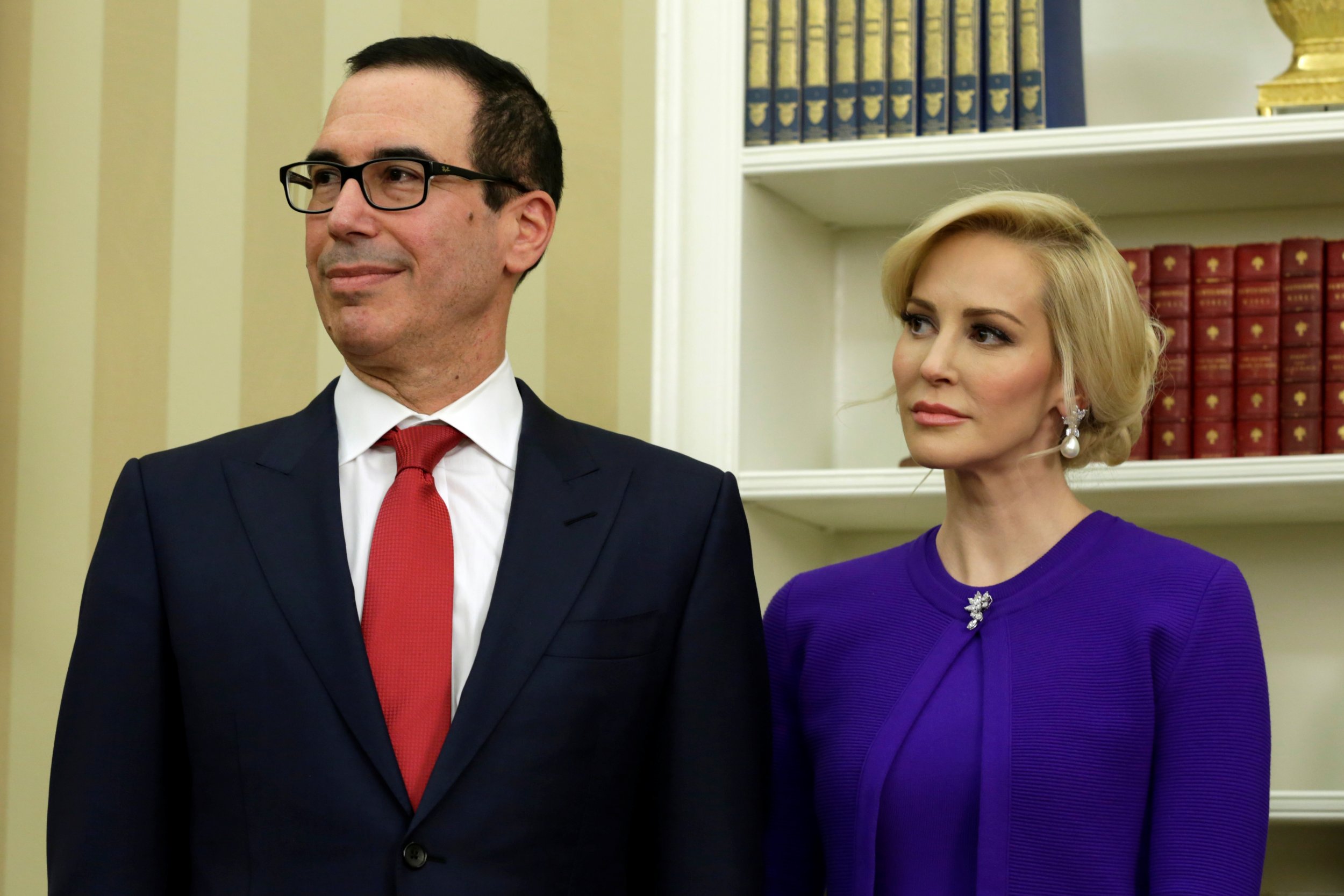 U.S. Treasury Secretary Steve Mnuchin got married to Scottish actress Louise Linton Saturday. The wedding took place in Washington's Andrew W. Mellon Auditorium, with the 300-person guest list a who's who of Washington and Wall Street's elite.
The couple reportedly met at a wedding reception in Los Angeles 2013, and got engaged two years later. The marriage is Linton's second, and Mnuchin's third. Linton has appeared on film and TV, attracting controversy for her memoir describing her time volunteering in Africa in 1999.
Who is Louise Linton?
Linton, 36, was born in Edinburgh, and was reportedly educated at private schools St George's School for Girls and Fettes College, where British Prime Minister Tony Blair previously studied.
She moved from Scotland to LA, where she studied journalism at Pepperdine University and later attended University of West LA law school while pursuing an acting career.
Linton has appeared in "CSI: NY" and "Cold Case," as well as the film "Cabin Fever." Most recently she appeared in the 2016 thriller Intruder, where she played a cellist whose home is broken into by a stalker.
She is also the founder of independent production company Stormchaser Films.
"White savior" controversy
Last year, Linton was involved in controversy over claims she made in a book, in which she described volunteering in Africa as a teenager.
In "Congo's Shadow: One girl's perilous journey to the heart of Africa" describes Linton's time in Zambia in 1999.
However the book generated a social media storm, with thousands of Zambians taking to Twitter under the hashtag #LintonLies to denounce the book as innaccurate and Linton for portraying herself as a "white savior."
In a passage that offended many, Linton described herself as a central character in events, and wrote of spending a night in hiding from armed rebels.
"I tried not to think what the rebels would do to the 'skinny white Muzungu with long angel hair' if they found me," she writes.
Others criticized Linton's descriptions of her interactions with Africans as patronizing, as she credited their poverty and humility with helping keep her grounded as she pursued a Hollwood career in LA.
Others queried her description of Zambia's "dense" jungles, pointing out that the country is largely composed of savannah, while some questioned the accuracy of the account of the night she spent in hiding and the danger posed by the conflict she described.
Washington Post editor Karen Attiah wrote: "If "How Not to Write About Africa" were an Olympic floor gymnastics event, Linton's piece would be a strong contender for a gold medal, because she deploys, with maximum flourish, just about every lazy trope there is when it comes to writing about Africa."
Linton responded that she was "genuinely dismayed" by criticism of the book, and "very sorry to see that I have offended people as this was the opposite of my intent."