In Trump's America, Defending the President at All Times Is the Best Way to Keep a White House Job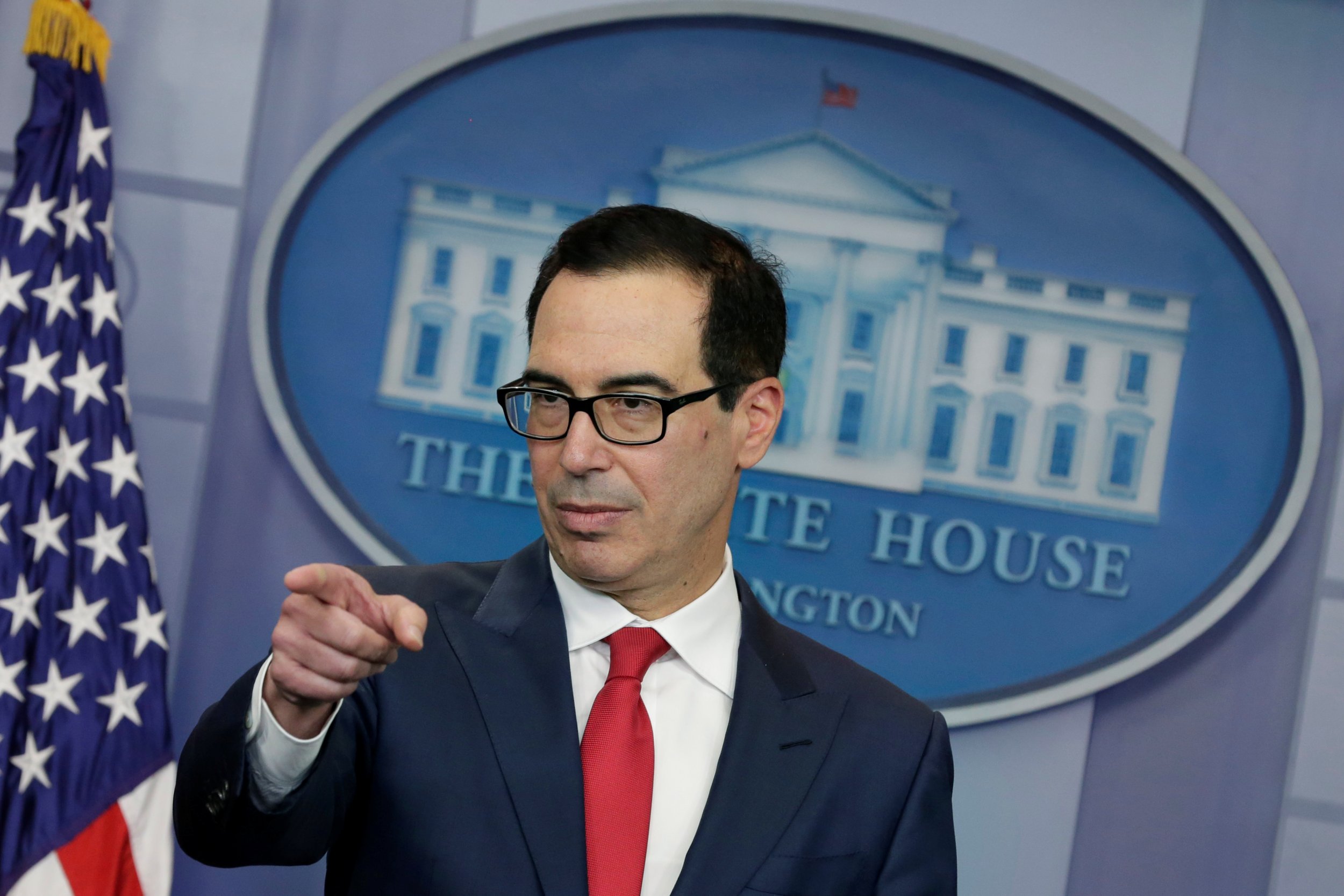 Loyalty, thy name is Steven T. Mnuchin. On Sunday, the Treasury Secretary appeared on NBC's Meet the Press, where he defended President Donald J. Trump's handling of the devastation caused to Puerto Rico by Hurricane Maria. Mnuchin praised the federal government's response as "terrific," although only 45 percent of the island's 3.4 million residents have potable water and only 5 percent have electricity. The storm hit the island nearly two weeks ago.
Mnuchin also defended Trump himself, who'd gone on Twitter to attack Carmen Yulín Cruz, the mayor of Puerto Rico's capital city, San Juan. She had pleaded on CNN for more federal assistance and disputed Trump's optimistic description of the relief efforts.
You won't believe what happened next. "Such poor leadership ability by the Mayor of San Juan, and others in Puerto Rico, who are not able to get their workers to help," the leader of the free world said in a two-part tweet sent on Saturday morning from his golf club in New Jersey. "They want everything to be done for them when it should be a community effort." Several other tweets followed before some adult wrested the phone away and ushered the president back out onto the links.
The tweetstorm made many Americans angry. Lin-Manuel Miranda, the Hamilton creator, had a blunt message for his fellow New Yorker: "You're going straight to hell."
Mnuchin disagreed. "I think as you know, when the president get attacked, he attacks back," he explained. Mnuchin said that Cruz's criticism of the relief efforts were unfair.
"How do you know they were unfair?" wondered Meet the Press host Chuck Todd. "Is that fair to say? Have you been down there?"
No, Mnuchin had not been down there. But he has been here before, defending Trump with a strange but telling eagerness. Don't be surprised if Mnuchin lasts the entirety of the Trump presidency, even as friends old and new fall, defect to Russia or head to federal prison. He just may have the secret to surviving in this White House.
There was Mnuchin defending Trump in mid-August after the bloody neo-Nazi rally in Charlottesville, Virginia, that celebrated the proud legacy of the Confederacy by leaving three dead. Many, including many Republicans, were horrified by the shows of racism and anti-Semitism on display there. Their horror was compounded by Trump's assertion that among the frothing racists who descended on Charlottesville were "some very fine people."
You know who wasn't horrified? The secretary of the Treasury, who happens to be Jewish. Mnuchin's Yale classmates asked him to resign in protest. He lectured them in a high-toned letter. "As someone who is Jewish, I believe I understand the long history of violence and hatred against the Jews (and other minorities) and circumstances that give rise to these sentiments and actions," he wrote.
There are other Jewish members of the administration, most notably senior adviser Jared Kushner and National Economic Council director Gary D. Cohn. They remained silent. We later learned that Cohn did write a letter. Of resignation.
Then came September, and the kneeling protests in the National Football League. Again, Trump responded with inordinate anger. Again, Mnuchin eagerly assumed the role of chief bootlicker. "They can do free speech on their own time," he said of the players, who'd been sitting, kneeling and linking arms during the National Anthem to protest police brutality, racism and Trump.
Some are alarmed by Trump's approach to North Korea. Mnuchin is not. "This is not about personalities; this is not personal," he said of Trump's hectoring of Kim Jong Un, the North Korean leader whom he calls "Rocket Man." If it's not personal, it's pathological. And if you sleep safer because of Mnuchin's assurances, you must be sleeping somewhere in northern Minnesota, well out of reach of Kim's ballistic missiles (for now).
The right has been bothered by a deal Trump made with Senate Minority Leader Chuck Schumer and House Democratic leader Nancy Pelosi on raising the debt ceiling. But there was Mnuchin on CNBC's Squawk Box, eagerly reassuring them: "The president is absolutely a Republican," he said of the former Democrat.
Mnuchin isn't new to Trump's coterie, having served as his campaign finance director during that improbable dash to the White House. He understands that the boss needs public praise, and that he needs it the way a whale needs plankton. There's one rule to remaining in Trump's good graces: Always be praising. On cable, preferably. On Fox & Friends, if you want a lifetime membership to Mar-a-Lago when all of this is through.
Mnuchin and his wife, Louise Linton, were recently in trouble for using a governmental airplane for personal travel. Several other cabinet members are being investigated for similar transgressions involving airplanes, security details and, in the case of Environmental Protection Agency head Scott Pruitt, a $25,000 soundproof booth. One of these swamp creatures, Health and Human Services secretary Tom Price, resigned last Friday after wasting more than $1 million on travel by private jet to exotic, hard-to-reach locations such as Philadelphia.
The notion that Price resigned because of his ethical violations is preposterous. He works for a man who has used the office of the presidency to advertise his golf resorts, where he routinely entertains heads of state. He used an appearance in Houston after Hurricane Harvey to market a $40 baseball cap. His sons, Don and Eric Jr., have run the Trump Organization as the fourth branch of the federal government. If there's a benefit to all this, it is that a generation of middle-schoolers knows all about the emoluments clause of the U.S. Constitution.
No, Price had to go because he made Trump look bad. It was a transgression of publicity, not ethics. An anonymous White House official admitted as much to CNN, summarizing pithily Price's greatest sin: "not good optics." That Price apologized only made things worse, for while greed is permissible — even approved — weakness can never be forgivven.
Mnuchin, on the other hand, gives good optics. On television, he is always dressed in a dull but obviously expensive suit, along with a red power tie. He defends Trump with lines plainly cribbed from the White House communications office. America is great, Trump is great, what you read in the papers is fake news. Any other questions?
And when faced with his own ethical shortcomings, Mnuchin does as Trump would (and has) showing no remorse over the abuse of government resources or disregard for ethics laws. "There were reasons why we needed to use that plane that are completely justifiable," he said of the trip he and Linton took in August to see the solar eclipse in Lexington, Kentucky.
Trump has attracted a disparate group to the White House, and while the last couple of weeks have cast unflattering light on the more kleptocratic members of his administration, they do not fully represent this complex and clannish administration.
Some came to work for Trump because they genuinely believed in his nationalist message and wanted to amplify it into a world-changing movement: Stephen K. Bannon, primarily, but also Steven Miller and Sebastian Gorka. Say what you will about the Bannonites, at least they weren't in it for the freebies.
Others joined this administration out of duty to nation, to keep things from devolving into malevolent chaos: these are the so-called adults in the room, including chief of staff Gen. John F. Kelly, National Security Adviser H.R. McMaster, Defense Secretary James N. Mattis and U.S. Ambassador to the United Nations Nikki R. Haley, the former South Carolina governor who has shown herself a capable defender of American interests.
And then there are men like Mnuchin and Price, plainly in it only for self-enrichment. Mnuchin was previously known as "the foreclosure king" for his chairmanship of the bank OneWest, which foreclosed on perhaps as many as 16,000 homes during Mnuchin's tenure. Pruitt, while the attorney general of Oklahoma, was essentially an oil company employee, so diligently did he perform the work of energy concerns. Price, meanwhile, may have done bit of insider trading while on the House Ways and Means Committee.
To this sleazy bunch, Trump is the absent-minded single dad who will let high schoolers party in his house every weekend. It's a little weird, but...free beer! Except he's got a temper, too. He might not mind if you break a window, but put a glass on his coffee table without a coaster, and you'll never enjoy his stash of Coors Light again.
And, yes, of course all that talk of draining the swamp was just campaign rhetoric. Except people bought it. They truly believed — and many still do — that while electing Trump was a risk, he was going to be the iconoclast Washington needed, the truth-teller Capitol Hill has long feared. He was a billionaire, and thus could not be bought. Already a celebrity, he could not be flattered.
So what happened? Well, funny thing: What seemed like a swamp from a distance turned out to be a pretty splendid place once you got to call it your own. Enjoy your stay there, Mr. Mnuchin. But next time you're on television defending Trump, try a different tie. Or not. After all, whatever you're doing seems to be working just fine.