Trump Administration Critics Ridicule Louise Linton, Steve Mnuchin Posing in Lavish Poolside Pictures
A seemingly glamorous set of pictures posted by actress Louise Linton showing her embracing husband, U.S. Secretary of the Treasury Steven Mnuchin, drew widespread ridicule in the couple's latest lavish social media post.
Six pictures posted to Instagram by Linton for the July 4th holiday showed her and several friends lounging at a pool in Los Angeles and featured one picture revealing the 56-year-old Mnuchin appearing to caress his 38-year-old wife in a sunbathing chair.
Instagram and Twitter users immediately pounced on the post as the latest example of Trump administration excesses as the pair also celebrated model Shay Londre's birthday.
"The loveliest and most relaxing 4th of July with family and friends. Was a beautiful day to celebrate @shaylondre on her birthday!! ☀️ #birthday #july4th #family #bestfriends #husband," Linton wrote on Instagram Friday.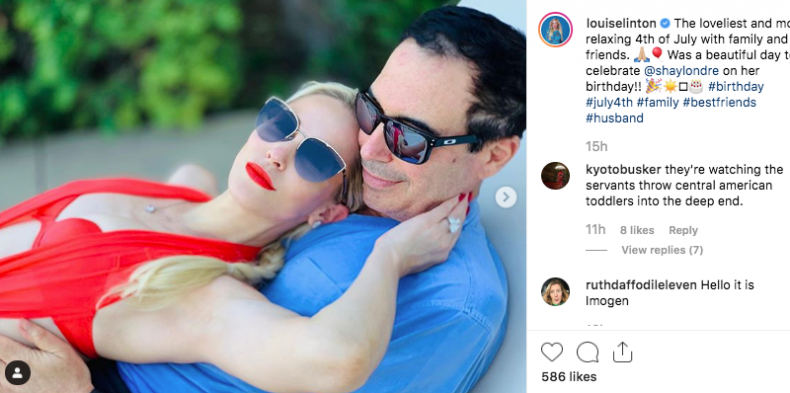 Linton's pictures showed herself, Mnuchin and several female guests celebrating the July 4 holiday, but the post quickly became the latest target for Trump administration critics who pointed to the couple as out-of-touch and wealthy beyond reasonable means.
"They're watching the servants throw central american toddlers into the deep end," remarked one Instagram critic. "Now that's a guy who looks like he has to pay for sex. Oh wait, he DOES," wrote another scathing Twitter reply.
"They really know how to put the white in the red, white and blue," remarked a Twitter critic.
This is far from Linton's first foray into controversial social media posts flaunting wealth. In 2017, Linton received backlash over a now-deleted Instagram photograph showing her and Mnuchin stepping off Air Force One while flaunting -- and potentially marketing -- several high-end designer brands.
"Great #daytrip to #Kentucky! #nicest #people #beautiful #countryside #rolandmouret pants #tomford sunnies, #hermesscarf #valentinorockstudheels #valentino #usa," Linton wrote.
After an Oregon woman responded with a comment about the trip being at the expense of U.S. taxpayers, Linton fired back, writing, "Aw!!! Did you think this was a personal trip?! Adorable! Do you think the US govt paid for our honeymoon or personal travel?! Lololol. Have you given more to the economy than me and my husband? Either as an individual earner in taxes OR in self sacrifice to your country?"
Linton continued, "I'm pretty sure we paid more taxes toward our day 'trip' than you did. Pretty sure the amount we sacrifice per year is a lot more than you'd be willing to sacrifice if the choice was yours."
In November 2017, Linton and Mnuchin were ridiculed over a picture showing them holding up newly minted cash at the Bureau of Printing and Engraving's Washington printing plant. Many social media revelers remarked that the couple looked like "Bond villains" and she was potentially mimicking The One Hundred and One Dalmations villain Cruella de Vil.
Last month, Linton told LA Mag she was aggravated with her portrayal as a spoiled housewife by the news media, although she did compliment several of the perks of the job, including riding in an Osprey helicopter.
"Someone claimed that I walk into the Treasury and yell, "Where is my hubby? Oh, he's on an important phone call? Get him off!" Bulls***! I would never do that. You can't just boopity-boop saunter into the Treasury. You need an appointment," she told the magazine.
In May, Mnuchin defied a congressional subpoena seeking six years of Trump's tax returns, prompting a federal court battle over the issue that is ongoing. And Mnuchin is also in the middle of bipartisan debate surrounding the congressional budget being too high to maintain.
"I don't see 'red', I don't see 'blue'; I just see 'human'. There is much more that connects us than divides us," Linton writes as her Instagram profile description.