Steve Mnuchin's Wife Louise Linton Brags About Designer Goods on Government Trip, Taunts Instagram Critic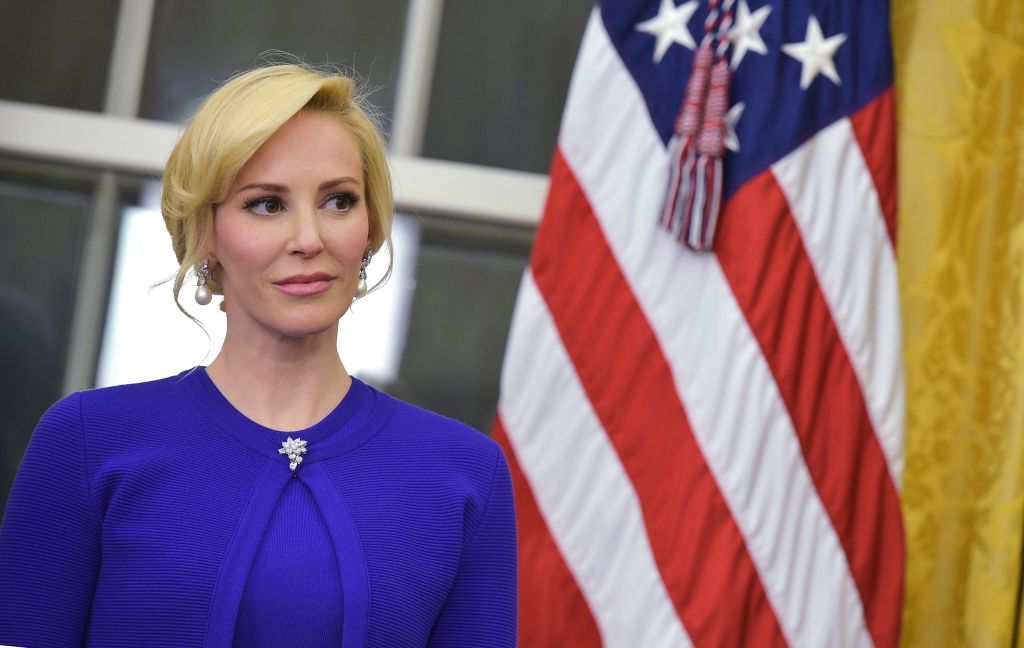 Actress Louise Linton, the wife of Treasury Secretary Steve Mnuchin, flaunted designer goods in a social media post on a government trip and then boasted of her wealth when criticized for wasting government funds.
In a now deleted post on Instagram which was captured by users and shared on Twitter, Mnuchin posted a photograph of herself stepping off an Air Force plane following an official trip to Kentucky alongside her husband.
In the post she hashtagged the designer brands she was wearing.
"Great #daytrip to #Kentucky! #nicest #people #beautiful #countryside #rolandmouret pants #tomford sunnies, #hermesscarf #valentinorockstudheels #valentino #usa," she wrote.
Jenni Miller, an Oregon mother of three, responded "Glad we could pay for your little getaway. #deplorable."
But Linton lashed out, taunting Miller for having less money than she does.
"Aw!!! Did you think this was a personal trip?! Adorable!" she wrote. "Do you think the US govt paid for our honeymoon or personal travel?! Lololol. Have you given more to the economy than me and my husband? Either as an individual earner in taxes OR in self sacrifice to your country?"
Linton went on: "I'm pretty sure we paid more taxes toward our day 'trip' than you did. Pretty sure the amount we sacrifice per year is a lot more than you'd be willing to sacrifice if the choice was yours."
"You're adorably out of touch," she said, later adding, "your life looks cute" before concluding, "Go chill out and watch the new game of thrones. It's fab!"
President Donald Trump and First Lady Melania Trump were among those who attended Mnuchin and Linton's Washington D.C. wedding, which Vice President Mike Pence officiated.
Linton has starred in "CSI: NY" and "Cold Case," as well as the film "Cabin Fever," and was criticized for a memoir she penned about volunteering in Africa which was denounced as patronizing and riddled with inaccuracies. Her husband is a former Goldman Sachs executive who worked with Trump on deals before entering government.
Miller told the New York Times that she was surprised by Linton's reaction to her Instagram post.
"I think my post was just five or six words, and she had to go on basically a rant about it to make herself look more important and look smarter, better, richer—all those things," she said.
The Treasury Department told the Times that the Mnuchins had reimbursed the government for the trip, and Linton was not paid for promoting the designer labels.