Steve Nash Calls Out U.S. Gun Culture Following Parkland Massacre, Demands Immediate Change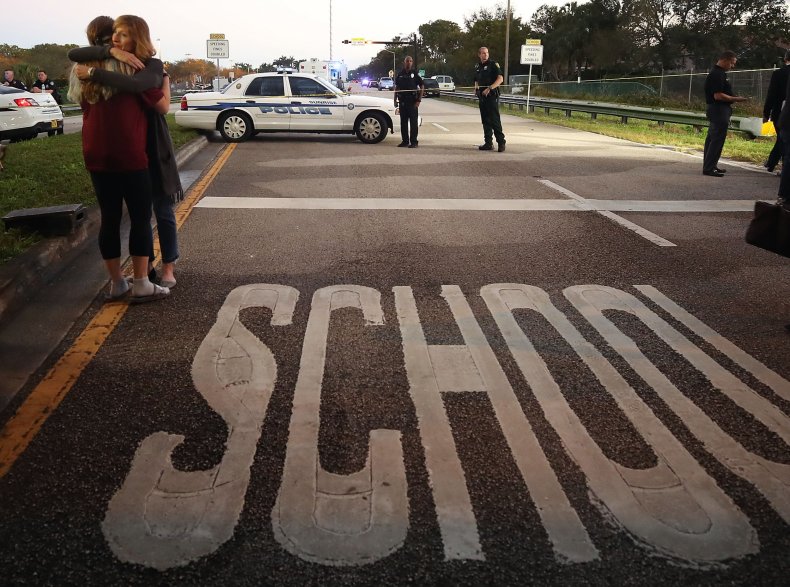 Steve Nash has called out America's gun culture, telling authorities to implement changes that would "immediately" save lives.
Last week, 17 people were killed and 14 injured in a shooting at the Marjory Stoneman Douglas High School in Parkland, Florida, the most recent in a series of mass killings that have plagued the U.S. in recent years.
Nash said he was left "angry" at seeing innocent people dying, and heartbroken by the realization that "an endless stream of tragedy" could follow unless changes were implemented.
Newsweek subscription offers >
The Canadian added it was time to momentarily shelve the debate about eliminating guns from society altogether to focus on adopting a series of measures that could play a major role in prevent similar events from happening again.
"Even though I personally believe we should try to take as many guns out of our society as possible, that is a separate discussion," the eight-time NBA All Star wrote in a column for The Players' Tribune.
"First, we need to enforce and expand background checks for people trying to purchase a gun. We also need to require them to supply proof of proper storage, which they do in other countries with great success.
"Second, we need to more strictly regulate semiautomatic weapons, like the AR-15, which are so often used in mass shootings."
Newsweek subscription offers >
Nash said it was difficult to see what automatic weapons offered everyday society, while the drawbacks were evident.
"Without these weapons, deranged individuals such as the killer in Las Vegas wouldn't have been able to murder and injure so many victims in such a short amount of time," he wrote.
"Lives would have been saved."
The debate over gun control resurfaced in the aftermath of the shooting in Florida, once again driving a wedge into American society.
President Donald Trump suggested he would look into giving "concealed guns to gun adept teachers with military or special training experience," which he estimated to be 20 percent of the teaching profession.
By contrast, Barack Obama told the Florida teenagers who marched on their statehouse demanding gun control: "We've got your backs."
In his column, Nash urged Americans to stick together and not be driven apart by such a contentious matter.
"How can we come together on this issue?" he wrote.
"Can we agree that there's too much death, too much violence, too much loss? Can we come together and meet in the middle, as soon as possible, to save as many lives as possible? I know we can find some common ground—and I know that that's where we'll have to meet."
The former NBA star also offered his support to the students who turned out to protest against the widespread use of guns, insisting they represented a good and powerful movement that needed immediate support.
Of the 20 worst mass shootings in U.S. history, 15 have happened since 1999. According to gun control campaign group Everytown for Gun Safety, on average, 96 Americans are killed by guns every day.
Americans, Nash added, are 25 times more likely to die in a gun homicide than people in other high-income countries. He insisted the only way to eradicate the problem was to step up the political debate.
"We need to do our research, and know our history," he said.
"We need to support groups that aim to reduce gun violence. We need to organize. We need to get political. We need to vote."
Steve Nash Calls Out U.S. Gun Culture Following Parkland Massacre, Demands Immediate Change | Sports