New Mexico Republican Steve Pearce Rails Against Same-Sex Marriage, Polymorphism, AIDS Treatment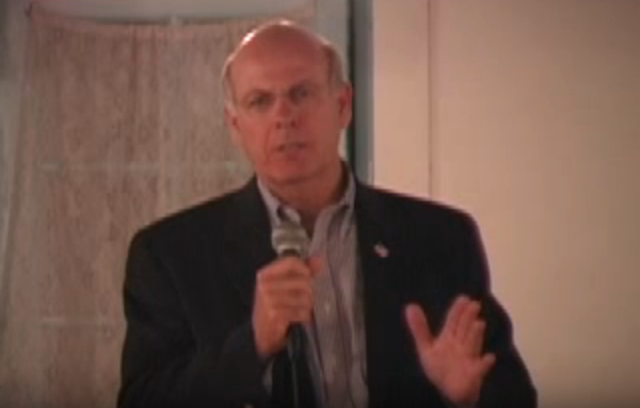 Video surfaced this week that shows Representative Steve Pearce, a New Mexico Republican who is running unopposed for governor in the state's GOP primary, railing against health benefits for AIDS patients and cautioning that same-sex marriage will lead to "polymorphism."
Two videos posted to YouTube nearly 10 years ago show Pearce calmly laying out his case against the legalization of same-sex marriage while speaking at an event in Carrizozo, New Mexico on September 20, 2008. Pearce paints a bleak picture of the future should the country allow same-sex couples to wed, a ruling the Supreme Court would ultimately hand down in June 2015.
The longtime New Mexico lawmaker, now 70, warns that financial benefits will be plundered if gay marriage is legalized and liberal politicians "can marry everybody in California with AIDS."
"What's going on with gay marriage is...the redefining of a social institution. And the redefinition has serious downside results," Pearce said in the video. "The next step then is polymorphism, where one marries many."
Pearce is a member of the conservative and libertarian-minded House Freedom Caucus. He hasn't been shy about expressing his deeply conservative social views during his public service career, which began in 1996 when he was elected to the New Mexico House of Representatives. In his 2014 memoir, Just Fly the Plane, Stupid!, Pearce described his biblical-based marriage principle that the role "the wife is to voluntarily submit" to her husband.
Although Pearce is running unopposed in the Republican New Mexico primary for governor, he will face one of several Democratic challengers including U.S. Representative Michelle Lujan Grisham, state Senator Joe Cervantes of Las Cruces and businessman Jeff Apodaca.
Dominic Gabello, Congresswoman Michelle Lujan Grisham's campaign manager, issued a statement to Newsweek Tuesday denouncing Pearce's comments.
"I am extremely troubled by Rep. Steve Pearce's comments about same-sex marriage," Grisham wrote. "His suggestion that legalizing same sex marriage would lead to polygamy and widespread fraud, with couples marrying simply to gain healthcare benefits, is deeply offensive. Further, Rep. Pearce's statement trivializes AIDS and perpetuates damaging, worn-out stereotypes."
The September 2008 video, taken shortly before the election of Barack Obama, shows Pearce cautioning that widespread fraud and waste of government benefits will be one of the major "downstream effects" of allowing same-sex couples to marry.
"Where this all gets headed is toward the access to benefits, and so you can imagine that a person would say, 'Oh all these people in California don't have access to AIDS treatments,' they might say this to themselves: 'I'm gonna marry everybody in California with AIDS,'" Pearce said at the time.
"And suddenly they've got access to the, maybe the benefit program, the health insurance that a single person has," he continued. "There's some serious downstream effects when we begin to redefine the terms of what a marriage is so I'd rather not have the government telling them how to live their life and I'd also not let them redefine the terms for all of society."
A woman in the audience can be heard relaying a question to Pearce she said is from a high school government student, "Why are Republicans so afraid of change?"
Pearce dismissed the notion that Republicans are opposed to change and instead posited that the "the real cut" isn't between Republicans and Democrats, it's between conservatives and liberals. He said part of the divide is that "liberals believe all people, all men, are created good," while on the other hand, "conservatives believe that we are flawed as a human race and we seek a solution to that flaw usually from our religion or whatever."
"I find myself as one of the most significant conservatives in Washington," he added.
Throughout the video, Pearce reiterated he doesn't want "government telling anybody how to live their life," but said the case of gay marriage is different because it's redefining a cut-and-dry social institution.
Pearce's campaign didn't immediately respond to Newsweek for comment but spokeswoman Keeley Christensen told the Huffington Post the issue is "settled" after the 2015 SCOTUS ruling.
"Congressman Pearce believes the government should not be involved in redefining marriage. He personally believes marriage is between a man and a woman," Christensen said. "The issue, however, is settled law."