House Majority Whip Steve Scalise was shot in the hip during a congressional baseball practice in Virginia Wednesday morning. His injuries were non-life-threatening, a congressional source told ABC News. Multiple congressional aides were also hit by the gunman.
Several Republican lawmakers were in attendance. "Behind third base, I see a rifle...I hear Steve Scalise over near 2nd base scream," Rep. Mo Brooks told CNN.
Here's what to know about Scalise:
He Has Represented Virginia Since 2008
After an unsuccessful run for Louisiana Governor in 1995, Scalise occupied a seat in the Louisiana House of Representatives from 1996 to 2008. In 2007, after Bobby Jindal vacated his seat in the United States House of Representatives to become governor of Louisiana, Scalise announced his intention to run. After securing the necessary votes in the Republican primary, he defeated Democrat Gilda Reed, taking more than 75 percent of the vote.
His First Congressional District of Louisiana includes his hometown of New Orleans. His website describes him as "a strong conservative leader who upholds the Constitution, advocating for the principles of fiscal discipline, lower taxes, an all-of-the-above national energy strategy, a robust national defense, and conservative values." Scalise successfully ran for Majority Whip in the House in 2014, replacing Rep. Kevin McCarthy.
Related: Republican Steve Scalise Shot at Alexandria Baseball Practice
He Endorsed Trump
Scalise was an early endorser of President Donald Trump during the 2016 presidential campaign, although he said that Trump should make a "direct apology" after a tape emerged of the candidate making lewd comments about women in October. The 51-year-old has also supported Trump's travel ban and voted in favor of the Republican Obamacare replacement plan.
"This bill finally starts the process of not only repealing Obamacare, but also replacing it with reforms that put patients back in charge of their healthcare decisions, that lower costs for families," he said alongside Trump in a gathering in the White House Rose Garden shortly after the bill passed the House.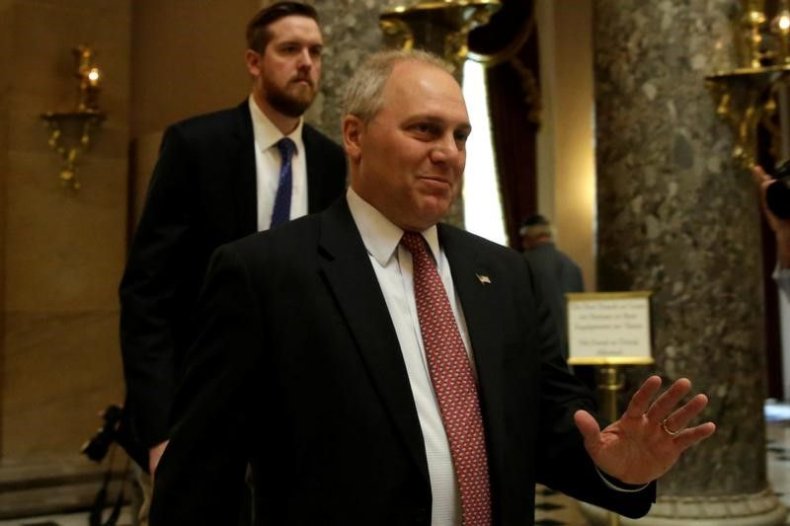 He Spoke at a White Supremacist Event in 2002
Scalise came under fire in 2014 after speculation emerged that he had spoken at a white supremacist event backed by David Duke in 2002. Duke later confirmed that he had asked Scalise to speak, forcing the representative to issue a statement.
"Twelve years ago, I spoke to many different Louisiana groups as a state representative, trying to build support for legislation that focused on cutting wasteful state spending, eliminating government corruption and stopping tax hikes," Scalise later said. "One of the many groups that I spoke to regarding this critical legislation was a group whose views I wholeheartedly condemn. It was a mistake I regret, and I emphatically oppose the divisive racial and religious views groups like these hold."
Married with Two Children
Scalise graduated from Louisiana State University with a degree in computer science and a minor in political science. He married Jennifer Letulle in 2005 and they have two children, Madison and Harrison. Sen. Jeff Flake told reporters that he took Scalise's phone and used it to call his wife in order that she wouldn't learn the news in the media.