Steve Scalise Argues Dr. Fauci Should Testify Under Oath After 'Alarming' Email Dump
Congressman Steve Scalise is calling for Dr. Anthony Fauci, director of the National Institute of Allergy and Infectious Diseases, to testify following the release of thousands of his emails from the early days of the coronavirus pandemic.
Appearing Thursday on Fox Business, the Louisiana Republican told host Maria Bartiromo that there are "some very alarming things we're seeing in these emails."
Scalise specifically pointed to messages where Fauci was being informed of the possibility that the COVID-19 virus originated in a lab in Wuhan, China.
"I saw like you did back in February of 2020 where Dr. Fauci was acknowledging, or was getting emails sent to him that there was a real distinct possibility that this virus started in the lab in Wuhan—which many of us were saying over a year ago," Scalise said.
Scalise, the House minority whip, also took issue with a message in which Fauci said that face masks bought in a store would not be effective at protecting against the virus.
"We need to have a hearing on this, Maria," Scalise told the Fox News host. "We need to get to the bottom of this. Dr. Fauci needs to be brought in under oath to answer questions about this."
BuzzFeed News obtained more than 3,200 pages of emails through the Freedom of Information Act. The Washington Post also received more than 860 pages of messages.
In one leaked email, Kristian Andersen, the director of the Scripps Research Institute, wrote to Fauci in late January that some of the virus's features "(potentially) look engineered."
Later in the pandemic, Andersen's research team later concluded it was implausible that the virus was engineered in a paper published by Nature Medicine. On Tuesday, Andersen tweeted that his email to Fauci was "a clear example of the scientific process."
In an email dated February 5, 2020, Fauci responded to an inquiry from Sylvia Burwell— possibly the same Sylvia Burwell who served as the secretary for Health and Human Services from 2014 to 2017—about whether she needed to wear a mask while traveling.
Fauci said he did not recommend Burwell wear a mask, "particularly since you are going to a very low risk location."
"Masks are really for infected people to prevent them from spreading infection to people who are not infected rather than protecting uninfected people from acquiring infection," he wrote.
Fauci has been criticized before for changing his official stance on masks. He advised against wearing face coverings at the start of the outbreak, but changed that position as the health crisis worsened.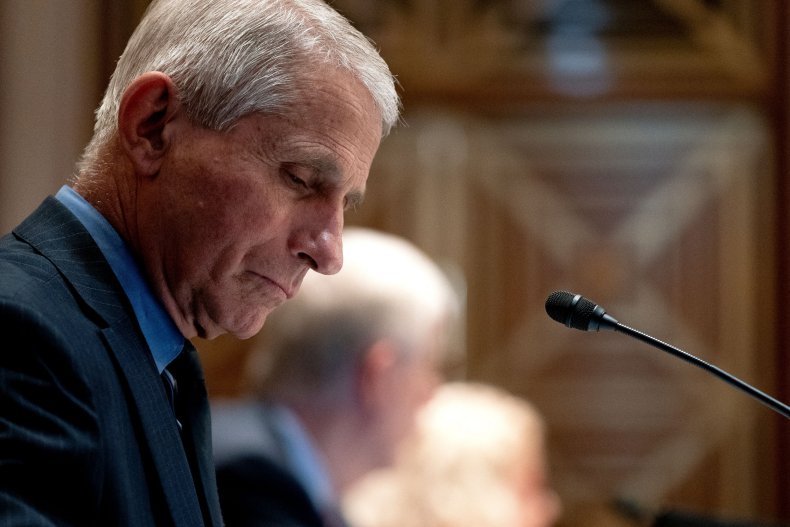 Fauci defended his email with Burwell in an interview with CNN on Thursday, stating that some of his messages are being "misconstrued."
"Let's get real here—if you look at scientific information as it accumulates, what is going on in January and February, what you know as a fact, as data, guides what you tell people and your policies," Fauci told CNN's John Berman. "If March, April, May occur, you accumulate a lot more information and you modify and adjust your opinion and your recommendation based on the current science and current data."
Fauci also stressed that the origins of the virus are still uncertain and that he supports continuing to investigate the matter.
"I have always said, and will say today to you, John, that I still believe the most likely origin is from an animal species to a human, but I keep an absolutely open mind that if there may be other origins of that, there may be another reason, it could have been a lab leak," Fauci said.
Newsweek reached out to the National Institute of Allergy and Infectious Diseases for comment but didn't receive a response before publication.