Steve Scalise Posts Video From Border Allegedly Showing Children Coming Into Country Illegally
House Republican Whip Steve Scalise continued his criticism of President Joe Biden's immigration policies during his most recent trip to the U.S.-Mexico border.
"This is out of control. It's the middle of the night. We've seen dozens of children flow freely across the border in just the past few minutes," Scalise tweeted early Friday morning. "This is the reality of Joe Biden's disastrous amnesty agenda."
The post included a video allegedly showing migrant children crossing into the country illegally.
"As we're here at the McAllen facility, you just saw a large number of kids just come running across the border," Scalise says in the video. "Here they are right here, just came into the country illegally, ran across, just got apprehended by Border Patrol agents."
Scalise continues, "And it's going on all around us. We've only been here less than an hour, and we've already seen multiple encounters of people coming across.... Probably over 100 people right here just in the last hour."
The Louisiana Republican led a delegation of 10 GOP members to the southern border. The delegation was scheduled to meet with Border Patrol agents and participate in an evening ride-along tour with the National Border Patrol Council on Thursday. On Friday, the group will tour the Donna migrant processing facility and tour the border wall in McAllen, Texas.
Scalise was joined by Representatives Rodney Davis (R-Ill.), Michael McCaul (R-Texas), Devin Nunes (R-Calif.), Richard Hudson (R-N.C.), French Hill (R-Ark.), Bob Latta (R-Ohio), Nicole Malliotakis (R-N.Y.), Steve Stivers (R-Ohio), Ann Wagner (R-Mo.) and Steve Womack (R-Ark.).
Womack also posted a video to Twitter of the McAllen processing facility. The video showed what he said were rows of families and unaccompanied children ranging in age from seven to 16 or 17.
"This is a terrible issue facing our country right now," the Arkansas Republican said.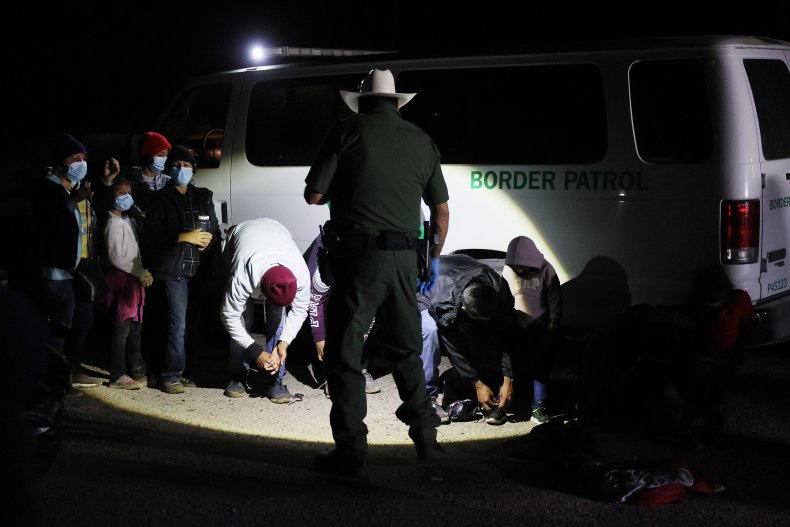 Hudson, the North Carolina Republican, posted a video from near the Rio Grande, where he claimed the group witnessed "five or six groups come across in rafts. A lot of young children."
The number of migrants encountered at the U.S.-Mexico border in March was the highest in at least 15 years, according to the Biden administration. U.S. Customs and Border Protection (CBP) apprehended nearly 172,000 people last month, including roughly 19,000 unaccompanied children.
The number of unaccompanied minors is a 64 percent increase from the previous monthly record, set in May 2019, when nearly 11,500 migrant children traveled to the border to enter the U.S.
The Biden administration has said it would accept migrant children because it would be too dangerous to turn them away. But border facilities have been overwhelmed by the number of migrants, even as the administration rushed to open new emergency sites.
In his Twitter video, Scalise said Biden "created this magnet where he said the border's open and look at what's happening. This is out of control."
Newsweek has reached out to the CBP for comment but did not receive a response in time for publication.
The graphic below, provided by Statista, illustrates the number of children detained at the U.S. sothern border.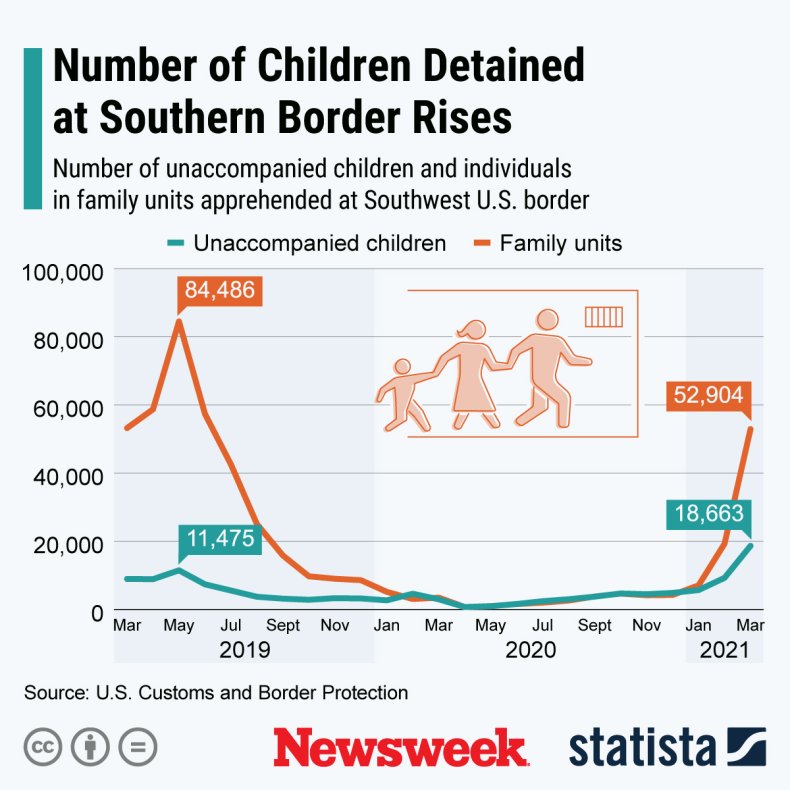 Update 4/9/21, 1:30 p.m. ET: This article was updated to include an infographic.