Video: Steve Scalise Doesn't Blame Bernie Sanders For 2017 Shooting, Rebuking Republican Claims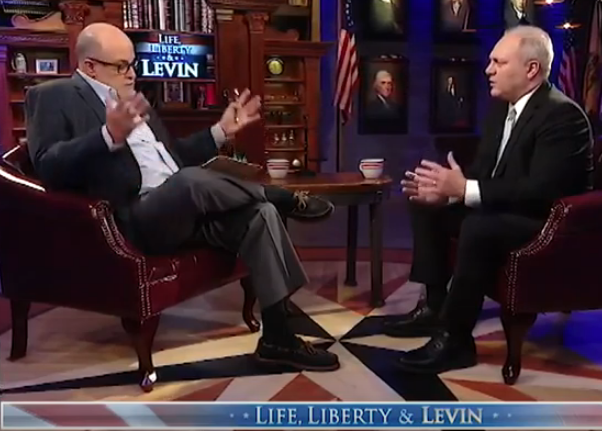 Republican House Majority Whip Steve Scalise of Louisiana, who was critically wounded during the 2017 Congressional baseball shooting, informed a very disappointed Mark Levin that Sen. Bernie Sanders reached out to him immediately after the incident.
Scalise appeared on Life, Liberty and Levin for a wide-ranging interview covering his perspective on the June 2017 shooting, "terrorists" crossing the U.S. southern border and how Democrats were hurting President Donald Trump's feelings with their so-called "vitriolic" rhetoric.
Levin, who just merged with Glenn Beck's right-wing media outlet, complained throughout the interview about the country's politics becoming so harsh and aggressive just months after the 2017 Alexandria shooting by James T. Hodgkinson.
But a particularly smarmy Levin only cited labels such as "racist" and "Hitler" being used to criticize President Donald Trump, and only blamed critics of Trump for inciting violence. Scalise took a much milder tone throughout the interview, dismissing the suggestion that Sanders was responsible for radicalizing the shooter and telling Levin that people should take political fights less personally.
Without mentioning Trump by name but clearly describing his persona, Scalise described how the hateful rhetoric had been amped up by politicians and media figures who "say something so vitriolic that you try to shut down the debate...If you're so afraid of the other side's argument that you want to call them names to the point where you shut them down, I think you've already lost." Instead, Scalise referenced American college campuses as being the root problem.
The conservative host then changed the subject to whether Bernie Sanders called Scalise after the shooting. The Vermont Independent and Democratic Socialist was accused by conservatives including Sen. Lindsey Graham and Sean Hannity as being partially responsible for the Scalise shooting.
Hodgkinson was dubbed a "Bernie Sanders supporter" just hours after the shooting by CNN and other mainstream outlets who reviewed his social media profiles and letters he'd sent to a local newspaper. Posts showed Hodgkinson demanding that then–Democratic presidential candidate Hillary Clinton drop out of the 2016 race.
Immediately after the shooting, Sanders issued a statement denouncing the attack as "despicable" and acknowledging that Hodgkinson had volunteered for his presidential campaign the previous year.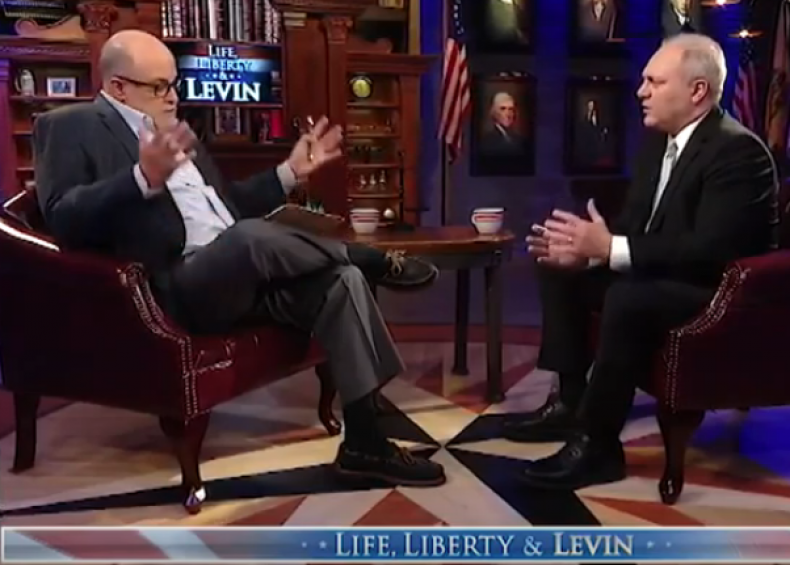 "Did Bernie Sanders ever call you or ever bump into you in the Capitol building, give you a pat on the shoulder or anything like that?" Levin asked Scalise with a hiss.
"He reached out to my office, and I think we may have spoken in those kinda first few days where I was in a fog, but he did reach out," Scalise replied succinctly. A visibly disappointed Levin exhaled and said "OK" in a hushed voice before Scalise continued.
"And I don't hold him or anything responsible because..." said Scalise, as Levin threw his hands up and offered an agreeable concession: "Oh no, of course not."
"Clearly, what this guy did was deranged, and there is no justification for it," Scalise added about the shooter.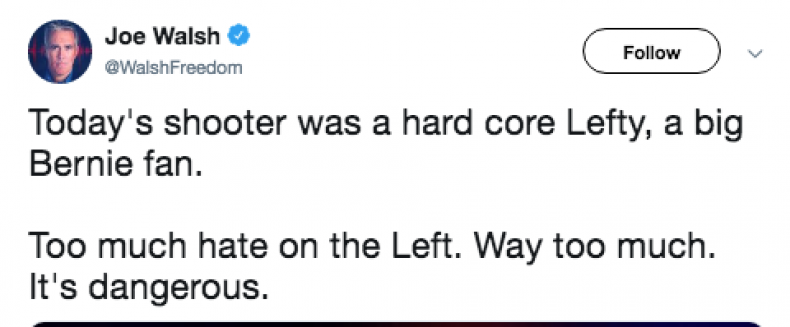 The two conservatives then teamed up to take on the topic of the southern border, with Scalise claiming something Vice President Mike Pence recently told supporters: that terrorists are crossing the border every day into America.
"You have in this caravan over 600 already known criminal convicts in the caravan," said Scalise. "When you look at some of the things they do to try to use women as human shields, it shows you what kind of people are really responsible for the caravan.
"It's incredibly important that we secure our border and I applaud President Trump for being willing to do it," Scalise continued. "Because look, every single day this doesn't get mainstream media coverage, and it should, every single day in this country at least 10 known terrorists are captured trying to cross into America through our border. Why are we trying to secure the border? To keep America safe.
"And it's not that everybody that comes here wants to seek the American dream, there's a legal way to do that, and President Trump has said, 'Even if you want to seek asylum, seek it the legal way,'" Scalise added.
Levin then questioned the patriotism of the Democratic Party, claiming they were complicit in allowing "terrorists" to cross the border—a claim not backed by the Department of Homeland Security.
"If there are ten terrorists that are captured every day, then why wouldn't the Democrat Party want to do more to help secure that southern border? Is the problem really the Democrats, or are the problems among the Republicans, too, to get this sort of thing done?"