Who Is Steven Assanti's Wife, Stephanie? Update on Woman Married To 'My 600-Lb Life' Subject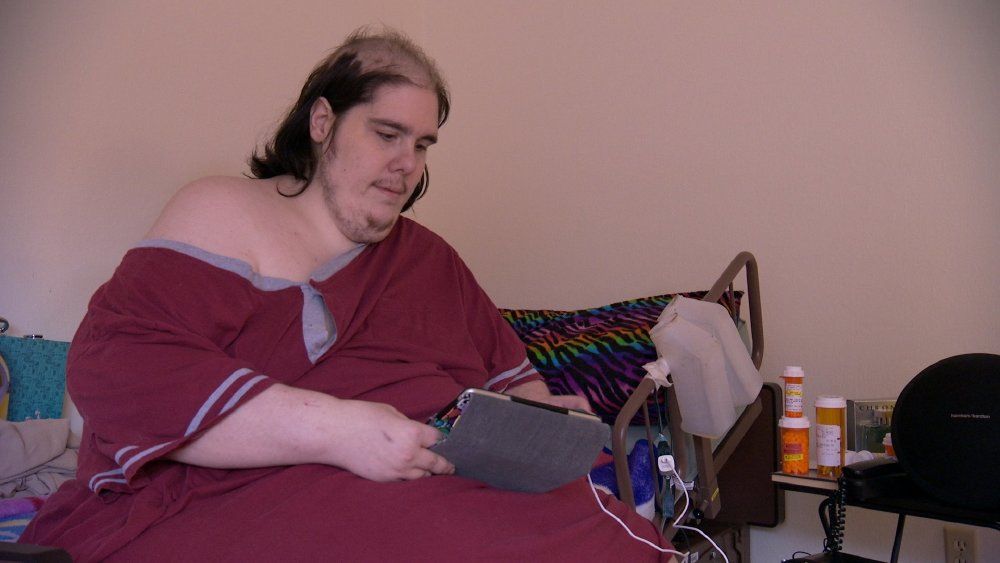 There's a reason why TLC has continued to follow Steven Assanti and his journey to a healthier life: He's always almost always shocking viewers. At the end of Part 4 of his journey, which aired on My 600-Lb. Life Wednesday, Steven's father revealed that he planned to move to Des Moines to be with his new girlfriend, whom he met online. His father was dubious the relationship was authentic, but Steven and his wife, Stephanie Sanger, married in Iowa last year.
In an interview with Starcasm, Stephanie said she first saw Steven on My 600-Lb. Life. "I was trying to find him because the moment I saw him on TV I thought he was a beautiful person," Stephanie, who is a licensed massage therapist, explained. "And I wanted to know him not because of TV because I knew he was my soul mate I felt it and I just had to find him."
Steven is portrayed as an immature bully on television, though Stephanie, who has one child, argued that's not what he's like in real life. It's apparently just a façade created by TLC. "[He is] nothing like how he was perceived on the TV show at all or on his YouTube videos. He's a gentleman and a fantastic lover and lover of life in general." She said, adding that everyone in her family, including her child, "love" him.
Though she isn't active on Twitter, her bio reads: "Introvert, extrovert. Artist, deep thinker. Mother, Healer... passionate, silly and a little bit crazy. Always in lust, always weird. I love my rats."
She's a fan of Marilyn Manson and reportedly asked the singer to name one of her rats. "Best night of my life, thank you," she captioned a photo of herself with the singer, telling fans he was "very nice" and "very handsome."
Updates from Steven won't be easily found online. He apparently doesn't want to be on social media because he wants to focus his attention elsewhere. "He has no interest at all to ever return and wants to focus on himself and his new life," she said about her husband, adding he's "just taking it day [by] day and living life to the fullest."
Wednesday's episode also featured Steven's brother, Justin, who underwent weight loss surgery with renowned doctor Younan Nowzaradan. Justin and Steven have a fractured relationship, with Justin claiming Steven abused him every day for 18 years. Their father continues to force them to be together, which might have sabotaged Justin's journey.
The discretion for Wednesday's update reads: "As Steven heals from his weight loss surgery his brother Justin finally decides to come to Texas to get the same procedure but his feelings toward Steven immediately begin to sabotage his hopes of surgery."
At the end of Wednesday's episode, Justin wound up dropping out of Dr. Now's program after Steven stole his painkillers.
My 600-lb Life when it airs Wednesdays at 8 p.m. on TLC.