Republicans Think Steve Bannon Is a Huge Loser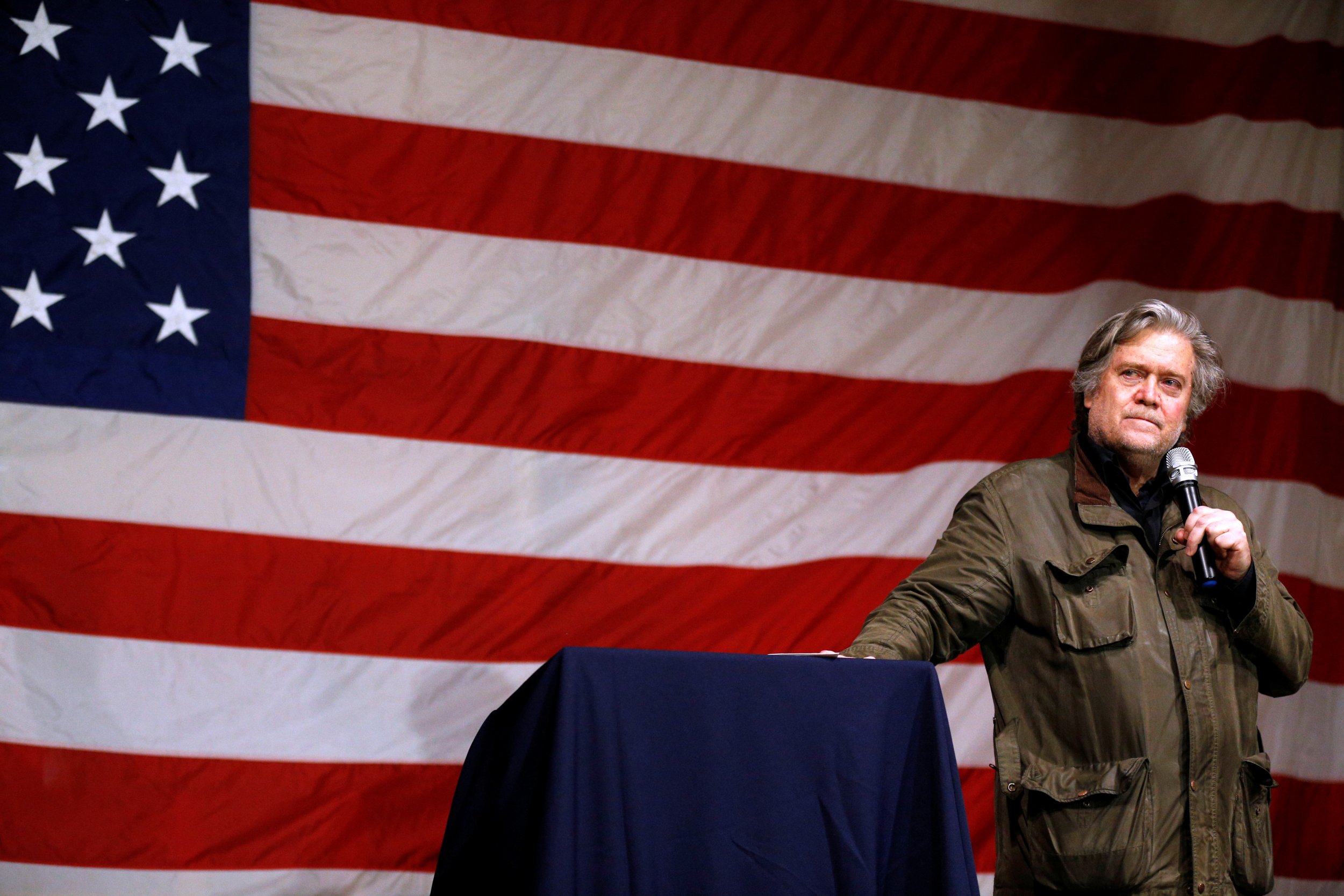 Republican Roy Moore lost Tuesday's Alabama Senate race to Democrat Doug Jones, but Republican Party insiders made it clear they think Steve Bannon also shoulders some blame.
Bannon campaigned for Moore throughout the special election, when the Republican faced off against incumbent Luther Strange—whom President Donald Trump and Senator Mitch McConnell both endorsed—defeating him in the primary. Bolstered by the victory, Bannon framed the race as a shot at McConnell and the D.C. establishment. He attended several rallies, hammering home to voters that McConnell can't control Alabama while also presenting Moore as a candidate who would advance Trump's "Make America Great Again" vision.
Stuart Stevens, a political consultant and former senior strategist for Mitt Romney's presidential campaign, said both Moore—an accused child molester—and Bannon, Trump's former chief White House strategist who now runs the far-right website Breitbart, share the blame in this loss.
"Republicans don't lose deep red states unless they nominate a freak like Moore backed by a freak like Bannon," he tweeted.
Alabama is one of the most consistently Republican states in the country. Trump won the state by 28 points, and it hasn't elected a Democrat to the Senate since Richard Shelby in 1992, who remains in office but switched to the Republican Party two years after he was elected. The fact that Democrat Jones was even in the conversation was newsworthy.
"The DNC is going to start paying for Trump & Bannon to campaign in tight races," Stevens tweeted Tuesday night.
This was the second major loss for a Bannon-backed candidate. In November, Democrat Ralph Northam defeated Republican gubernatorial candidate Ed Gillespie in Virginia.
Steven Law, head of the Senate Leadership Fund—a super PAC for Republicans—roasted Bannon in a statement Tuesday night. "This is a brutal reminder that candidate quality matters regardless of where you are running. Not only did Steve Bannon cost us a critical Senate seat in one of the most Republican states in the country, but he also dragged the President of the United States into his fiasco," Law said.
Josh Holmes, former chief of staff for Senate Majority Leader Mitch McConnell—who at first opposed Moore but walked that back—mocked Bannon for losing one of the most dependably red states with a Republican candidate.
"Before we get the results, I'd just like to thank Steve Bannon for showing us how to lose the reddest state in the union," he tweeted," calling it a "national embarrassment."
Holmes elaborated to the Washington Examiner: "Steve Bannon managed to do what was previously regarded as absolutely impossible for Senate Democrats," he said. "If [Senate Minority Leader] Chuck Schumer doesn't already have him on the payroll the Dems will be funding Breitbart's efforts in short order because he's the best strategist they've got."