Steven Crowder Decries Carlos Maza For Calling YouTube a 'Queer Space' After Ad Ban
Conservative commentator Steven Crowder has complained that Vox journalist Carlos Maza thinks YouTube is "queer space" after the video site informed him that his channel has been stripped of advertising revenue.
YouTube stopped Crowder from running ads on his channel following complaints made by Vox journalist Carlos Maza on Twitter about racist and homophobic remarks made by the pundit about him on his show.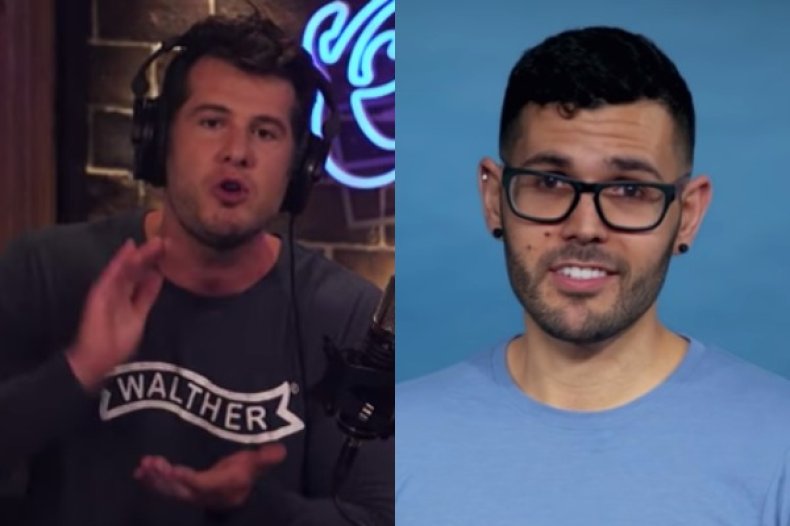 Speaking on his show Louder with Crowder, the host bemoaned comments Maza made to the Washington Post that YouTube was hypocritical for branding itself as a "queer space" while allowing Crowder to remain on the platform.
"This guy, Carlos Maza, talked about how YouTube was a 'queer space,'" he said.
He went on to make further references to Maza's sexual orientation, before saying that YouTube appealing to the LGBT community was "corporate censorship."
"'Queer space' makes up two percent of population earth, okay ass...You're an ass because you encourage the milkshaking and battery and assault of people who disagree with you. That's why I think you're an ass, man. It has nothing to do with the fact that you're an ass-man."
"'Queer space', that's two percent of population Earth. Contrast that with 50 percent who are conservative or right leaning."
"YouTube is saying, okay, we can either appeal to everybody, the vast majority of the American public, the global public, who don't want to see corporate censorship; or two percent because this guy thinks YouTube is a 'queer space.'"
On May 31, Maza posted a Twitter thread that included a compilation of Crowder making slurs at Maza such as "lispy queer", saying that such remarks broke the site's terms of service that prohibit "content that makes hurtful and negative personal comments/videos about another person."
Five days later YouTube responded to Maza on Twitter saying, "Our teams spent the last few days conducting an in-depth review of the videos flagged to us, and while we found language that was clearly hurtful, the videos as posted don't violate our policies."
The response prompted a backlash on social media, with many pointing out that while the company pushed LGBT content for Pride Month, it was failing to protect the community from harassment.
Then on June 5 the company made a u-turn and suspended monetization on Crowder's channel.
Speaking to Newsweek, Maza said that the problem with YouTube is that it encourages abusive channels like Crowder's to grow, while at the same time refusing to protect the marginalized creators on its platform that it claims to support.
"The problem isn't monetization and the problem is Steven Crowder. The problem is that YouTube is designed to reward 'engaging' content, and hate speech is very engaging. YouTube turns bigots and bullies into rockstars by pushing millions of new subscribers in their direction, allowing them to break the site's anti-hate policies, and then rewarding them with millions of dollars in merch sales and Patreon donations. Crowder is YouTube's ideal creator," he said.
"YouTube exploits LGBT creators by using us in promotional materials and corporate branding videos while refusing to enforce the protections we need to avoid abuse and harassment. We're props to them. And their Pride month branding is meant to distract advertisers and reporters from the fact that YouTube is actively arming the monsters who makes LGBT peoples lives miserable," Maza added.
Both Steven Crowder and YouTube did not respond to Newsweek's request for comment.
Crowder has attracted the support of Ted Cruz, with the Texas Senator saying of the decision to remove ads from this channel: "This is ridiculous. YouTube is not the Star Chamber — stop playing God & silencing those voices you disagree with. This will not end well."