Steven Mnuchin Says Greta Thunberg Jibe Was 'Somewhat In Jest' Following Davos Clash
Treasury Secretary Steven Mnuchin said his Davos jab at the climate activist Greta Thunberg was "somewhat in jest" at a London event on Saturday.
Mnuchin told a Chatham House meeting that his comments earlier this week, that the 17-year-old should to go to college and study economics, were intended as a joke.
He also said the U.S. is "prepared to dedicate a lot of resources" to a trade deal with the U.K. but hit out at a "discriminatory tax" the country has proposed on digital services.
Before his stop in the U.K. capital Saturday, the treasury secretary appeared at the World Economic Forum in the Swiss town of Davos with President Donald Trump.
At the gathering of global elites, Mnuchin took aim at Thunberg over her push for an end to investment in fossil fuels and further environmentalist demands.
It was reported that Mnuchin suggested Thunberg should go to college and study economics, after pretending to not know who she was.
But the activist hit back on social media on Thursday, tweeting: "My gap year ends in August, but it doesn't take a college degree in economics to realise that our remaining 1,5° carbon budget and ongoing fossil fuel subsidies and investments don't add up."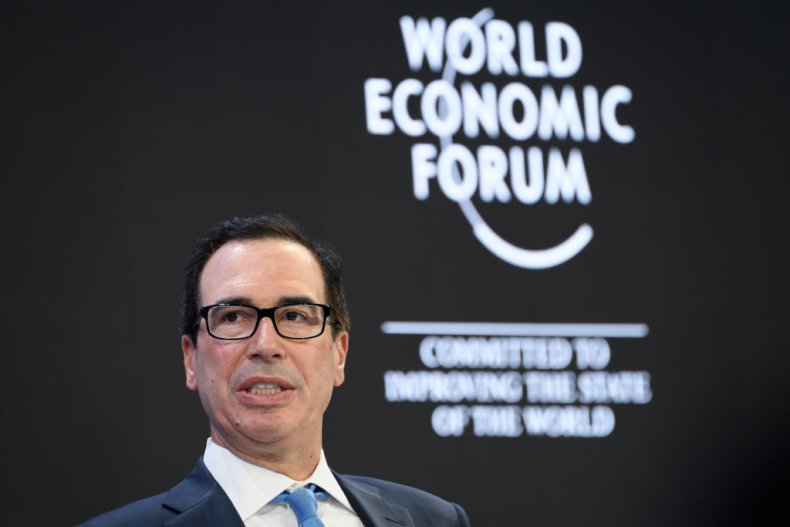 Speaking at Chatham House in London on Saturday, Mnuchin said: "Some of you may have noticed I made a comment at a press conference in Davos which was intended to be said somewhat in jest.
"I commented in a press conference that this was a joke, but it seems to have caught a lot of attention."
He added: "The comment I made in Davos is there are a lot of important issues that impact the global economy, and I just hope that we balance these other issues, and we talk about these other issues as much as we talk about the environment."
During Saturday's question-and-answer session, the treasury secretary also spoke about a prospective trade deal between the U.S. and U.K., claiming that America was "prepared to dedicate a lot of resources" to an agreement.
But he also hit out at a digital services tax proposed by the U.K. government, saying the Trump administration viewed it as "discriminatory" after he warned at Davos that going ahead with the policy could lead to retaliatory taxes on car companies.
The policy proposed by U.K. chancellor Sajid Javid would see a 2 percent tax placed on big multinational tech companies, including search engine firms and social media platforms.
"It obviously came up at my breakfast with the chancellor this morning. We believe that the digital service tax is a discriminatory tax. We don't think it's appropriate," Mnuchin said.
"Having said that, we are working at the [Organisation for Economic Co-operation and Development] to see if we can deal with all these international tax issues."
Earlier in the event, the treasury boss said the U.K. was America's "most important relationship" and the goal was to have a trade deal agreed on by the end of this year.
"I think from the U.S. standpoint we're prepared to dedicate a lot of resources," he added.
Mnuchin went on to say that there would be "certain issues" the U.K. would "perhaps need to resolve with the EU" before an agreement with the U.S. could be finalized.
Appearing at the World Economic Forum this week, the treasury secretary said a post-Brexit trade deal with the United Kingdom would be "at the top of the list of trade agreements," The Times of London reported, noting that the administration aimed to have a deal done by the end of this year.
"We've already started the conversions with the EU," he further added. "We look forward to making progress with them."