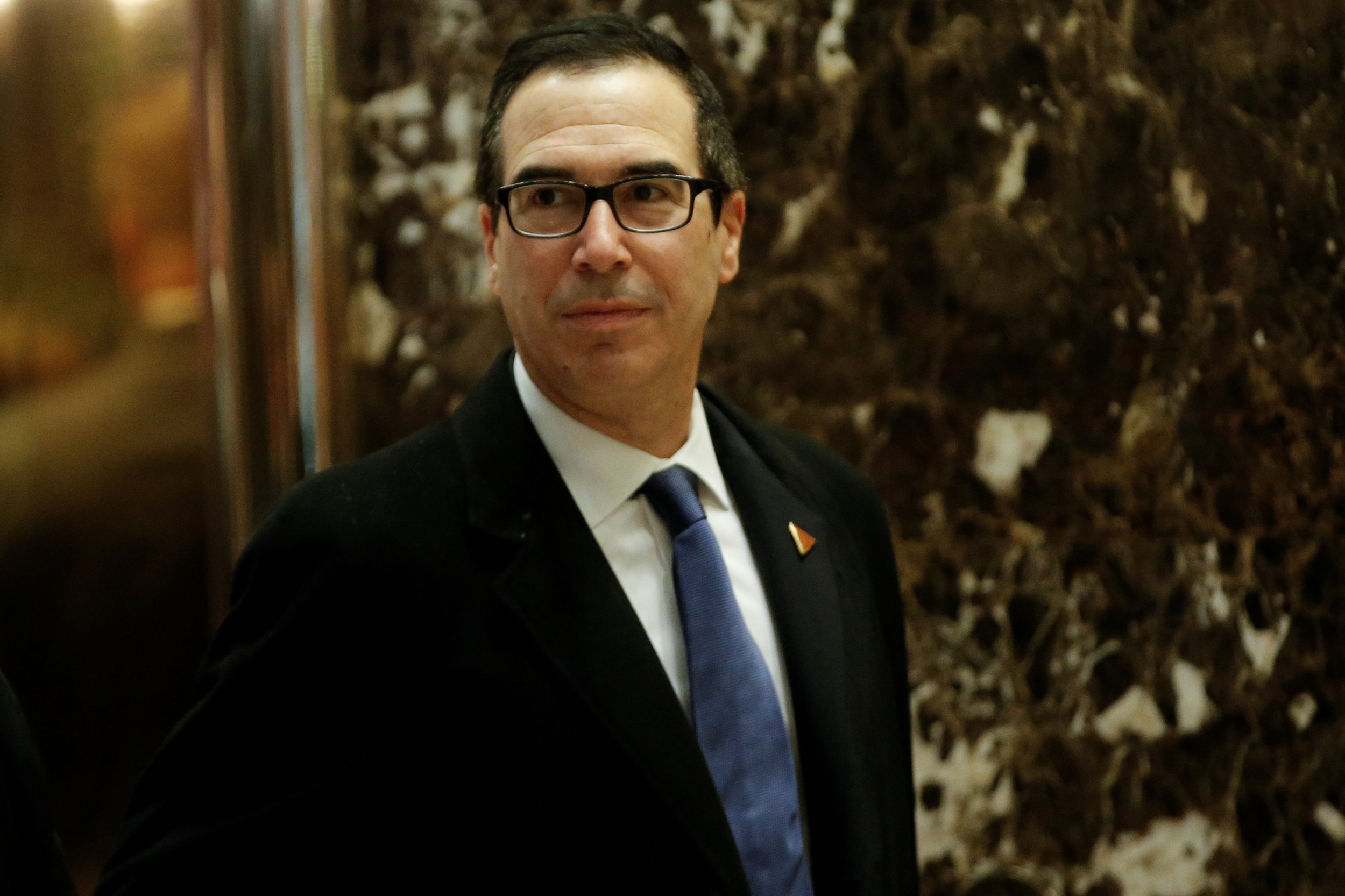 President-elect Donald Trump is expected to name former Goldman Sachs partner and Hollywood financier Steven Mnuchin as his nominee for Treasury secretary, a source said Tuesday, putting a Wall Street veteran in the top U.S. economic Cabinet post.
Mnuchin, who was Trump's presidential campaign finance chairman, could be named as early as Wednesday, said a Republican source close to the decision.
Mnuchin was chosen over several high-profile candidates, including JPMorgan Chase Chairman Jamie Dimon and Republican U.S. Representative Jeb Hensarling, chairman of the powerful House Financial Services Committee.
Mnuchin is the first person with extensive Wall Street experience to head the Treasury since his former boss, Henry Paulson, the former Goldman Sachs chief executive who served under President George W. Bush and steered Treasury through the chaotic initial stages of the 2008-2009 financial crisis.
The current Treasury secretary, Jack Lew, worked for two years at Citigroup but has spent most of his career in government or academia.
The selection of Mnuchin was first reported by The New York Times.
Related: Today in Trump Transition: President-elect announces key health care posts
A relatively little-known but successful private equity investor and hedge fund manager, Mnuchin spent 17 years at Goldman Sachs before leaving in 2002, when he launched Dune Capital Management.
With Dune, Mnuchin has invested in movies produced by Rupert Murdoch's 20th Century Fox and Time Warner Inc's Warner Bros, including blockbusters "Avatar," "Mad Max: Fury Road" and "Suicide Squad."
The son of a Goldman Sachs partner who became an art dealer, Mnuchin worked hard to step outside his father's shadow and make a name for himself, former colleagues said, rising to become the firm's chief information officer in 1999.
"He wanted to prove that he was there on the merits," said a former Goldman colleague, who spoke on condition of anonymity.
Mnuchin's experience running Goldman's mortgage-backed bond trading desk would later prove valuable when an opportunity arose in 2009 to buy the deeply discounted assets of failed California mortgage lender IndyMac Bank from the Federal Deposit Insurance Corporation during the financial crisis.
He assembled an investor group that included hedge fund manager John Paulson to buy the assets for $1.55 billion, and moved to Los Angeles.
After rebranding the operation OneWest Bank, Mnuchin built it with other assets and professional sports team sponsorships into Southern California's largest bank, with 73 branches and $23 billion in assets. His group sold OneWest to CIT Group Inc last year for $3.4 billion.
The bank came under fire for its foreclosure practices as housing advocacy groups accused it of being too quick to foreclose on struggling homeowners. In 2011, dozens of demonstrators descended on Mnuchin's $26.5 million home in the wealthy Bel Air neighborhood to protest OneWest's eviction tactics, according to the Los Angeles Times.
This month, two housing groups filed a complaint asking the U.S. Department of Housing and Urban Development to investigate complaints that OneWest engaged in discriminatory "redlining" practices against black and Latino communities.
Mnuchin must be confirmed by the Senate and the top Democrat on the chamber's Finance Committee signaled he may be in for tough questioning.
"Given Mr. Mnuchin's history of profiting off the victims of predatory lending, I look forward to asking him how his Treasury Department would work for Americans who are still waiting for the economic recovery to show up in their communities," Democratic Senator Ron Wyden said in a statement.
Although Mnuchin has a reputation for being a behind-the-scenes player in Hollywood, he appears on screen in the 2016 film "Rules Don't Apply," according to the IMDB movie database. The drama, which opened in theaters on Nov. 23, stars Warren Beatty, who also wrote and directed the film.