Steven Seagal Pledges to Work for 'Peace' and 'Harmony' in New Role as Russian Special Representative
Actor Steven Seagal said he was "honoured" to be appointed special representative by the Russian Foreign Ministry.
"I am deeply humbled and honoured to have been appointed as a special representative of the Russian Foreign Ministry in charge of Russian and American Humanitarian ties," wrote Seagal on Twitter on Sunday.
"I hope we can strive for peace, harmony and positive results in the world. I take this honour very seriously," he continued.
The Russian Foreign Ministry announced Saturday that it was appointing Seagal to the role of special representative focussed on U.S.-Russian humanitarian relations. It likened the role to that of a UN goodwill ambassador.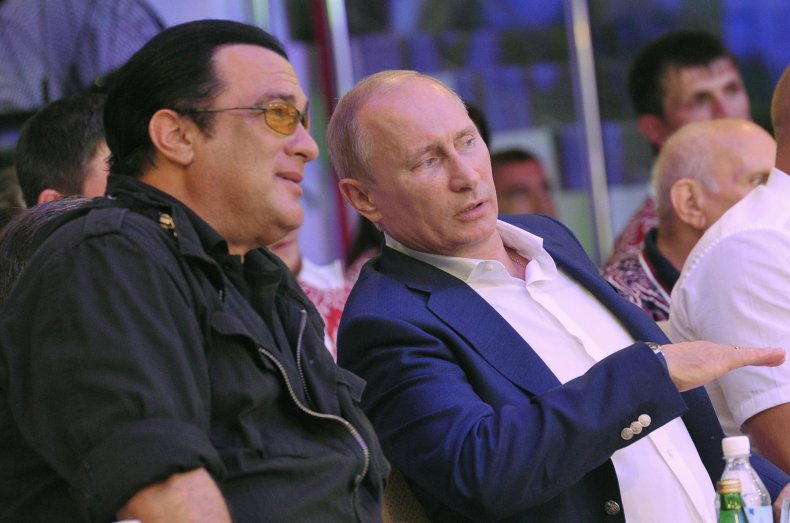 The action movie star became a Russian citizen in 2016, and is a close friend of Russian president Vladimir Putin.
Seagal has defended the Russian government, and is a supporter of U.S. President Donald Trump. In an interview with British journalist Piers Morgan last year, Seagal denied accusations of Russian meddling in the 2016 U.S. presidential elections.
"For anyone to think that Vladimir Putin had anything to do with fixing the elections or even that the Russians have that kind of technology is stupid
He continued "all of this is happening in my opinion from astronomical propaganda and this kind of propaganda is really a diversion so that the people in the United States of America won't really see what's happening and I think most of the people in the United States of America and most of the people in Russia want to like each other, you know, and we need each other, Russia and America should be great allies and that's the way it should be."
Steve Hall, the former head of Russia operations at the CIA, told NPR in July that some of Russia's leaders and oligarchs had cultivated relationships with U.S. celebrities to improve their image abroad.
"It looks very good for Russia because it shows that they are not alone in the world. They haven't been isolated, they indeed have these cultural connections. And they use it to basically increase their validity to the West," Hall said. "And it's a very clever move that they've done for a long time."